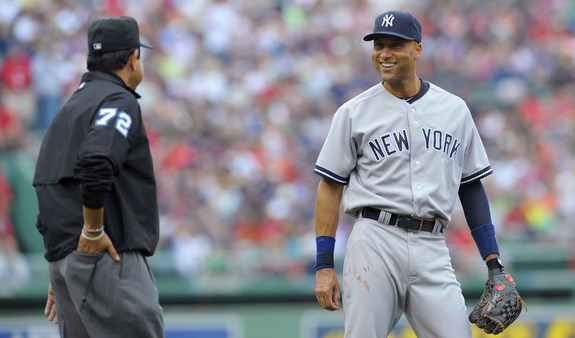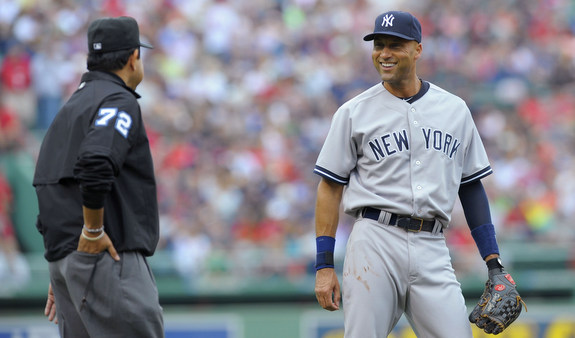 Boy these late-season Yankees-Red Sox series have lost something off their fastball these last few years, haven't they? Both teams have already been eliminated from postseason contention, so they will wrap-up their seasons this weekend with nothing more than bragging rights on the line. The Yankees are 10-6 against the Red Sox this year, including 4-2 at Fenway Park.
What Have They Done Lately?
The BoSox just took two of three from the Rays — they outscored them 22-4 in the last two games — but they've won only seven of their last 17 games. They are 70-89 with a -82 run differential overall, both the fourth worst marks in the AL.
Offense
At 3.88 runs per game with a team 90 wRC+, the Red Sox are the Yankees' equal offensively. That's not a compliment. (The Yankees average 3.88 runs per game with a team 91 wRC+.) Boston will be without 1B Mike Napoli (123 wRC+), 2B Dustin Pedroia (99 wRC+), UTIL Brock Holt (98 wRC+), and OF Shane Victorino this weekend (88 wRC+). They're all hurt and have been shut down for the season. DH David Ortiz (135 wRC+) is dealing with wrist inflammation and he is unlikely to play as well.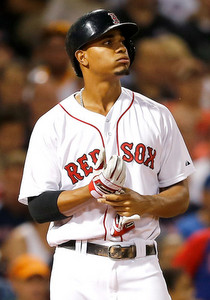 With all those familiar names out of action, manager John Farrell builds his lineup around OF Yoenis Cespedes (110 wRC+) and 1B Allen Craig (29 wRC+). Craig has looked completely helpless at the plate since hurting his foot last year. 2B Mookie Betts (131 wRC+) is having a nice late-season cameo and SS Xander Bogaerts (82 wRC+) has been better the last two weeks or so. The recently signed OF Rusney Castillo (79 wRC+ in very limited time) is still trying to find his way. OF Daniel Nava (99 wRC+) rakes against righties (118 wRC+).
The rest of the lineup includes 3B Will Middlebrooks (44 wRC+) and C Christian Vazquez (69 wRC+). OF Jackie Bradley Jr. (47 wRC+) seems to have played his way out of the organization's plans and is now just a defensive replacement, even with all the injuries late in the season. C David Ross (74 wRC+) is the backup catcher. The long list of September call-ups includes C Dan Butler, C Ryan Lavarnway, 3B Garin Cecchini, IF Carlos Rivero, IF Jemile Weeks, and OF Bryce Brentz.
Pitching Matchups
Friday: LHP Chris Capuano (vs. BOS) vs. RHP Steven Wright (vs. NYY)
The Red Sox have already shut down their various young starters and the 30-year-old Wright is getting the spot start tonight. He's appeared in five games for Boston this year, all in relief, allowing six runs in 16 innings with 18 strikeouts and two walks. Wright had a 3.41 ERA (3.88 FIP) in 15 starts and 95 innings down in Triple-A this summer. His strikeout (6.44 K/9 and 17.6 K%), walk (2.8 BB/9 and 5.7 BB%), and homer (0.85 HR/9) rates down in Pawtucket range between okay and good. Ready to be surprised? Wright is a knuckleballer. He throws his mid-70s knuckler roughly three-fourths of the time, filling in the gaps with low-90s fastballs and mid-60s curveballs. I can't help but wonder if those curveballs are just sloppy knuckleballs being misclassified by PitchFX. I guess we'll find out tonight. Wright has never faced the Yankees but he did make two starts against Triple-A Scranton this year. Jose Pirela, Zelous Wheeler, John Ryan Murphy, and Austin Romine know what's up.
Saturday: RHP Masahiro Tanaka (vs. BOS) vs. RHP Joe Kelly (vs. NYY)
Kelly, 26, was the centerpiece of the John Lackey trade a few weeks back now that Craig is hitting like a pitcher. He has a 4.15 ERA (4.46 FIP) in 16 starts and 89 total inning this year, including a 4.00 ERA (4.81 FIP) in nine starts for Boston. His overall strikeout (6.37 K/9 and 16.3 K%) and walk (4.04 BB/9 and 10.4 BB%) rates stink, though he gets plenty of grounders (55.6%) and keeps the ball in the park (0.81 HR/9 and 12.9 HR/FB%). Lefties (.320 wOBA) have hit Kelly a little harder than righties (.299 wOBA). A mid-90s two-seamer is his main pitch, which he'll use to set up low-80s changeups and upper-70s curveballs. He'll throw a handful of mid-90s four-seamers and mid-80s sliders per start as well. Kelly held the Yankees to three runs in 6.2 innings earlier this month.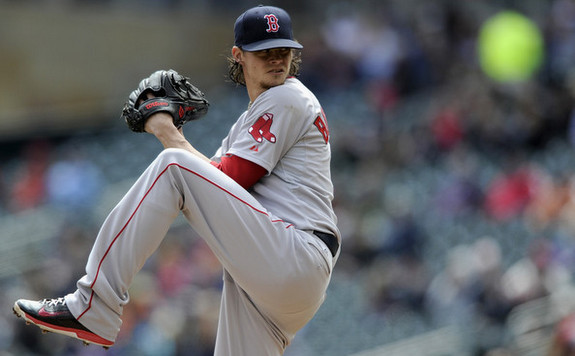 Sunday: RHP Michael Pineda (vs. BOS) vs. RHP Clay Buchholz (vs. NYY)
In the span of a few days in late-July, the 30-year-old Buchholz went from being the Red Sox's nominal number four starter to their staff ace. He has a 5.31 ERA (4.06 FIP) in 27 starts and 164.1 innings this year, with peripherals that are decent across the board: 7.01 K/9 (18.0 K%), 2.90 BB/9 (7.4 BB%), 0.93 HR/9 (9.6 HR/FB%), and 46.4% grounders. Buchholz has been hit much harder by lefties (.357 wOBA) than righties (.306 wOBA) this season. As always, Buchholz uses low-90s two and four-seamers as well as an upper-80s cutter to set up his knockout low-80s changeup and occasionally knockout upper-70s curveball. The Yankees scored four runs (two earned) in six innings against him in April, then seven runs in five innings in August.
Bullpen Status
The Yankees broke RHP Koji Uehara (3.08 FIP) with the Chase Headley walk-off homer game a few weeks ago. He was removed from the closer role after that game and has pitch very sparingly since. RHP Edward Mujica (3.70 FIP) is now pitching the ninth inning. RHP Junichi Tazawa (2.94 FIP) is his primary setup man and LHP Tommy Layne (3.08 FIP) will see the high-leverage matchup situations.
RHP Burke Badenhop (3.10 FIP), RHP Alex Wilson (4.01 FIP), and LHP Craig Breslow (5.34 FIP) are Farrell's other bullpen regulars. The September call-ups are RHP Matt Barnes, LHP Drake Britton, LHP Edwin Escobar, and RHP Heath Hembree. Uehara and Wilson each threw a low-stress inning last night. Head over to our Bullpen Workload page for details on the Yankees' bullpen, then head over to Over The Monster for everything you could possibly want to know about the Red Sox.