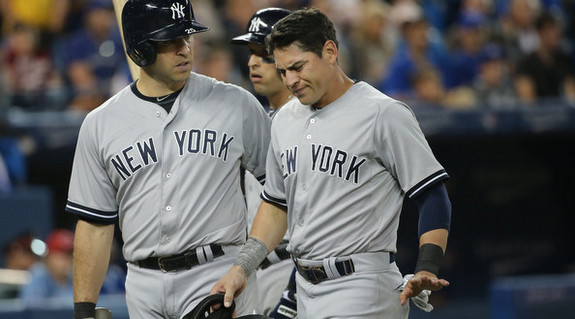 The Yankees are off today, and when they regroup at Yankee Stadium for the series opener against the Red Sox tomorrow, there figures to be a bunch of extra players in the clubhouse thanks to expanded rosters. Here are a bunch of injury updates in the meantime, courtesy of Wally Matthews, Ken Rosenthal, George King, and Brendan Kuty.
Masahiro Tanaka (elbow, arm) returned to New York specifically to work with a physical therapist at the Yankee Stadium training facilities, which are a million times better than what was available at Rogers Centre. He worked out Saturday and was scheduled to repeat the work out yesterday and today. Tanaka will visit team doctor Dr. Ahmad today, and if everything checks out, he will throw a bullpen session Thursday. "He played catch and did his weight workout. He felt like he needed to catch up a little bit and strengthen himself up a little bit. It's a good sign he (played catch)," said Girardi. "We need to find out (if he'll need surgery). We are taking the normal steps that people take in this type of injury. We are either going to know by the end of September or not.''
Following yesterday's game, Jacoby Ellsbury (ankle) inadvertently revealed he was going to have an MRI last night once the team arrived in New York. Sounds like that was the plan even before he pinch-hit. The MRI results haven't been announced. "It's still sore, but over the last couple days, they're real happy with the progress that I've made," said Ellsbury. "We've got the off-day, but I'll get the MRI (and) have our doctors look at it. Hopefully it's a good MRI."
David Phelps (elbow) has continued his throwing program as he works his way back from inflammation, but he has yet to throw off a mound. "He is playing catch, I am not sure what day he will do a bullpen,'' said Joe Girardi over the weekend. The Yankees have already announced Phelps will return as a reliever.
Carlos Beltran (elbow) acknowledged feeling some pain during his throw to the plate in yesterday's game. He said it was expected and it's just something they have to manage until he has the bone spur removed in the offseason.