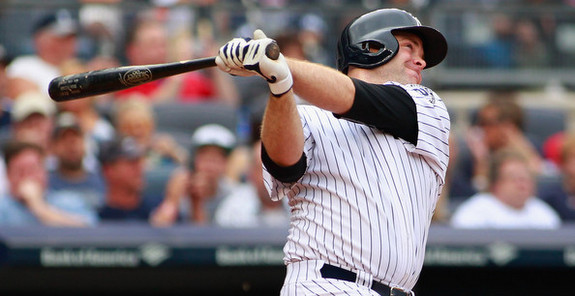 The Yankees are one loss (or one Royals and Athletics win) away from being eliminated from postseason contention because their offense simply did not produce enough this summer. Specifically, the team's big money middle of the order bats did not perform as expected. Carlos Beltran, Mark Teixeira, and Brian McCann have all been major disappointments in 2014, combining to hit .229/.302/.403 in nearly 1,500 plate appearances. The Yankees won't be playing in October for many reasons and those three are among the biggest.
Unlike Teixeira and Beltran, who have battled nagging wrist and elbow problems down the stretch, McCann is actually finishing the season on a high note. He went 2-for-4 with a two-run homer off the ultra-tough Andrew Miller in last night's loss, his eighth homer in 21 games this month. His .240/.308/.560 batting line in September is both better than what he did from April through August (.234/.287/.384) and a reminder that 82-plate appearance samples can produce weird slash lines.
McCann is 6-for-23 (.261) with three homers in six games on the homestand but his run of solid production really dates back to the beginning of July. He's hit .252/.301/.473 with 14 homers in 62 games since the start of July, which is basically last year's .256/.336/.461 batting line minus a bunch of walks. McCann has a career-low 6.0% walk rate this year (5.3% since July), down from 9.7% last year and 9.1% for his career. His 14.5% strikeout rate is identical to his career rate and he's swung at 28.3% of the pitches he's seen out of the zone, in line with his 29.4% career average.
For whatever reason, McCann stopped walking this year. It could be a decline in pitch recognition, it could be unfamiliarity with the new league and new pitchers, he could be pressing, it could be all of that and more. We'll have a nice long offseason to sit around and wonder why McCann has suddenly stopped accepting free passes this year. The most important thing to me are the results he's getting when he puts the ball in play. The first three months of the season were miserable, but since July McCann has been recording base hits and hitting for power at the same rate as last year. That's good! That's what we want.
My theory is McCann focused on trying to go the other way to beat the shift this season and it fouled him up. I don't think it's a coincidence he's put more balls in play to the opposite field this year (94) than he has in any season since 2008 (100). (His high from 2009-13 was 86 balls in play the other way in 2009.) I know I'm not the only one who thinks this because an unnamed team official said "I wish (McCann)  would pull more" to Ben Lindbergh earlier this year. Here's a quick look at his pre- and post-July 1st spray charts, courtesy of Baseball Savant: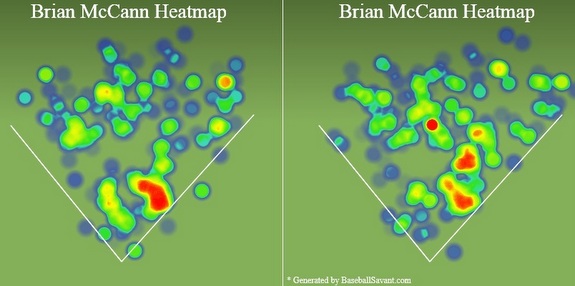 It … kinda looks like he's pulled the ball more since July 1st? Maybe. McCann did eliminate his toe tap and make some changes to his batting stance at midseason, but he abandoned those changes a few weeks ago (I'm not sure when exactly, but I noticed it in early-August) and went back to the setup he had been using at the plate previously. It could be that he simply stopped trying to be something he wasn't, so he went back to what worked with the Braves and sent him to seven All-Star Games. Toe tap, pull the ball, whatever.
Either way, McCann has gotten much better results these last two and a half months whenever he's put the ball in play. He still isn't walking for whatever reason and that might be a long-term problem. The power is still there though — his 23 homers are second only to Devin Mesoraco's 25 among big league catchers — and his average has climbed back into the mid-.250s, where it normal sits. McCann is not going to be a .300-ish hitter. That's just not who he is at this point of his career.
Of the team's three disappointing middle of the order bats, I felt McCann was by far the most likely to rebound even before this recent homer binge. He's the youngest of the trio and also the healthiest, as far as we know. Beltran will turn 38 soon after Opening Day and is scheduled to have elbow surgery in like a week. Teixeira will turn 35 next April and his surgically repaired wrist continues to be a problem, not to mention all his other nagging injuries. It's tough to look at these two and feel good about their performance in 2015.
The same would have been true of McCann had he not started to turn things around in July and put an exclamation point on his season with all these dingers this month. These last few weeks don't erase his overall disappointing season, but at least now McCann and Yankees fans can go into the offseason encouraged by his strong finish and feeling better about what he might bring to the table next year as well as the final four years of his contract.