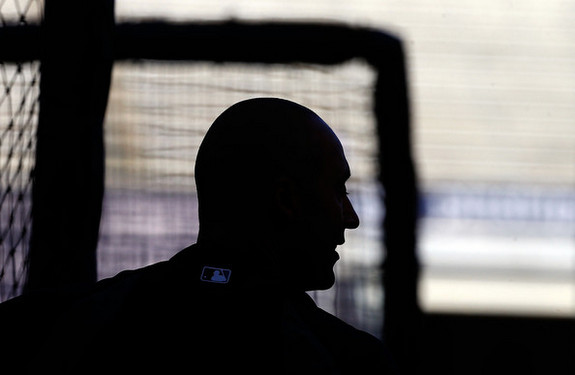 Derek Jeter will play the final home game of his career later tonight. Pretty much the only silver lining to being eliminated from postseason contention yesterday is that everyone will now be able to focus on Jeter and not the outcome of the game. (Not that Jeter's retirement was lacking coverage or anything.) Here are a few random thoughts prior to the Cap'n's last game in Yankee Stadium.
1. First things first: today's weather forecast is not so good. Last I checked, there was a 70% chance of rain throughout the day before dropping to 20% later this evening. The tarp was put on the field immediately following yesterday afternoon's game. Because the Yankees have been bounced from playoff contention and the Orioles have already clinched the AL East title (and are just about locked into the second best record in the league), this game normally would not be made up if it is rained out. It's meaningless to the final standings. A league spokesman told  Brendan Kuty that "all efforts will be made to get the game in" tonight and there have been no discussions about what would happen if it is rained out, nor should there be. There's no way the league would force them to make the game up next week just to honor Jeter. It's not fair to the postseason-bound Orioles, for starters. The weather is the weather and there's really nothing anyone can do about it. I'm just going to put my faith in the baseball gods and hope the skies clear up enough at some point.
2. I and I think everyone else is looking forward to seeing what the Yankees and Joe Girardi do for Jeter after Mariano Rivera's memorable exit last season. Pulling him in the middle of an inning so he can get a standing ovation seems a bit too obvious but that just might be what happens. The KISS method (keep it simple, stupid) is never a bad choice. My guess? The rest of the team will stay behind in the dugout when Jeter takes the field defensively in the ninth inning — maybe earlier if they're worried about rain in the later innings — so he can be alone on the field and get a roaring ovation. Then Girardi will pull him mid-inning so Jeter can get another ovation. I dunno, I'm just spit-balling here. Either way, I'm sure it'll be awesome and memorable. The Yankees have a knack for doing these right. After all, it's the people that make this stuff special. Everything else is secondary.
3. Earlier this week Girardi said he plans to play Jeter during the final three games of the season in Boston, though he softened that stance after yesterday's loss and said he'll ask Jeter what he wants to do. Of course Jeter said he wants to play, but maybe he'll change his mind if tonight's send-off is just too perfect. That's what happened with Rivera last year. Needless to say, I selfishly hope he doesn't play in the series against the Red Sox at all. Like Rivera, let his final moment on the field come at Yankee Stadium with the home fans sending him off in a matter befitting of an all-time great. It would be different if the team was contending and set to go to the postseason, but they're not, and I want to see Jeter end his career in the Bronx, not Fenway Park. I don't care if that makes me sound like a jerk — yes, I know lots of people paid lots of money for tickets to see Jeter this weekend, including plenty of Yankees fan — I want his final moment to come at Yankee Stadium. That's my selfish storybook ending for his career.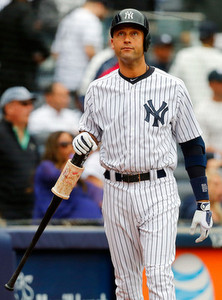 4. As for his post-career life, I'm guessing Jeter will stay out of the limelight for the most part, aside from the occasional charity appearance and whatnot. I'm sure he'll show up to Spring Training and Yankee Stadium a handful of times in 2015, though I would bet on him waiting a few years before coming to Old Timers' Day like most new retirees. Jeter will have his publishing business to keep himself busy and I'm sure he has a bunch of other stuff going as well (based on the recent NY Mag article). If Jeter gets involved in baseball in any way after retiring, I assume it'll be at an ownership level, not in some sort of coaching position that comes with the day-to-day grind and a lot of travel. I could absolutely see the Steinbrenners letting Jeter buy a stake in the team at some point in the future, even if he'd be nothing more than a spokesman/figurehead like Magic Johnson is for the Dodgers. His relationship with the Yankees is far from over, obviously.
5. Admittedly, I have not spent a ton of time thinking about this, but right now I consider Jeter to be the sixth best player in Yankees history behind (in order) Babe Ruth, Lou Gehrig, Mickey Mantle, Joe DiMaggio, and Yogi Berra. That's my personal list. There is no right answer to this stuff. We all have own personal top Yankees lists and none are wrong. If you want to take the lazy way out and look at WAR, Jeter is fifth in franchise history with both 71 bWAR and 73 fWAR, behind that top four and ahead of Berra. This is about so much more than on-field production though. We're talking about players who transcend stats. The Bronx Bombers are the Bronx Bombers because of Ruth and Gehrig. Mantle is the greatest switch-hitter ever. DiMaggio has his record hitting streak and the guy married Marilyn Monroe. Berra? He has a World Series ring for literally every finger. These guys aren't just baseball players, they're icons and important historical figures. The same is true of Jeter. Want to argue with me that he is the fifth or seventh or tenth best Yankee instead of the sixth best Yankee? Fine. I'm not sure it's worth the effort though. We're talking about all-time greats either way and Jeter's place among the Ruths and Gehrigs and Mantles of Yankee universe is well-deserved.