One thing is very clear with less than two weeks remaining in the regular season: the Yankees need to improve their offense this offseason. They tried to do it last winter by signing Jacoby Ellsbury, Carlos Beltran, and Brian McCann to big free agent contracts (while simultaneously letting one of the best hitters in world leave) but it didn't work. They're on pace to score only 627 runs this year, 23 fewer than last year.
The Yankees are locked into players at catcher, first base, left field, center field, maybe third base, and either right field or DH already, so their options to fix the offense are limited. Martin Prado is going to play somewhere — I'd prefer second base until the inevitable Alex Rodriguez injury, but that's just me — leaving shortstop and either right field or DH as the most obvious places to add an impact bat. There are slated to be plenty of free agent shortstops but not as many impact outfielders outside of Melky Cabrera and Nelson Cruz.
The free agent market is likely to add another potential impact outfield bat in the coming weeks, when MLB officially declares Cuban defector Yasmany Tomas a free agent. (It's Yasmany, not Yasmani, apparently.) Jesse Sanchez and Ben Balder report that Tomas has already established residency in Haiti and has been unblocked by the Office of Foreign Assets Control, an important step needed to become a free agent. Badler says MLB should declare him a free to sign relatively soon.
Tomas, 23, defected back in June and he is scheduled to hold a showcase for scouts in the Dominican Republic this Saturday, according to Badler and Tomas. There's no word on whether the Yankees (or any other team, for that matter) will be in attendance, but they've gone to see every other notable Cuban free agent at their workouts, so I expect them to be there just to do due diligence, at the very least. Here's what we know about Tomas, first from Sanchez:
Tomas is known for his power and he has a reputation for launching long home runs, but he's also prone to big swing and misses. He's agile for his size, and he has a strong arm, but there is room for improvement on defense. As a result, he's characterized as "high-risk, high-reward" type of player in some international scouting circles. He is said to be in much better physical shape and has worked on his approach at the plate since leaving the island.
And now from Badler:
At 6-foot-1, 230 pounds, Tomas is a righthanded hitter with plus-plus raw power, although with some swing-and-miss tendencies, and a strong arm that should fit in right field. A standout on Cuba's 2013 World Baseball Classic team, Tomas hit .290/.346/.450 with six home runs, 21 walks and 46 strikeouts in 257 plate appearances this past season in Cuba's Serie Nacional.
One scout told Nick Cafardo that Tomas will likely command upwards of $100M while Jay Alou, Tomas' agent, told Jorge Ebro (translated article) he is shooting for a record deal this winter. The contracts for big name Cuban free agents are only getting bigger and bigger, going from Yoenis Cespedes ($36M) to Yasiel Puig ($42M) to Jose Abreu ($68M) to Rusney Castillo ($72M, the current record for an international position player), so I can totally buy the $100M number, especially since Tomas is several years younger than Abreu and Castillo. It doesn't sound far-fetched.
The Yankees have an obvious need for a big right-handed power bat and they have room on the roster for right field-type heading into next season. They've begun showing more interest in Cuban players this year, reportedly spending much more time scouting Aledmys Diaz and Castillo than they did Cespedes and Puig, even inviting them down to Tampa for private workouts. They didn't sign either guy but it wasn't because they didn't take the time to evaluate them. Like I said, I expect them to do the same with Tomas out of due diligence if nothing else.
The jury is still out on Castillo and Diaz (and Jorge Soler and Alex Guerrero), but Cespedes, Puig, and especially Abreu have all exceeded expectations so far. Alexei Ramirez, Leonys Martin, Jose Iglesias, and Adeiny Hechavarria have all been pretty much exactly what they were expected to be. Dayan Viciedo is the only notable disappointment among the current crop of Cuban big leaguers. We're talking position players only here, not pitchers. This small sample of players suggests Cuban players have a pretty high success rate when it comes to being at least serviceable big leaguers.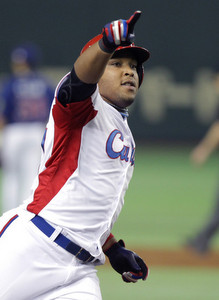 Does that mean Tomas will work out? Of course not. His propensity to swing-and-miss is a concern, especially since the pitching in Cuba is pretty weak, but 70 power (which is what Badler said Tomas has back in June) is an unteachable skill. Unteachable like Cespedes' and Abreu's power or Puig's freakish athleticism. It's also a very rare and valuable skill in this era where the entire league seems to have forgotten how to hit. If you want to dream, maybe the big righty pop and swing-and-miss-ability means he's Alfonso Soriano without the steals. That would be pretty great, actually. Soriano was awesome in his 20s.
I think one of the reasons the Yankees passed on Castillo was because he is an imperfect fit for the roster. (Whether that's right or wrong is another matter.) He was billed as a leadoff hitter type with strong defense, and, well, the Yankees already have two of those guys in Brett Gardner and Ellsbury. A third isn't necessary. Tomas profiles more as a middle of the order hitter and that's something the Yankees desperately need. Add in the fact that he is only 23 (four years younger than Castillo), has a strong right field-caliber arm, and plays a position of need, and you've got a player who makes a lot more sense for New York going forward.
As always, information about these Cuban players is very limited. Everything I know about the guy is in this post. The number of teams that pursue Tomas when he becomes a free agent — Cespedes, Abreu, and Castillo (and Masahiro Tanaka, he was in a similar situation) all had multiple top dollar suitors while the Dodgers reportedly blew everyone out of the water for Puig — will tell us more about how teams view him than anything Baseball America publishes. Teams don't go hard after nobodies. The Yankees went all-in on Tanaka because he was an ace in his mid-20s. If Tomas is a middle of the order hitter in his early-20s, then they need to go all-in on him as well.