It looks like we're in for an ugly end to the season, doesn't it? The Yankees are out of the postseason race and another weak game by the offense led to some frustration boiling over in the late innings on Tuesday. The Rays won the game 6-1. The Yankees have lost five of their last six games and seven of their last ten.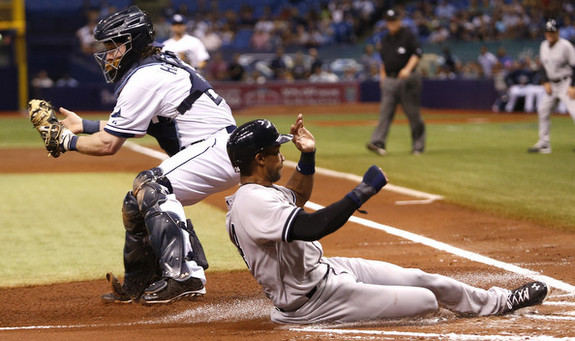 A Run!
For the seventh time in the last six games, the Yankees scored a run. Chris Young and Ichiro Suzuki teamed up for this historic event with two outs in the second inning. Young doubled down the left field line and Ichiro drove him in with a single through the right side of the infield. Young's at-bat was very impressive. He fell behind in the count 0-2, took three straight balls to work it full, fouled off two more pitches, then ripped the double. Somehow Chris Young is the team's best hitter.
The Yankees had some chances to score additional runs but quickly made sure not to capitalize. Brendan Ryan (walk) and Jacoby Ellsbury (single) reached base to start the third inning before Derek Jeter (bunt), Brett Gardner (pop-up), and Brian McCann (strikeout) made outs. Francisco Cervelli and Ryan (both singles) reached base to open the fifth, then Ellsbury (line out), Jeter (fly out), and Gardner (strikeout) ended the inning. The Yankees have had two runners on base with no outs three times in the first two games of the series and have scored zero runs.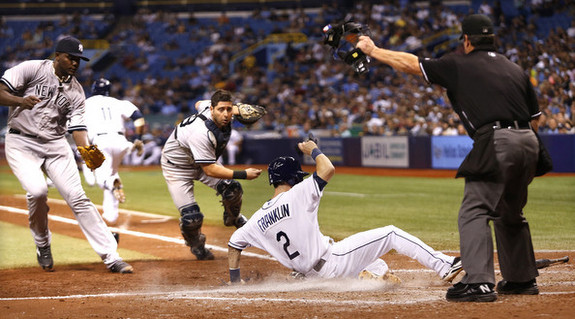 Big Mike For Four Innings
Things sorta spiraled out of control for Michael Pineda in the fifth inning on Tuesday. He cruised through the first four innings, allowing just two singles (both by James Loney, of course) and another runner to reach on the ol' strikeout/wild pitch combination. His pitch count sat at 52 starting the fifth inning, but Pineda would only record four more outs.
The Rays scored their first run thanks to some of the Yankees' trademark bad infield defense, specifically errors by Ryan and Pineda. Ryan short-hopped a throw to first, allowing Kevin Kiermaier to reach with one out, starting the rally. Ryan Hanigan followed that with a walk, then Ben Zobrist slapped a ground ball to first base. McCann scooped it up and made a less than perfect flip to Pineda, who bobbled the ball and eventually dropped it. Zobrist was safe and Kiermaier chugged around to score from second.
An inning later, three consecutive Tampa hitters reached base without only one ball being hit out of the infield. Nick Franklin sliced a one-out double to left field and Matt Joyce worked a walk to put two men on base. A wild pitch during Joyce's at-bat moved Franklin to third. Joe Girardi came out to chat with Pineda, left him in the game, then Yunel Escobar laid down a beautiful safety squeeze to score Franklin. Cervelli didn't even bother to throw to first after looking home. The Rays took the 2-1 lead on the bunt.
Josh Outman came in to clean up the mess — Kiermaier bunted into an inning-ending 1-6-3 double play because he slipped coming out of the box and was slow to get off the ground — so Pineda's final line was two runs (one earned) on four hits and two walks in 5.1 innings. He struck out five. After allowing three (really two) base-runners in the first four innings, five of nine Rays reached base at one point spanning the fifth and sixth innings.
Benches Clear
Things got dumb in the eighth inning. In the top half, home plate ump Rob Drake warmed both benches after Steve Geltz accidentally plunked Jeter. I didn't get that, it was clearly unintentional (0-2 count!). Girardi was ejected after coming out of the dugout to yell at Geltz. Then, in the bottom half, David Phelps immediately threw at Kiermaier and was tossed. Both benches cleared though nothing really happened. Lots of standing around and yelling. Usual baseball scruff stuff. Phelps didn't even hit Kiermaier, the pitch buzzed him. The Yankees can't even do beanball wars right these days. There's a lot of frustration in the dugout and it's starting to show.
Leftovers
The law firm of Rogers, Hill & Phelps combined to allow four runs in the seventh inning to put this one out of reach. Esmil Rogers was charged with three runs after allowing two hits and a walk. He got one out. Rich Hill failed to retire either batter he faced and was charged with one run. Ellsbury made an unbelievable diving catch in center to take extra bases away from Wil Myers, though two runners scored on the sac fly anyway. Double sac fly! The trail runner was Loney too. Good grief. Apparently tagging up on a sac fly isn't reviewable either. Who made up these rules?
Jeter's slump reached 0-for-26 and lowered his batting line to .249/.298/.297 (67 wRC+). He did have the sac bunt and was hit by a pitch though. The Yankees had three base-runners after Ryan singled to put two on with no outs in the fifth — Cervelli's one-out single in the seventh, Jeter getting hit by Geltz, and Chase Headley's leadoff single in the ninth. They scattered seven hits, two walks, and a hit batsman.
Hanigan's one-out walk in the fifth inning snapped a string of 119 consecutive batters without a walk for Pineda. That dates back to August 20th, his second start off the disabled list. That's not any sort of record — Phil Hughes went 178 (!) batters between walks earlier this year — but it is a really impressive streak.
Girardi was ejected in the top of the eighth after both benches were warned, then bench coach/acting manager Tony Pena was ejected after Phelps threw at Kiermaier. Third base coach Robbie Thomson took over as acting manager. Is it bad when you have three times as many managers as runs in a game? That seems bad.
Box Score, WPA Graphs & Standings
For the box score and video highlights, go to MLB.com. For some other game stats, go to FanGraphs. For the updated standings, go to ESPN. The Yankees will be either six games (Royals lose) or seven games (Royals win) back of the second wildcard spot with a dozen games remaining. FanGraphs puts New York's postseason odds at 0.4%. Their elimination number is down to seven and will drop to six if the Royals win. The Orioles clinched the AL East title on Tuesday, by the way.

Source: FanGraphs
Up Next
The Yankees and Rays will wrap up their season series on Wednesday night. (Tampa has already clinched it at 11-7.) Brandon McCarthy and Alex Cobb will square off in a battle of aces (?).