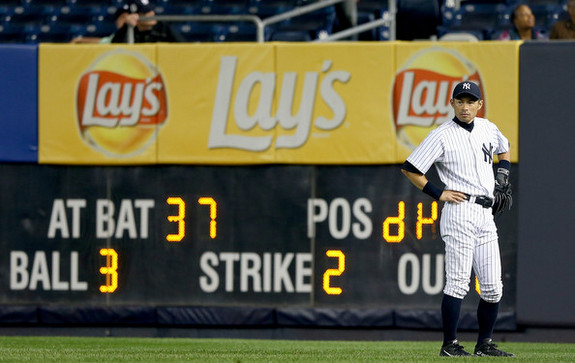 Last offseason, the Yankees sought to improve their offense by signing big name free agents, and that led to both Jacoby Ellsbury and Carlos Beltran wearing pinstripes. With Brett Gardner earmarked for left field and Alfonso Soriano in tow, Ichiro Suzuki was suddenly a man without a job. Not a full-time job anyway.
Ichiro had been relegated to a fifth outfielder's role before pitchers and catchers even reported to Spring Training. He was going to be a pinch-runner and defensive replacement specialist. That's pretty much it. To his credit, Ichiro didn't complain about being forced into a low-profile role when Spring Training rolled around, at least not publicly.
"This is a place where the greatest players gather and play, so I'm really excited to play with those guys," he said to Chad Jennings in February. "Obviously with the additions, I'm going to have to find a place for myself, but I worked hard this offseason. I worked on a lot of things, and throughout Spring Training, hopefully those things will come together and we'll see where it goes from there."
After the Yankees unsuccessfully tried to trade him — they offered to eat $4.5M of his $6.5M salary to send him to the Astros — Ichiro started three of the first six games of the season because Ellsbury's calf was barking, and he went 6-for-13 (.462) in those three starts. He appeared in 32 of the team's next 40 games, but 20 of those appearances came as a late-inning defensive replacement. Three other appearances came as a pinch-runner.
Suzuki batted only 69 times in the first 46 games of the season and he was damn good: .369/.406/.431 (139 wRC+). He had settled into his new role wonderfully. It was very reminiscent of the 1996-2000 Yankees, who had former greats like Tim Raines and Wade Boggs excelling in reduced roles because they accepted them. They weren't jonesin' for more playing time.
In late-May, the bone spur in Beltran's elbow flared up and Soriano's season-long slump started to become untenable. Ichiro's playing time soon went up and his production went down as a result. Beginning with May 23rd, he started 45 of the team's next 56 games and hit .236/.294/.279 (60 wRC+) during that time. That's more or less what you'd expect considering he .262/.297/.342 (71 wRC+) as a full-time player last season and was now a year older.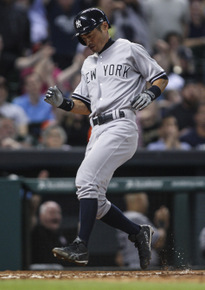 The Yankees put an end to the "Ichiro as an everyday player" experiment at the trade deadline by acquiring Martin Prado with the intention of playing him in right field. Of course, that never really happened. Prado wound up spending a bunch of time at second base because Stephen Drew was so bad, so Ichiro played right field whenever Beltran's elbow prevented him from throwing, which was basically all the time.
Even after the Prado trade, Ichiro still started 34 of the team's final 54 games, including 19 starts in 26 September games. He actually hit quite well during that time, putting up a .312/.331/.384 (99 wRC+) batting line in 130 plate appearances. Suzuki finished the season with a .284/.324/.340 (86 wRC+) batting line and one homer in 385 plate appearances. His strikeout rate was a career-high by far at 17.7%. His previous career high was 11.7% in 2010.
Because of Beltran's elbow and Soriano's general awfulness, Ichiro started 94 games this past season despite opening the year as the fifth outfielder. He seemed to play better — both coming off the bench and in spot starts — in that role. Once he started playing everyday, it got a little ugly. Ichiro's defense has slipped over the years — he's still solidly above-average, no doubt — and it was even more noticeable in 2014. The guy turned 41 yesterday. What do you expect?
Ichiro told reporters after the season that he wants to continue playing, presumably because he wants to get 3,000 hits in MLB (he's 156 away). He also cryptically referred to some clubhouse issues after Game 162 — "Obviously there's a lot of things that go on that the fans and the media can't see, that goes on inside (the clubhouse), but what I can say is that the experiences I had this year, those experiences are going to help me in the future," he said to Brendan Kuty — though it's unclear if he was referring to a widespread problem or his own unhappiness.
In all likelihood, the Yankees and Ichiro will go their separate ways this offseason. He'll look for more playing time and the team has cheaper fifth outfielder options in Eury Perez and Ramon Flores, among others. Ichiro was pretty awesome in the second half of 2012 and again as a part-time player in 2014, but everything in between was not so good. Needing him to play so much this past season definitely contributed to the Yankees missing the postseason for the second straight year.