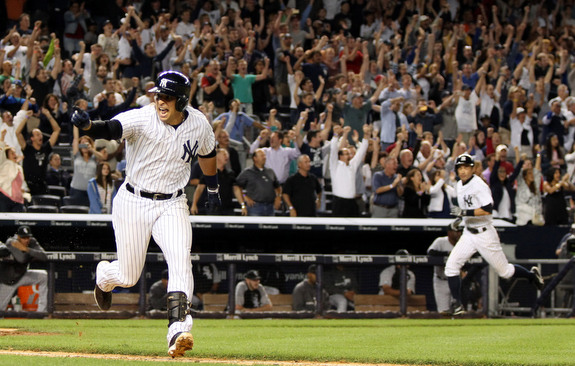 Despite all of last winter's free agent signings, it wasn't much of a surprise when the Yankees needed offensive help at the trade deadline. They started the season with question marks at second and third bases, plus no one really knew what to expect out of Derek Jeter following his lost 2013 season. Add in disappointing seasons from Brian McCann and Carlos Beltran and you had a team in need of a bat or three at the deadline.
The Yankees made their first move to add offense about a week before the deadline, grabbing Chase Headley from the Padres. That was a nice start but they needed more. Brian Cashman swung a minor trade with the Red Sox to acquire Stephen Drew on deadline day, then, just a few minutes before the deadline, he acquired the versatile Martin Prado from the Diamondbacks for minor league slugger Peter O'Brien.
The trade for Prado almost didn't happen, however. Cashman had been talking to D'Backs GM Kevin Towers about Prado for a while but the asking price was high, so, a few hours before the trade deadline, he pulled the plug on talks and went after Drew. That's when Arizona circled back around and lowered their demands, which complicated things. John Harper explains:
Within minutes (of the Drew trade), however, Towers called back to say, OK, he was willing to trade Prado for O'Brien. Cashman was exasperated because the Drew deal, which meant taking more than $3 million in salary, was suddenly an obstacle."I said, 'Dude, we just did a deal (for Drew),' " Cashman recalled. "I told him I'd have to talk to ownership."

Cashman called Hal Steinbrenner and explained how important Prado's versatility could be both this season and beyond. He also told him he thought Prado's intangibles make a difference as well.

"He has a great reputation around the game as a tough kid and a gamer," Cashman said of Prado.

Steinbrenner immediately signed off on the proposal, and Cashman called Towers back and said they had a deal, with a half hour or so to spare.
Like so many players on the D'Backs, the 30-year-old Prado was in the middle of down year, hitting only .270/.317/.370 (89 wRC+) in 106 games before the trade. He hit .282/.333/.417 (104 wRC+) last season after putting up a .294/.342/.436 (114 wRC+) line as a full-time player with the Braves from 2009-12. There were no injury concerns or anything like that. His performance just slipped and that's always kinda scary.
The original plan called for Prado to play right field full-time — Beltran was the full-time DH and Ichiro Suzuki was moved back to the bench — even though he had two whole innings of experience at the position in his career. Prado joined the team the day after the trade deadline and he made his debut that night, pinch-hitting for Ichiro and grounding out in the seventh. He stayed in the game and struck out in the ninth inning as well.
Prado started in right field the next day and singled before being lifted for a defensive replacement in the late innings. He started again the next day and the same thing happened, minus the single. Prado went 2-for-5 with a homer off David Price in his fifth game with the team, though otherwise his first two weeks in the Bronx were pretty underwhelming: 7-for-43 (.163) with a double and the homer plus eleven strikeouts. He was playing mostly right field but also filled in at third base when Mark Teixeira was banged up (Headley slid over to first).
Then, on August 16th, it seemed like someone just slipped the switch. Prado went from drain on the offense to the team's best hitter practically overnight. He hit a two-run homer off Drew Smyly on that day, went 2-for-4 with a double the next day, and 3-for-4 with a double the day after that. On August 22nd against the White Sox he went 2-for-5 with a two-run homer and a walk-off single.
With Drew not hitting at all and Prado tearing the cover off the ball, Prado had taken over as the team's regular second baseman and number three hitter by the end of August. He went 22-for-60 (.367) with six doubles and three homers in the final 15 games of August and maintained that pace in September, going 5-for-7 with two doubles and a homer in the first two games of the month.
Prado was lifted for a pinch-hitter in the ninth inning of the team's September 2nd game because he hurt his hamstring at some point earlier in the game. Tests confirmed a strain that was bad enough to keep him on the bench for six of the next eight games — he started two of those eight games but the hamstring didn't like that — before coming back for good on September 11th. Prado went 8-for-19 (.421) with two homers in the next six games.
Another injury struck on September 15th, this one a bit more serious. Prado returned to the team hotel in Tampa following that night's game and complained of stomach pain overnight, bad enough that the trainers send him to the hospital, where he eventually underwent an emergency appendectomy. The procedure ended his season. Just like that, the Yankees lost their starting second baseman and most productive hitter with 13 games left in the season and their postseason hopes fading fast.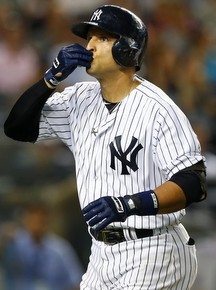 Despite those slow first two weeks, Prado hit .316/.336/.541 (146 wRC+) with nine doubles and seven homers in 37 games after the trade. (He hit only five homers with the D'Backs.) He appeared in 17 games at second base, eleven at third base, eight in right field, and four in left field while playing anything from solid to above-average defense at each spot. His performance checked in at 1.4 fWAR and 2.1 bWAR and that passes my sniff test. I can totally buy Prado adding 1-2 wins to the Yankees after the trade thanks to those last four weeks, which were so impressive.
Arizona's motivation for the trade was shedding the $26M or so they owed Prado though the 2016 season, so the Yankees have him for two more years. In O'Brien, they gave up their top power hitting prospect, but a prospect without a position and concerns about his plate discipline and ability to tap into that power at the MLB level. O'Brien hit 33 homers with a ~147 wRC+ in 102 games split between High-A Tampa and Double-A Trenton before the trade, then played only four Double-A games for the D'Backs before fouling a ball off his leg and suffering a season-ending shin injury. (He's healthy now and playing in the Arizona Fall League.)
As good as Headley was down the stretch, Prado had the most impact of the team's trade deadline position player pickups. He shook off those slow first two weeks — adjustment period to a new team, a new league, etc.? — and was a force the rest of the way, deservingly batting in the middle of the order and playing whatever position the team needed him to play that night. Prado's versatility will give the Yankees some flexibility to pursue upgrades this winter because they plug him in at second, third, or right field next year and feel comfortable. Prado wasn't enough to get the Yankees into the postseason, but he might be part of the solution these next two years.
("The Prado of the Yankees!" is John Sterling's homer call for Prado. It's so cheesy but I love it.)