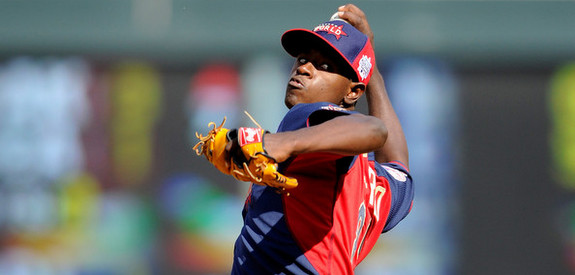 Earlier this week, Baseball America started their annual look at each team's top ten prospects. The series continued today with the Yankees, and, as always, the list is free but the scouting reports are not. The link also includes free video for six of the ten prospects, so make sure you check that out. Here is Baseball America's entire top ten index and here is New York's top ten:
RHP Luis Severino
OF Aaron Judge
SS Jorge Mateo
1B Greg Bird
C Gary Sanchez
LHP Ian Clarkin
2B Rob Refsnyder
LHP Jacob Lindgren
C Luis Torrens
3B Miguel Andujar
Severino and Judge are 1A and 1B in my opinion. I consider Judge the team's top prospect because of the general attrition rate of 20-year-old pitchers plus the fact that offense is the scarce commodity these days, not pitching. That's just my opinion. They're both excellent and both are Yankees though, so the order doesn't really matter.
The Mateo ranking might be a bit aggressive but people have been raving about him all summer. He's clearly one of the team's top prospects even though a hand injury limited him to only a handful of games in 2014. Bird over Sanchez seems to be based on performance as much as anything. The scouting report calls Bird an average defensive first baseman who "projects to hit 18-20 homers in the big leagues," then says Sanchez can be a "frontline catcher with the potential for a .280 average and 20-25 home runs annually." Plus Sanchez has at least a grade 60 bat flip tool: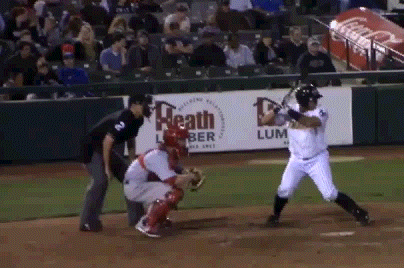 Anyway, Refsnyder and Lindgren are basically MLB-ready pieces while Clarkin, Torrens, and Andujar are lower level guys who are still years away. The scouting report notes that, with the help of pitching coordinator Gil Patterson, Clarkin added a cutter to his fastball-curveball-changeup mix this summer. Torrens is going to be the next great Yankees catching prospect very soon — the write-up says his defense draws raves even though he didn't move behind the plate full-time until the team signed him in July 2012 — and the scouting report says Andujar has a "future of an everyday third baseman whose bat profiles for the position."
Compared to last year's top ten, I think this year's has much more upside and depth. 3B Eric Jagielo didn't make the cut — I assume he's prospect No. 11 — despite having a pretty damn good year with High-A Tampa (132 wRC+ with 16 homers in 85 games) around an oblique injury. Last year he would have been in the top five no questions asked following a season like that. The farm system still isn't in a great shape but it is definitely on the way up, especially after the club's international spending spree this summer. There's a ton of upside in the lower levels right now, way more than usual. I think the Yankees have been very good at acquiring talent in recent years. Developing it has been the problem.