Got a big mailbag this week. Thirteen questions, so it's rapid fire with short-ish answers. Use the Submit A Tip box in the sidebar to send us anything throughout the week.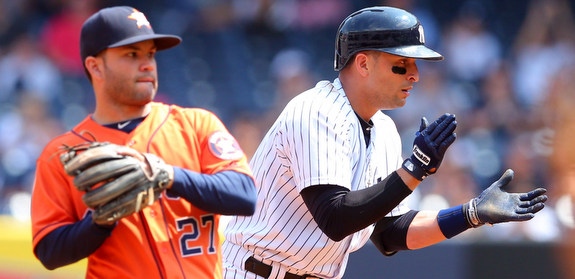 T.J. asks: Do the Yankees owe any of their trade partners PTBNL (Player(s) To Be Named Later)? If so, when might we hear who is going back to said team? I only ask after the whole Zach McAllister/Austin Kearns deal, back in the day.
The Yankees owe the Indians a player to be named later (or cash) for Josh Outman and they also owe the Diamondbacks a player to be named later (or cash!) for Martin Prado. I thought that deal was straight up for Peter O'Brien, but apparently not. The official release says there's a player to be named heading to Arizona. The Yankees will probably just send cash to Cleveland for Outman, but I suppose the player going to the D'Backs could be somewhat notable. It won't be a top prospect or anything like that, but maybe a bullpen prospect or something. PTBNL have to be named within six months of the trade, so sometime before December for these deals. Also, it's time to move on from McAllister. He's not very good. The definition of replacement level.
Matt asks: We've seen, as you've mentioned before, teams employ co-hitting coaches, could you see in the near future a team employ co-managers? I know bench coaches are viewed upon as a second manager, and sometimes are former managers themselves, but do you see it possible to have two actual "co-managers?"
I don't think that will happen. I think you need to have one guy making the final decisions and calling shots. The bench coach is there to help the manager out and stuff, but at some point it needs to come down to one person saying yes or no. Having co-managers seems like it would be too many cooks in the kitchen. There should be one clearly defined person in charge.
NYYFan14 asks: Thoughts on going after Rickie Weeks this offseason?
Weeks, 32, had a nice year in a part-time role for the Brewers this summer, hitting .274/.354/.452 (127 wRC+) with eight homers and 19 doubles in 252 plate appearances. He's hit .243/.347/.448 (122 wRC+) against lefties the last two years and the various defensive stats say he's been below-average at second for a while now. The FanGraphs' crowdsourcing has a two-year, $12M deal for Weeks and while I don't think that's unreasonable, I would rather not see the Yankees lock themselves into a second baseman like that. I really want them to give Rob Refsnyder a legitimate chance at the job at some point in 2015.
Mark asks: Given the complete mess the Rays are in now and that the new GM likely will want to rebuild, should the Yanks become aggressive in trying to acquire Ben Zobrist? What do you think it would take to acquire him?
I'm guessing the Rays will go into total rebuild mode now, and Zobrist figures to be among the first to go since he can be a free agent after next season. He would obviously be a great fit for the Yankees — switch-hitter with a ton of patience and some power, very good defensively, can play almost anywhere (second base until Refsnyder, right field thereafter?), and will be owed only $7.5M in 2015 once they pick up his no-brainer option. My guess is it would take three pieces — a top prospect, a decent MLB-ready piece, secondary prospect — at a minimum. That's what it cost to get one year of Matt Holliday back in the day, and acquiring offensive help has only gotten more expensive. Plus Zobrist will be in very high demand. The Rays will have their pick of offers.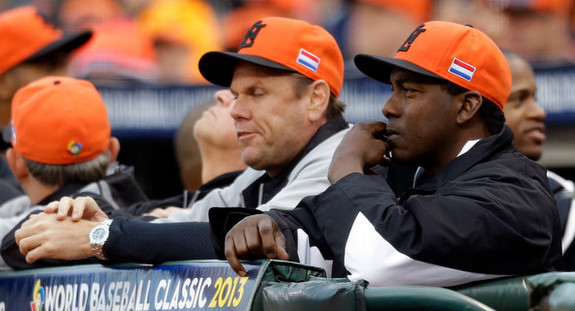 Seb asks: Hensley Meulens is a free agent. Is he the best fit as the new hitting coach in New York?
No idea. Meulens has been the Giants hitting coach since 2010 and during that time they've had a number of veteran players have surprisingly big seasons after looking washed up (Aubrey Huff, Pat Burrell, and Andres Torres). Was that his doing? Who in the world knows. I don't think we can say who is and who isn't a good hitting coach candidate for the Yankees. I don't think there's any way we can accurately evaluate coaches, really. Meulens has been the hitting coach for a very good team the last five years. That's reason enough to interview him in my book.
Joe asks: Here's a softball down the middle … who is the Yankees biggest acquisition this offseason?
I honestly don't think the Yankees will sign any of the top free agents (Max Scherzer, Jon Lester, etc.), but they are still the Yankees and they have a lot of roster holes to fill. My guess — and this is a total guess — is they open up the wallet to keep Brandon McCarthy and give him a three-year contract worth $15M per season. Again, just a guess. They need pitching and they know him. McCarthy's a very good fit.
Nick asks: If the Yankees had to choose between McCarthy and Hiroki Kuroda for next season, Who do you think they should go with?
I love Kuroda. He's been one of my favorite Yankees the last few years. But he's going to turn 40 in February and he wasn't quite as good in 2014 as he was in 2012-13, enough to make me nervous about him going into next season. McCarthy is nearly ten years younger and he's very good in his own right. I know he has a history of shoulder problems — McCarthy did stay healthy in 2014 for the first time in a long time — but I'm not sure his health is any riskier than that of a 40-year-old whose thrown over 3,000 innings in his career. Love Kuroda, but I'm taking McCarthy for 2015.
Anonymous asks: Is improving the offense the most important task on the agenda this off-season?
Yep, clearly. Improving the infield defense relative to last year will be important as well, but they need offense first and foremost. Trying to contend with a below league average offense in a small ballpark in a division with three other small ballparks in the DH league ain't gonna work out to well for them. Run prevention is great! But you need to score too. A lot more than the Yankees have the last two years. Offense is priorities one, two, and three this winter.
Darrin asks: With the 3b situation unfolding I don't see why there is much of a debate between going after Pablo Sandoval or keeping Chase Headley. To me — and his stats show — Headley is barely average offensively while Sandoval puts up nice consistent numbers and is very good in the postseason. I would much rather have Sandoval instead. What do you think?
Sandoval is clearly the better player and he is two years younger. I don't think anyone will dispute that. The question is whether Sandoval at five years and $80M (again, FanGraphs' crowdscouring) is better than Headley at four years and $56M. That is very much up for debate. Sandoval's conditioning has been a problem his entire career and part of me worries that if you drop $80M in front of him, he'll eat his way out of baseball before long. In a vacuum, I'd take Sandoval in a heartbeat. But Sandoval for $80M over Headley at $56M? Eh, probably not.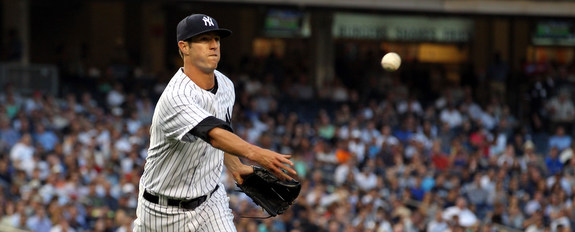 Rick asks: Would you prefer the Yankees to go with Shane Greene as the fifth starter or to sign two starters this offseason and assume that one of the starters is going to break down/be awful?
Sign two starters, definitely. Masahiro Tanaka (elbow), CC Sabathia (knee), Ivan Nova (elbow), and Michael Pineda (shoulder) are all going into next season with some kind of injury concern. Whoever goes into next season as the number five starter could end up the number two starter before the end of April. I'm totally cool with signing two starters — Nova won't be back until midseason, remember — and pushing Greene into the sixth starter's role. You know as well as I that he'll end up making like 20 starts anyway.
Sam asks: With as much as playoff performance seems to weigh in debates over who is a true superstar across all sports, is Madison Bumgarner catching Clayton Kershaw as best lefty in the game?
Bumgarner was historically great in the postseason. Like all-time great kind of stuff. But Kershaw is on another level. I'm not going to let this last month outweigh the last four years, when Kershaw has been clearly the best pitcher on the planet. I mean, it wasn't even close this year. He was far ahead of everyone else. Right now, I'd have Bumgarner as the third best southpaw in baseball behind Kershaw and Chris Sale. You could make a very strong case that David Price should be third too. Bumgarner was absurd in the playoffs this. Off the charts great. But there's more pieces to the puzzle than October.
Nick asks: Would the Yankees have any interest in Kyuji Fujikawa?
On a minor league contract, sure. The 34-year-old Fujikawa was a big deal a few years ago when he came over from Japan as the top closer in the country, but he blew out his elbow after signing with the Cubs and needed Tommy John surgery. He had a 5.04 ERA (3.61 FIP) in 25 innings scattered cross the last two seasons. I'm not sure that guy deserves a guaranteed contract, but I'm sure someone will offer him one anyway. Fujikawa is someone to keep in mind though. Maybe he'll slip through the cracks.
J.R. asks: Reading that the Yankees reinstated A-Rod from his 162 game suspension got me thinking: If there had been a game 163, could A-Rod have played in that? He had a 162-game suspension and was ineligible for the postseason, my understanding is that game 163 is technically a regular season game. Your thoughts?
Game 163 is considered a regular season game and yes, technically Alex Rodriguez would have been eligible to play. I don't know if that means the Yankees would have had to reinstate him off the restricted list — I suppose A-Rod could have filed a grievance if they tried to keep him out while he was eligible to play — but I guessing they would have declined to do so if it was at all possible. The suspension only covered the 162-game regular season and postseason. Knowing MLB, I'm sure they just would have finagled the rules to make sure the suspension covered Game 163 as well.