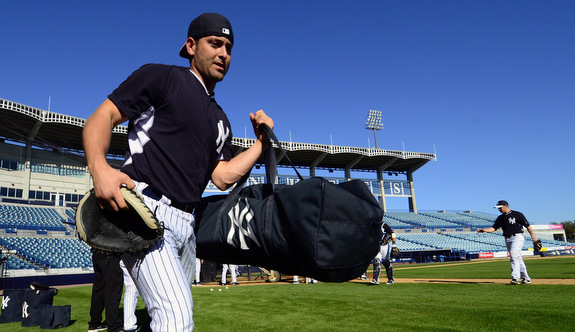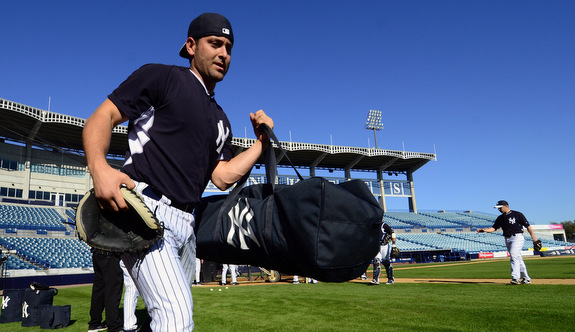 At this time last season, the Yankees were still talking about getting under the $189M luxury tax threshold for the 2014 season. It was definitely doable, but it would have been very difficult, especially since the team wanted to contend at the same time. Eventually the Yankees abandoned their luxury tax plan and they didn't even get back to the postseason anyway, so double yikes.
Because Alex Rodriguez's salary is coming back on the books and the team handed out four free agent contracts worth $15M+ last offseason, the Yankees won't be able to get under the luxury tax in 2015 and probably not in 2016 either. It might be possible in 2017, after the current Collective Bargaining Agreement expires and the luxury tax threshold is presumably raised.
Anyway, that's a really long way of saying salaries for New York's arbitration-eligible players are less important this offseason then they were at this time last year. When I looked at the club's 2015 payroll situation three weeks ago, I guesstimated a $12M figure for their arbitration-eligible players. Turns out I was pretty close. Matt Swartz posted arbitration salary projections using his insanely accurate model — he's been within 5% the last few years — earlier this week, and he has the Yankees' players at $12.9M total. Not a bad job by me. Here are the projections:
Arbitration Eligible Players (service time in parentheses; projections via Matt Swartz)

Shawn Kelley, RP (5.128): $2.5MM projected salary
Francisco Cervelli, C (4.146): $1.1MM
Esmil Rogers, RP (4.087): $1.9MM
Ivan Nova, SP (4.024): $3.3MM
Michael Pineda, SP (3.099): $2.1MM
David Huff, RP (3.062): $700K
David Phelps, SP/RP (2.156): $1.3MM
Pineda (~$1.5M raise), Huff (~$200K raise), and Phelps (~$800k raise) are all arbitration-eligible for the first time. Pineda is getting a nice bump in salary despite missing all that time to injury because a) he was pretty awesome when healthy this past year, and b) he was an All-Star back in 2011, and that pays. Phelps qualified as a Super Two by about a month's worth of service time, so he'll be arbitration-eligible four times instead of the usual three. He and Pineda aren't going anywhere. Same goes for Nova (no raise after lost season). They'll be tendered contracts for next year.
Rogers, on the other hand, is an oh so obvious non-tender candidate at that salary. He earned $1.85M this past season, which is why his projected 2015 salary is so high. His raise isn't expected to be that significant. Rogers had his moments in pinstripes (like this one) and his fastball/slider combination is just good enough to keep you interested, but not at $1.9M. The Yankees could always non-tender him and re-sign him at a lower salary, maybe even a minor league contract.
I don't have any problem with Kelley at $2.5M next season — these days you basically have to throw 30 innings and not run over the closer with a bullpen cart to be worth $2.5M — even though he can be annoyingly inconsistent. At his best, he's a true eighth inning guy who misses an awful lot of bats. At his worst, Kelley allows like four runs and gets one out. Which makes him no worse than most other relievers, really. His projected salary isn't nearly high enough to scare me away.
The same goes for Cervelli even though I have no reason to believe he can stay healthy over the course of a full season. Quality catching is hard to find and the Yankees shouldn't give it away for nothing just because they have John Ryan Murphy and Austin Romine (and soon Gary Sanchez) sitting in Triple-A. Even if they don't want to keep Cervelli at that price, I think another team would give them an interesting enough low-level lottery ticket prospect in a trade. Then again, what do I know.
As for Huff, he actually pitched pretty well this past season by long man standards, posting a 1.85 ERA (4.00 FIP) in 39 innings. That's usable. Huff's projected salary is barely above the league minimum, so the decision whether to tender him a contract will come down to other factors like project performance and roster concerns. If the Yankees need a 40-man roster spot this winter — they'll need one as soon as the World Series is over because A-Rod's suspension ends — Huff could be the odd man out.
It's worth mentioning these contracts are not guaranteed. Teams can release arbitration-eligible players who sign one-year deals before mid-March and only owe then 30 days termination pay. If they release them after mid-March but before Opening Day, it's 45 days termination pay. The Yankees dumped Chad Gaudin this way a few years ago. They could keep Huff, see how the offseason plays out, then cut bait if a need for a roster spot arises. I'd put my money on Huff being non-tendered.
The Yankees have an uninteresting crop of arbitration-eligible players this winter. There are no real tough decisions here. It's an easy call to non-tender Rogers and an easy enough call to keep everyone other than Huff. Huff is the only borderline guy and there's almost no wrong decision there. If they non-tender him, fine. If they keep him, whatever. The arbitration-eligible players won't make or break anything this offseason. The Yankees have an easy arbitration class this winter, which is good because they need to focus on lots of other stuff.