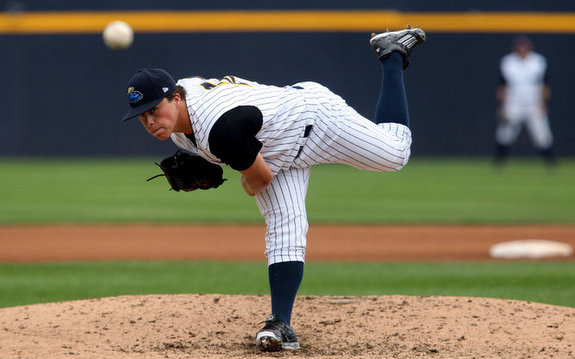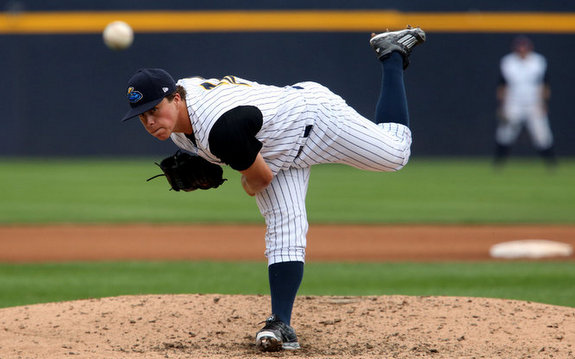 Jacob Lindgren | LHP
Background
Lindgren, who will turn 22 in March, is from Bay St. Louis in Mississippi, which is about 50 miles outside New Orleans. He played both football and baseball at St. Stanislaus High School and won state championships in both sports. Lindgren had a 1.26 ERA with 197 strikeouts in 107.1 innings as a junior and senior while earning All-State honors. The Cubs selected him in the 12th round of the 2011 draft, but he did not sign and instead followed through on his commitment to Mississippi State.
As a freshman with the Bulldogs, Lindgren was a middle reliever who eventually worked his way into the rotation and made two starts late in the year. He finished the season with a 3.18 ERA and a 24/7 K/BB in 28.1 innings across 14 appearances, including the two starts. Lindgren was named to the Conference Freshman Academic Honor Roll and played summer ball with the East Texas Pump Jacks of the Texas Collegiate League.
The late season audition didn't just earn Lindgren a rotation spot as a sophomore, he started on Opening Day and was the team's Friday night starter for much of the year. Lindgren had a 4.18 ERA in 56 innings spread across 14 starts, striking out 65 and walking 18. He was again named to the Conference Academic Honor Roll. After the season, Lindgren pitched for the Bourne Braves of the Cape Code, posting a 4.15 ERA with six strikeouts and one walk in 4.2 relief innings.
Lindgren moved back into the bullpen full-time his junior year once it was decided the whole starting thing wasn't going to work out. He quickly emerged as one of the top relievers in the country, pitching to a 0.81 ERA with 100 strikeouts and 25 walks in 55.1 innings. He was used as a multi-inning high-leverage reliever rather, not as the closer. Lindgren was a candidate for both the Stopper of the Year Award (top reliever) and Gregg Olson Award (breakout player) in addition to being named to the Conference Academic Honor Roll a third time.
Prior to the 2014 draft, Baseball America and Keith Law (subs. req'd) ranked Lindgren as the 50th and 67th best prospect in the draft class, respectively. Baseball America had him as the second best prospect in the state of Mississippi. The Yankees selected Lindgren in the second round (55th overall) of this June's draft, which was their top pick. He signed within about a week of the draft for the full slot $1,018,700 bonus.
Pro Debut
Lindgren made his pro debut two weeks after signing and it was nothing more than a tune-up appearance with the rookie Gulf Coast League Yankees. He struck out two in a scoreless inning. The Yankees bumped Lindgren up to Low-A Charleston (5 IP, 1 H, 1 R, 1 ER, 0 BB, 11 K), then to High-A Tampa (7.1 IP, 3 H, 1 R, 0 ER, 4 BB, 17 K), then to Double-A Trenton (11.2 IP, 6 H, 6 R, 5 ER, 9 BB, 18 K). All told, Lindgren struck out 48 batters and walked 13 in 25 pro innings after signing (2.16 ERA).
Scouting Report
Listed at 5-foot-11 and anywhere from 180-205 lbs., Lindgren is a short little lefty who regularly sits in the 92-95 mph range his fastball, which runs back inside on lefties. His moneymaker is a vicious low-to-mid-80s slider with hard and late break that chews up righties and lefties alike. Lindgren turns his back to hitters during his delivery and the deception helps his fastball-slider combo play up. Here's some video:
Lindgren does not have a changeup nor will he need one going forward because he's a full-time reliever — both Brian Cashman and amateur scouting director Damon Oppenheimer confirmed he will remain in the bullpen going forward. His fastball sits in the upper-80s as a starter and his command is just okay overall, so there isn't enough upside to make it worth trying him in the rotation. Lindgren played against top competition in the SEC throughout his college career and his makeup is said to be well-suited for a late-inning role.
2015 Outlook
The Yankees will invite Lindgren to big league Spring Training next year and the expectation is that he will be given every opportunity to win a bullpen job. If he doesn't, he'll go to Triple-A Scranton and bide his time. The Yankees didn't draft Lindgren with their top pick — even if it was in the second round — to coddle him in the minors for several years. They aggressively moved him up the ladder this summer and he'll make his MLB debut at some point next season, likely sooner rather than later. If he doesn't, then something went very wrong.
My Take
I don't love the idea of taking a reliever with your top pick, though the Yankees did not have a first rounder and these days the talent comes off the board fairly linearly. The best players go first. Their options with the 55th overall selection were some raw high schoolers — the kind of players they haven't had much success developing lately — or a near-MLB-ready reliever. They opted for a reliever and Lindgren will help him in some capacity this season. I like that Lindgren has an elite put-away pitch in his slider and that he isn't just a specialist; he's an Andrew Miller-esque southpaw who will be able to pitch full innings against both lefties and righties. It'll be nice to see a top draft pick pay some immediate dividends after these last few years.