The following is a guest post from Sung-Min Kim, who has also written guest posts about Kei Igawa and Hyo-Jun Park.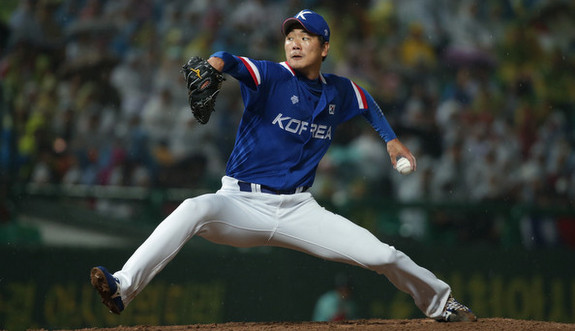 According to Eun-Byul Park of eDailyStar, left-handed pitcher Kwang-Hyun Kim of the SK Wyverns in Korea will have a press conference on Wednesday afternoon to discuss the "pursuit of going over to the Major Leagues." The article also states that the Wyverns' general manager and main representative will also be present. All signs point to the team posting their star pitcher.
Kim, 26, is one of the most popular players in the Korean Baseball Organization. He was drafted by the Wyverns in the first round in 2006. By the end of 2007, Kim had already posted 3.62 ERA in 77 IP as a 19-year old. His rise is very storied among Korean fans. The Wyverns were down 1-2 to the Doosan Bears in the Korean Series and the manager decided to start the teenager to save their season. The starter for the Bears was one-time Yankee Danny Rios, who later went on to win the league MVP after having a phenomenal season with 2.07 ERA in 234 IP and 22 wins. Undaunted by the task, Kim threw a 7.1 IP gem with only one hit allowed while striking out 9, earning the win for the Wyverns that later went on to win the Korean Series title. Here's a Korean television segment about the fateful game.
From 2008 to 2010, his ages 20 to 22 seasons, Kim rivaled Hyun-Jin Ryu as the most talented young lefty in the nation. He went 16-4 with 2.39 ERA in 27 starts in 2008, winning the league MVP, the gold medal for Team Korea in the Beijing Olympics, and another Korean Series trophy as the Wyverns won consecutive titles. He went 12-2 with 2.80 ERA in 2009 and 17-7, 2.37 ERA in 193.2 IP in 2010 (and another Wyverns title). By the end of 2010, there wasn't much doubt about his place as one of the best lefties in the history of Korean baseball. However, starting in 2011, Kim became plagued by slumps and injuries. From 2011 to 2013, he posted 4.84, 4.30 and 4.47 ERAs, respectively, with worse control (4.64 BB/9 from 2011-13 as opposed to 3.64 BB/9 in 2008-2010) and strikeout numbers (7.10 K/9 from 2011-13 as opposed to 8.11 K/9 from 2008-10).
The 2014 season was not his best year, however he came back as a healthy, full-time starter who finished second in the league in ERA (3.42) and home run rate (0.52 HR/9) and seventh in strikeout rate (7.51 K/9). His fastball hit as high as 96 mph, which is around where he topped when he was a younger ace. His 3.42 ERA in 173.2 IP may not be impressive for a pitcher that is pitching at a well-below NPB's level, but KBO experienced a historical offensive explosion this summer.  The ex-San Francisco and Lotte Giant Ryan Sadowski describes it the best:
"As of September 10th, we have seen 5,762 runs scored over the course of 505 games. There have been about 11.4 runs scored per game or 5.7 runs scored per team. We have witnessed about a 40% increase in runs scored from the 2012 season. We have also seen 1,047 home runs during the 505 games that have been played.  In 2014, we have seen an 80% increase in homeruns produced in comparison to the 2012 season."
That is insane. There were only SIX starters in KBO with ERA under 4.00 and Kim is the only Korean-born pitcher in that group. The other five: Rick VandenHurk (3.18), Andy Van Hekken (3.51 and the first 20-game winner in KBO since Rios), Charlie Shirek (3.81), Dustin Nippert (3.81) and Cory Riordan (3.96).
A huge knock on Kim's 2014 numbers is that his walk rate remained mediocre at 4.20 BB/9. There have been Asian imports, or just pitchers in general, that had less-than-ideal control and pitched decently in Majors, but for every Kaz Ishii there are names like Kei Igawa and Ryota Igarashi — pitchers you did not want anywhere near the 40-man roster. The lefty was also one of the luckiest pitchers with runners on base: 74.6 LOB% is the second in league (though one can argue that Kim bumps up his velocity a notch in dicier situations). I would say this video summarizes Kim's season in a nutshell: showing some control hiccups to get into trouble but using his upside to get outs and out of the trouble.
My assessment: I do not see Kim being a full-time starter in the Majors unless there is a major improvement in command. It would be a wishful thinking for him to be an "effectively wild" pitcher a la early-2002 Kaz Ishii. I don't know if Kim would post walk rates as abysmal as Ishii's (6.19 and 6.18 BB/9 in his first two seasons with the Dodgers) but what mattered was that he was a pitcher expected to start in every five games for three Major League seasons. I think a lot of Korean baseball fans would more than gladly take that for Kwang-Hyun Kim.
If Kim were to sign with an ML team, it's because they would be sold by his stuff. His fastball usually plays around high-80's-to-low-90's. He is able to bump it up to mid-90's but don't expect a first-grade heat from the lefty. According to a big league scout quoted in Global Sports Integration, Kim has "big league stuff. Definitely a big league slider." The scout adds "Kim's raw stuff is electric. If he were a raw prospect with low mileage, he would be the best prospect in Asia. But he has injury history and isn't 21 years old."
Some fans may remember RHP Suk-Min Yoon, who signed a ML contract with the Baltimore Orioles in the previous winter. The deal, however, has not gone well at all for the Birds. Yoon, who was also one of the best young starters in KBO along with Kim and Ryu, was trending downwards with health and performance when he signed with Baltimore. Ryu, who had showed endurance in Korea, came off one of his best seasons in 2012 before he signed with the Dodgers. Kim, I would say, is somewhere in between those two. He has his share of injury history but he's trending upwards in stock – definitely not at Ryu's level but enough to maybe give some team to take a flier or two.
As for the Yankees, I doubt that they will look at Kim as a rotation option. First off, there are other names in the free agency that could possibly woo the team to spend bigger money on (Jon Lester, James Shields, Brandon McCarthy, etc.). The team also has in-house rotation candidates and pieces that delegitimize a need for a risky signing like Kim. There have been reports that Yankee scouts have checked on him and some think a posting fee between "$10 to 12 million" is "not a stretch." But then again, I will believe what the ML teams actually think of his value when I see it. All indications say Kim will be posted and it will be interesting to see how a pitcher from Korea with less-than-optimal history would be seen among the teams.