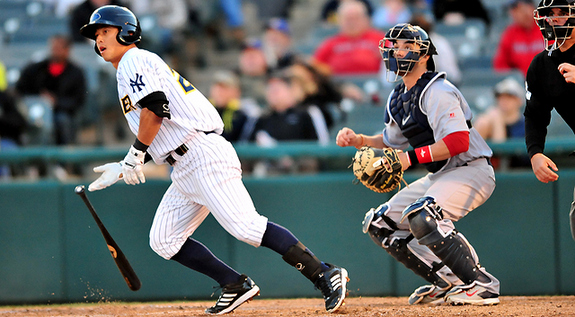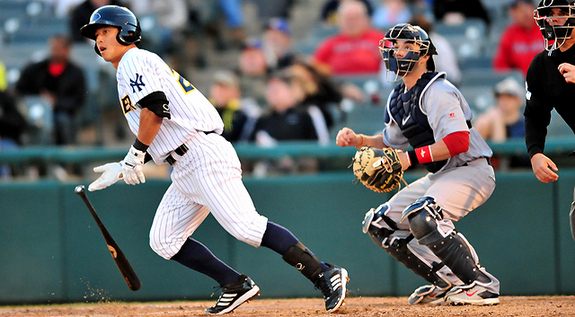 Baseball America continued their breakdown of the top 20 prospects in each minor league with the Double-A Eastern League today. As usual, the list is free but the scouting reports are subscriber only. Nationals OF Michael Taylor, Red Sox IF/OF Mookie Betts, and Indians SS Francisco Lindor claim the top three spots. C Gary Sanchez (No. 11) and 2B Rob Refsnyder (No. 13) represent the Yankees. RHP Luis Severino didn't throw enough innings with Double-A Trenton to qualify for the list.
"On the field, Sanchez still draws raves for his bat, which shows the potential for both a high average and lots of power. He can get his hands in and turn on the inside pitch with power, but evaluators did note that he struggled with both breaking pitches and changeups this season," said the scouting report, which also noted Sanchez has a top notch arm but still has a lot of work to do defensively. They also say his maturity continues to be an issue. Sanchez, 21, hit .270/.338/.406 (108 wRC+) with 13 homers in 110 games for Double-A Trenton this summer.
The 23-year-old Refsnyder hit .342/.385/.548 (159 wRC+) with 19 doubles and six homers in 60 games with the Thunder this year before being promoted to Triple-A Scranton. "Refsnyder drew raves from evaluators for his ability to hit line drives to all sectors and also for possessing premium bat speed. He's got pop, but it's more of the gap-to-gap, doubles variety than true home run power," said the scouting report. It also says Refsnyder is "still crude technically" in the field but he has improved at second base.
The Eastern League list is probably the most impressive list I've seen so far. There was a ton of top talent in the league this summer. Severino didn't qualify for the list and others like OF Tyler Austin, RHP Bryan Mitchell, and LHP Manny Banuelos simply didn't make the cut. The last list relevant to the Yankees is the Triple-A International League, which is due out tomorrow or the next day. The RailRiders were devoid of prospects for most of the summer. Refsnyder should make the list but others like RHP Shane Greene and C John Ryan Murphy will probably fall short.
Other League Top 20s: High-A Florida State League, Low-A South Atlantic League, Short Season NY-Penn League, Rookie Gulf Coast League.