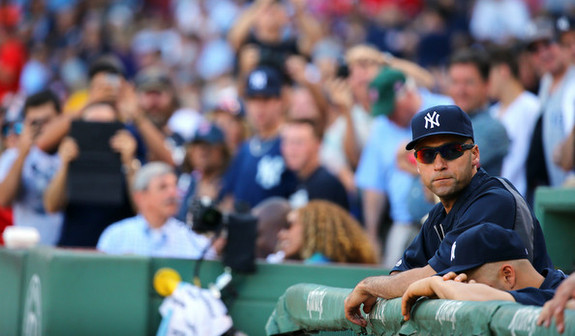 For the last two decades, the Yankees had the luxury of knowing Derek Jeter would be their starting shortstop. It's a tough position to fill and he was excellent. Jeter had an insane peak year in 1999 but his greatness was always built around his durability and consistency, the write it in pen year-after-year production. He didn't have that crazy 7+ WAR per year for five years peak, but he was a 4+ WAR player for like 15 straight years. Every year, he produced.
The Yankees have to replace Jeter at shortstop this offseason and — let's be honest here — replacing his 2014 production won't be difficult. Out of 146 qualified batters he ranked 124th in OBP (.305), 145th in SLG (.313), and 140th in wRC+ (73). He was bad even by shortstop standards (league average at the position was an 87 wRC+). Add in the poor defense and Jeter's on-field contribution was basically replacement level this year.
Replacing the 2014 version of Jeter on the field doesn't figure to be particularly difficult. They're not going to be able to replace him in the clubhouse — I don't think the lost leadership will be a big issue but it's not negligible either — and they definitely won't be able to replace his marketability and drawing power. That's impossible. All they can do is upgrade on the field at shortstop, which will be both relatively easy given Jeter's performance and difficult at the same time.
The timing worked out well and Jeter's retirement coincides with a free agent class heavy on quality shortstops. That's good! The Yankees will have their pick of the litter, assuming they're willing to pay the price. I don't know if playing for the Yankees is as much of a draw as it once was (money still talks) and I'm sure some are put off by the idea of replacing Jeter and having to try to live up to an impossible standard.
We'll inevitably take many, many looks at the various free agent shortstops this winter, but for now here's a quick look at the group:
Asdrubal Cabrera: Average-ish hitter, bad overall defender but with a knack for highlight plays, generally healthy, won't cost a draft pick.
Stephen Drew: Awful at the plate this year, pretty good last year, very good defender, injuries have been an issue, won't cost a draft pick.
J.J. Hardy: Average-ish hitter whose power disappeared in 2014, very good defender, lingering back issues, will cost a draft pick.
Jed Lowrie: Above-average hitter from 2012-13, less than that in 2014, okay defender at best, healthier in recent years, might cost a draft pick.
Hanley Ramirez: Legitimate middle of the order masher, terrible defense, lots of injuries in recent years, will cost a draft pick.
Every so often a free agent comes along who fits a team perfectly. CC Sabathia fit the 2009 Yankees perfectly. Brian McCann fit the 2014 Yankees perfectly. Nelson Cruz fits the 2015 Mariners perfectly. None of these shortstops fit the 2015 (and beyond) Yankees perfectly though, and that's the case with most free agents. They're all good to great players with their own sets of pluses and minuses.
Any of these guys would represent an on-field upgrade over 2014 Jeter but the Yankees must determine who is the best fit. Do you want to go long-term with Hanley knowing he'll possibly be a 120 games a year third baseman as soon as 2016? Is Hardy's power and defense worth that risky back? Back problems never really do away, you know. They just get more manageable. The Yankees have enough dead weight on the payroll as it is and the free agent shortstop class looks like a minefield of potential bad contracts.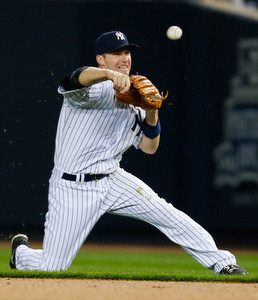 There are always trades to consider — Jimmy Rollins, anyone? — but if no appealing long-term shortstop solutions exist, isn't the best move finding a short-term stopgap and trying to figure it out again next winter? Drew, for example, is destined for a small one-year contract. There's at least a chance he will hit next year following a normal offseason — "I haven't had a regular Spring Training in three years. I had the ankle, the concussion and then all the stuff this past year. I haven't had a normal routine in a while. I had to play the cards I got dealt and make the best of it. This offseason, I can take a step back and prepare for next season the right way. I'm healthy and looking forward to it," he said to George King — which is more than you can say for Brendan Ryan.
I wouldn't blame the Yankees at all if they walked away from Drew given how terrible he looked this year, both in pinstripes and with the Red Sox. His 44 wRC+ in 300 plate appearances happened. It can't be ignored. But, if the Yankees don't want to spend big on a shortstop, he's probably the best one-year stopgap they'll find. And that's kinda scary. This isn't like finding a left fielder or a DH for a year. Quality shortstops are rare and teams tend to jump on them given the chance. Ryan's two-year contract (plus a player option!) looks silly but that's what it takes to get someone to play the position competently.
The Yankees will not be able to replace Derek Jeter the person this winter but they have to replace Derek Jeter the shortstop and that shouldn't be tough given the year he had. The question is how do they want to replace him? There are cases to be made for going long-term for one of the big name free agents — Hanley sure would look great hitting third behind Jacoby Ellsbury and Brett Gardner, wouldn't he? — or going short-term until a better fit comes along. Until they can pry one of the Cubs' young shortstops loose, for example. Either way, the Yankees will upgrade at short this winter. It's just a question of how.