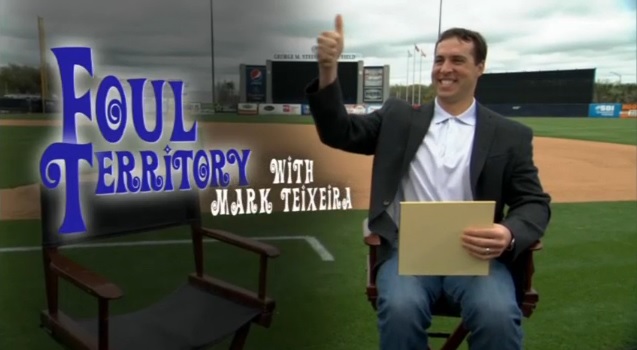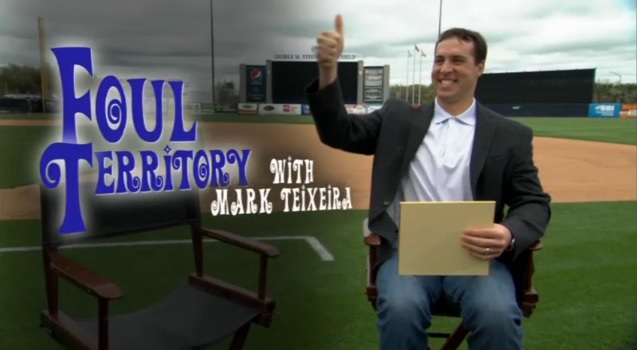 We spend a lot of time here at RAB — like, a ridiculous amount of time — talking about the Yankees and being super serious about stuff. Moves have to be discussed and performances need to be analyzed. This is serious business.
If you're looking for more of that this afternoon, this isn't the post for you. We have something like 20,000 posts of serious stuff dating back to 2007 you can dig through if you want. This post is for everyone who wants to forget about the serious stuff for a few minutes and focus on the parts of the 2014 Yankees that made us laugh. Stuff like this:
That didn't happen at a Yankees game, but I watched it happen live while the Yankees were on a commercial break in Spring Training. I'm pretty sure former Yankee Curtis Granderson hit that ground rule double too. See? Fun. Baseball can actually be fun sometimes. No need to be serious all the time. It's baseball, man. A kid's game.
Anyway, I think one of my favorite moments of the 2014 season came way back in Spring Training, when a Yankees-Red Sox game was randomly halted because there was a swarm of bees on the field. It took them like ten minutes to get things sorted out before the game could resume. I remember that moment because it produced this GIF (via The Big Lead):
Wait, wait. You need to hear why Mark Teixeira was holding two bottles of honey. From Mark Feinsand:
"I'm a big peanut butter-and-honey guy, so I always know where the honey is," Teixeira said. "What I thought was if you could just do a line of honey out to the parking lot the bees would maybe follow it and leave us alone."
"Do a line of honey out to the parking lot the bees would maybe follow it."
That … isn't the worst idea in the world? It would definitely backfire though. Kinda like when the coyote painted a tunnel on the giant rock and the roadrunner ran through it anyway.
Unbeknownst to us, while Teixeira was working on his beekeeping skills in Tampa, he was also recording a fake talk show called Foul Territory for the YES Network. And it was actually funny! At least at first. Teixeira told Dan Barbarisi he came up with the idea for Foul Territory in Spring Training as a way "for the new guys to get broken in, in kind of a funny way—not necessarily hazing, because I'm hazing myself more than anything."
Teixeira interviewed just about every new player who joined the team last offseason, including Jacoby Ellsbury (video) and Brian McCann (video). My personal favorite was either Masahiro Tanaka's appearance …
… or Jack Curry's appearance …
… or the overlooked (probably because everyone lost interest by the end of the season) Brendan Ryan appearance …
… but that's just me. The entire Foul Territory archive is
right here
, by the way.
It still amazes me a Yankee was able to record a multi-part fake talk show in Spring Training and have it be almost universally well-received. I get the feeling that would have not gone over all that well a few years and decades ago. Is Foul Territory an indication the Yankees are loosening up the rules a bit? Nah, of course not. They're still the Yankees and will always have that business-like vibe. I guess that's what made Foul Territory so much fun — it was a break from the norm.
This past season I made a point of making sure I enjoyed baseball more and didn't take it so seriously. Especially since it was kinda clear the Yankees would stink. If I'm going to commit to watching a mediocre team everyday, then I'm going to laugh at everything I can. And with that, I'll leave you with this GIF (via Buzzfeed):