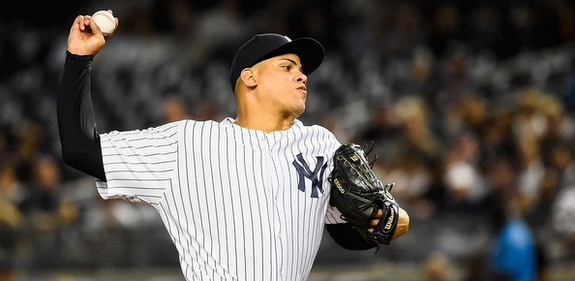 To the surprise of no one, White Sox slugger Jose Abreu was named the 2014 AL Rookie of the Year on Monday night, the BBWAA announced. He won unanimously and deservedly so. Dellin Betances finished third in the voting behind Abreu and Angels right-hander Matt Shoemaker. Masahiro Tanaka finished fifth behind those three and Astros righty Collin McHugh.
Betances received seven second place votes and six third place votes (27 points) while Shoemaker received 12 second place votes and four third place votes (40 points). Tanaka received three second place votes and seven third place votes (16 points). The full voting results are available at the BBWAA's site. This is the first time in history the Yankees had two players receive Rookie of the Year votes in the same season. No, really.
The Yankees do not have any finalists for the other major awards. Joe Girardi will surely receive a few Manager of the Year votes and Betances and/or Tanaka may pull down a Cy Young vote or two. The bottom of the MVP voting is always kinda fun and I'm sure a Yankees or three will pop up there. Rookie of the Year or not, Betances had a marvelous season and there's no shame in finishing third in the voting.