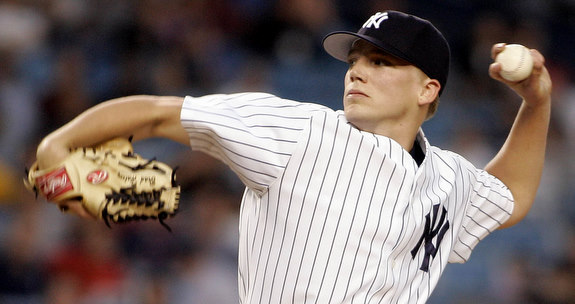 Former Yankees left-hander Brad Halsey is dead at the age of 33, his representatives at O'Connell Sports confirmed. He was killed in a climbing accident near his home in Texas according to Bob Nightengale. No other details have been released.
Halsey was New York's eighth round pick in the 2002 draft. He reached the big leagues in June 2004 and won his first career start by holding the Dodgers to two runs in 5.2 innings. Halsey started the famous July 1st game against the Red Sox, which is best remembered for Derek Jeter's face-first dive into the stands and John Flaherty's walk-off double.
After going 1-3 with a 6.47 ERA in seven starts and one relief appearance in 2004, the Yankees traded Halsey to the Diamondbacks as part of the package for Randy Johnson. He spent one year with Arizona (8-12, 4.61) before being traded to the Athletics for Juan Cruz. Halsey spent the 2006 season with Oakland (5-4, 4.67) before blowing out his shoulder and needing surgery.
Halsey filed and won a grievance against the Athletics for the way they handled his shoulder injury. He bounced around Triple-A and the independent leagues for a few years before returning to the Yankees on a minor league contract in 2011. Halsey had a 4.73 ERA in 24 relief appearances with High-A Tampa and Double-A Trenton that year, his last as a professional player.
Our condolences go out to Halsey's family and friends.