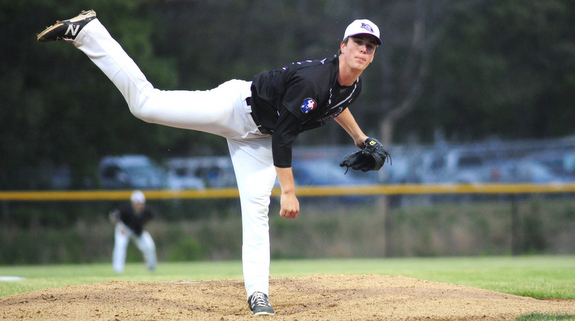 Austin DeCarr | RHP
Background
DeCarr grew up south of Boston in Foxborough, where he played both baseball and football at Xaverian Brothers High School. He went undrafted after graduating in 2013, then did a post-graduate year at the prestigious Salisbury School in Connecticut. DeCarr went 7-0 with a 0.64 ERA and a 93/19 K/BB in 42 innings during his lone year as Salisbury.
Prior to the 2014 draft, Baseball America ranked DeCarr as the 64th best prospect in the draft class while Keith Law (subs. req'd) did not rank him among his top 100 draft prospects. The Yankees selected DeCarr with their third round pick, the 91st overall selection. He passed on his commitment to Clemson and signed a week after the draft for a $1M bonus, well above the $585,100 slot value.
Pro Debut
The Yankees sent the 19-year-old DeCarr to the rookie level Gulf Coast League after signing. He pitched to a 4.63 ERA (3.68 FIP) in 23.1 closely monitored innings across eight starts and three relief appearances. Only four times in those eleven outings was he allowed to complete three full innings of work. DeCarr told John Johnson he spent a bunch of time with the rehabbing Andrew Bailey while in Tampa.
"I've probably been hanging around with Bailey more than anyone, and I've learned a lot from him," said DeCarr to Johnson. "Life in professional baseball is obviously a little bit different than things I've experienced in the past. We've talked about that, and about trying not to get too up or down and staying focused on the things that I can control."
Scouting Report
DeCarr is a big kid who is listed at 6-foot-3 and 218 pounds. He sat in the 90-92 mph range this spring but reportedly bumped that to 93-94 with a few 96s while working in short bursts after signing. His best pitch is a hard low-80s hammer curveball he can throw for strikes or bury in the dirt for swings and misses. It's a true out pitch at its absolute best. You can see it a few times in this video:
DeCarr does throw a hard changeup in the mid-80s but it is his clear third pitch right now. He uses a bit of an old school drop-and-drive delivery and he can locate his fastball to both sides of the plate. As with most high school pitchers — DeCarr technically wasn't drafted out of high school, but he kinda sorta is a high school prospect — out of cold weather states, DeCarr doesn't have many miles on his arm and he lacks experience. The Yankees love his makeup and work ethic, predictably.
2015 Outlook
Even though he will turn 20 in March, I expect DeCarr to start next season in Extended Spring Training rather than head to Low-A Charleston. He seems like an obvious candidate to join the organization's new Appalachian League Affiliate (Pulaski Yankees!) when their season starts in late-June. The Appy League is technically classified as rookie ball, though the quality of competition is better than the Gulf Coast League but not quite as good as the Short Season NY-Penn League. It's a stepping stone between the GCL Yanks and Staten Island Yanks, which seems like an appropriate level for DeCarr.
My Take
I didn't know a whole lot about DeCarr prior to the draft but I do like that he has an out pitch in his curveball. That ability to miss bats will take you pretty far all by itself. DeCarr is more or less maxed out physically, so he probably won't add much if any velocity as he matures these next few years. The changeup is the key here. If he can learn a usable changeup — it doesn't have to be a great pitch, just good enough to make hitters respect it — DeCarr will have a chance to become a big league workhorse starter. If not, he might have to settle for a bullpen role long-term. There's nothing wrong with that, of course. He's a very good pro prospect, I'm just sure I see the huge upside we tend to associate with teenage pitching prospects.