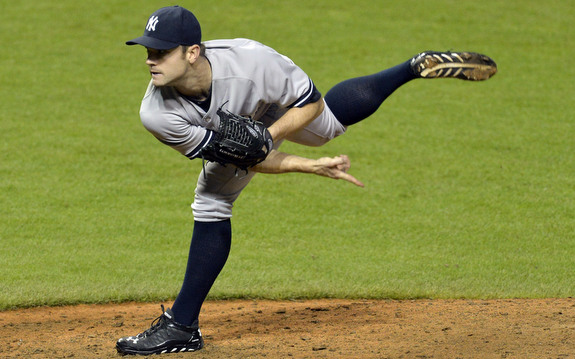 Free agency has been open for a week and two days now, and during the GM Meetings this week, David Robertson's representatives have been meeting with interested teams to talk about a potential deal. Agents for every other big free agent are doing the same exact thing. Here's the latest on the Yankees long-time setup man and 2014 closer, courtesy of Andrew Marchand, Joel Sherman, Brendan Kuty, and Mark Feinsand.
To the surprise of no one, Robertson is asking for "Papelbon money" during his initial meetings with teams. That means a four-year deal worth $50M (plus a vesting option!). Robertson's last three years (2.59 ERA, 2.59 FIP, 4.23 K/BB) are actually better than Jonathan Papelbon's three years prior to free agency (2.89 ERA, 2.72 FIP, 3.85 K/BB), but Papelbon was a long-time closer who closed out a World Series, and teams seem to value that.
Brian Cashman confirmed he met with Robertson's representatives earlier this week. "Clearly, as a free agent, he is going to maximize his value, period. Whatever that turns out to be," said the GM. "I wouldn't characterize it other than the fact to say he is helluva pitcher that did it in the toughest environment after the greatest player of all-time and he did it with ease. I would suspect that would command top dollar."
At least half a dozen teams have already expressed interest in Robertson, including one team with a protected first round pick. Check out our 2015 Draft Order Tracker to find out who those teams are. The Yankees get the same supplemental first round pick should Robertson sign elsewhere no matter what. It doesn't matter whether his new team has a protected pick.
The Tigers are not planning to spend big on a late-game reliever despite their perpetual bullpen problems. GM Dave Dombrowski said they picked up their $7M option for Joakim Soria so he could set up Joe Nathan next year. They also have hard-throwing youngster Bruce Rondon returning from Tommy John surgery.
The Cubs are another team not planning to spending big money on the bullpen this winter. They're focused on top of the rotation help and will apparently employ the popular "stockpile a bunch of cheap guys with good arms and figure out the bullpen during the season" strategy.
The Rockies won't pursue Robertson either. I didn't expect them too, but who really knows with that franchise. They do weird stuff all the time. New GM Jeff Bridich said they will have a "healthy competition" in Spring Training to determine their closer.