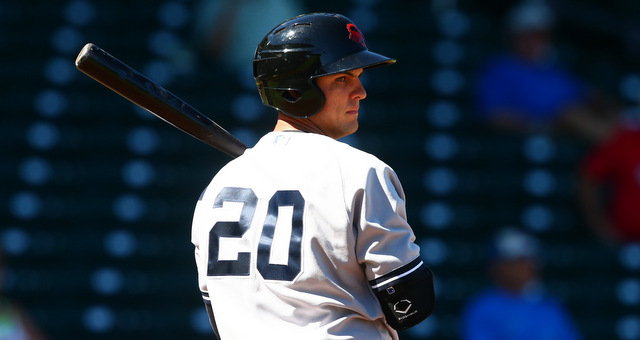 Three years ago, the Yankee caught some grief for selecting Florida high school third baseman Dante Bichette Jr. with their top pick in the draft, the 51st overall selection. There were concerns about his swing and ability to hit pro pitching (not to mention his defense), and those concerns still exist today. Bichette is a career .255/.337/.373 (106 wRC+) hitter in nearly 1,800 minor league plate appearances, which is fine but not anything that will turn people in believers.
Bichette did not receive the largest bonus among New York's draftees in 2011, however. They gave Colorado high school catcher Greg Bird a $1.1M bonus in the fifth round to buy him out of a commitment to Arkansas, and he has since zoomed by Bichette in the prospect rankings. That happened even though he moved out from behind the plate and over to the less glamorous first base, partially due to back problems and partially as a way to get him up the ladder quicker.
"We just agreed (first base) was going to be the best thing going forward. I think it was more about my tools than anything. It was basically, 'Why spend time catching when we could progress forward faster playing first base?'" said Bird to David Laurila last week. "People ask that a lot – does (not catching) help me as a hitter? – and I think maybe it does, but I'm more of a cerebral hitter anyway. As far as, 'Is he going to throw this or is he going to throw that,' I was that way growing up, so I've kind of always had that mindset. I don't really sit on pitches, but if you're not thinking along with what's going on, you're not playing the game."
Bird, who turned 22 yesterday, is a career .283/.407/.488 (141 wRC+) hitter in a bit more than 1,100 minor league plate appearances, and he's currently hitting .318/.392/.568 (159 wRC+) in 23 games with the Scottsdale Scorpions in the Arizona Fall League. (Bichette has a 65 wRC+ as his teammate.) That performance, as well as his massive dead center homer in the AzFL Fall Stars Game, has put Bird in the spotlight, especially with the big league Yankees in need of offense.
"I think he is a legit middle-of-the-order bat. He has lift and really drives the ball with big-time power," said one scout to Joel Sherman. "If you go middle out on him, he will go the other way with power. He still had some problems with off-speed pitches, but you cannot throw a fastball by this guy. I see him in the majors hitting .260-to-.280 with 20-homer-plus power."
The Yankees could obviously use a hitter like that, even at first base, where Mark Teixeira is signed for another two years. It's not hard to connect the dots and see Bird's timetable lines up pretty well with the expiration of Teixeira's contract. Bird figures to open the 2015 season back at Double-A, and since he'll be Rule 5 Draft eligible next winter, the Yankees could get a head start on things by adding him to the 40-man roster and calling him up in September.
With Teixeira getting more and more injury prone each year, Bird could be his up-and-down replacement in 2016 while getting regular at-bats in Triple-A. That doesn't sound all that exciting, but the Yankees got 678 plate appearances from their first baseman this past season, and only 487 of them went to Teixeira (72%). There were 200 or so plate appearances for someone like Bird in 2014. It might be 300-400 in two years, when Teixeira is 36.
Most young players get their first extended big league opportunity thanks to an injury. That's what happened with Melky Cabrera back in 2006, remember. He helped fill in for Hideki Matsui and Gary Sheffield. Brett Gardner got his first chance when Johnny Damon got hurt in 2008. Heck, Derek Jeter was the shortstop in 1996 because Tony Fernandez got hurt. That's just how it works in baseball and especially with the Yankees, who are hesitant to hand starting jobs over to young players. Teixeira's injuries work in Bird's favor.
The 2015 season is going to be very important for Bird. He's created some hype with his performance these last two years and especially in Arizona these last few weeks, but next year will be his first extended stint at Double-A, a level that is usually a separator between prospects and suspects. If he continues to hit there, being the long-term replacement for Teixeira will go from nice idea to real possibility. Huge free agent first base contracts are among the worst investments in the game (Teixeira, Albert Pujols, Prince Fielder, etc.) and it's something New York may be able to avoid thanks to Bird in two years.
The Yankees have only had four regular first baseman dating back to 1984 and it's both unrealistic and incredibly unfair to expect Bird to continue that run. For now, let's just hope his success continues in 2015 and he puts himself in position to be a big league option in 2016. That alone would be a big help to the Yankees, who seem to an employ a "we'll play anyone at first" approach to backing up Teixeira. Bird is not the team's best prospect but he is one of their most important prospects because he has a clear path to MLB playing time, both in the short and long-term.