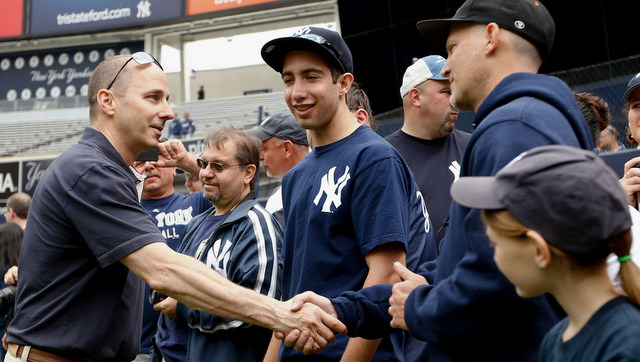 Although the Yankees didn't do anything of note at the Winter Meetings last week, they have been busy this offseason and especially this month. Most of the moves have been on the smaller side, at least relative to last offseason, though the club has remade the left side of the infield, added some pitching, and improved the bench. As a result, the 2015 payroll situation has changed quite a bit since our last update in early-October.
The Yankees insist they will not give Max Scherzer the kind of ginormous contract it will take to bring him to New York, and when you see their current contract commitments, it's easy to understand why. They have a lot of big contracts gone bad and next year's payroll is already well beyond the $189M luxury tax threshold. Unless ownership decides to push payroll to a place it's never been, Scherzer (or James Shields, for that matter) isn't happening. Here's where the 2015 payroll sits right now.
UNDER CONTRACT (16 players signed for $206.56M)
Players: A-Rod ($27.5M), CC Sabathia ($24.4M), Mark Teixeira ($22.5M), Masahiro Tanaka ($22.14M), Jacoby Ellsbury ($21.86M), Brian McCann ($17M), Carlos Beltran ($15M), Brett Gardner ($13M), Chase Headley ($13M), Martin Prado ($10M), Andrew Miller ($9M), Chris Capuano ($5M), Chris Young ($2.5M), Brendan Ryan ($1.67M), Esmil Rogers ($1.48M), Jose DePaula ($510k)
Those are each player's luxury tax "hit," not their actual take home salary for the 2015 season. The Yankees seem to operate in terms of luxury tax salary because that's the most important number to them. Those 16 players already soak up over $206M of payroll on their own and that's just incredible. It's nearly $13M per player. The scary part is that no one really knows what to expect from the four highest paid players next year due to injuries and other factors.
DePaula is a special case here because the only one of those 16 players who isn't locked into an MLB roster spot heading into next season. The Yankees signed him to a split one-year contract back in November, so he'll earn $510k while in MLB and only $175k in the minors. For luxury tax purposes, his salary will be based on his time at each level. If, for example, he spends half the year in MLB and half in Triple-A, his luxury tax hit will be a little more than $342k — half of $510k plus half of $175k. Got it? Good. The other 15 players here are pretty straight forward. They're all expected to be on the roster.
ARBITRATION-ELIGIBLE (four players projected for $9.2M)
Players: Ivan Nova ($3.3M), Shawn Kelley ($2.5M), Michael Pineda ($2.1M), David Phelps ($1.3M)
The Yankees started the offseason with seven arbitration-eligible players and now they're down to four. Francisco Cervelli was traded, David Huff was non-tendered, and Rogers agreed to a contract to avoid arbitration on non-tender deadline day. The Yankees cut his salary the maximum amount, so it seems like they said either take the offer or we're going to non-tender you. Harsh, but not a bad strategy.
MLBTR's arbitration projections are generally very accurate but there are always some outliers, so these salaries could be high or low. For now they work as good estimates. None of those four players stands out as a contract extension candidate. Pineda and Nova would have if not for all the injuries — Nova is hurt right now and Pineda's made 13 starts in the last three years. Then again, neither guy received a huge signing bonus as amateurs, so maybe they'd jump at the chance to get a guaranteed payday and the Yankees could low-ball them. I don't see that happening though. Adding these four to the under contract guys gives us $215.76M on 20 players.
PRE-ARBITRATION (19 players)
Players: Tyler Austin, Manny Banuelos, Dellin Betances, Danny Burawa, Preston Claiborne, Ramon Flores, Didi Gregorius, Bryan Mitchell, John Ryan Murphy, Eury Perez, Branden Pinder, Jose Pirela, Jose Ramirez, Austin Romine, Gary Sanchez, Adam Warren, Chase Whitley, Mason Williams, Justin Wilson
As with DePaula earlier, these 19 players will sign split contracts for the 2015 season, so they'll earn something close to the league minimum in MLB and something considerably less in the minors. Again, their luxury tax hit depends on how much time they spend at each level. At this point, Betances, Gregorius, Warren, either Murphy or Romine, and probably Wilson are the only guys here we can safely say will spend all of next season in the show. Everyone else figures to either ride the bus up and down or simply spend most of the season in the minors.
Conservatively assuming $600k each for Betances, Gregorius, Warren, Wilson, and one of the backup catchers — the MLB minimum is $507,500 next year, but these guys all have big league time and will earn more than that — brings us to $218.76M for 25 roster spots, including DePaula, who's probably going to start the year in Triple-A. The remaining pre-arbitration players are usually estimated at $2M or so for the season, bringing us to $220.76M for 39 roster spots. (The Yankees have one open 40-man spot right now.) Good gravy that's a lot of money.
BONUSES (up to $10.825M)
Players: Alex Rodriguez ($6M with six more homers), Chris Young (up to $3.825M based on plate appearances), Chase Headley (up to $1M based on plate appearances)
Bonuses do count towards the luxury tax and A-Rod's homer milestone bonus is the big one. He's six away from tying Willie Mays on the all-time homerun list and that triggers the first of five milestone bonuses. (The next milestone kicks in at 714 homers and he's 60 away from that, so it won't happen this year if at all.) A-Rod hasn't hit fewer than seven homers during a season in which he actually played a game since he was a 19-year-old kid in 1995. Even with two surgically repaired hips and almost two full years away from the game, six homers seems doable for Alex as long as he stays on the field.
Young's and Headley's bonuses are all based on plate appearance totals. Headley gets $250k each for his 475th, 500th, 525th, and 550th plate appearance of the season. Young's bonuses are much more complicated — he gets $150k for his 250th plate appearance and that gradually climbs to $550k for his 600th plate appearances. In a perfect world Headley gets his full $1M and Young gets maybe less than half that $3.825M. (He'd have to hit 400 plate appearances to get roughly half.) I'm not going to include the bonuses in our running payroll total because they aren't guaranteed, but they are something to keep in mind and something the Yankees have to plan for.
CURRENT 25-MAN ROSTER
There's still a lot of offseason left and a lot can change, yadda yadda yadda, but here's the Yankees' 25-man roster as it stands right now:
Catcher

Infielders

Outfielders

Rotation

Bullpen

McCann
1B Teixeira
LF Gardner
Sabathia
Betances
2B Prado
CF Ellsbury
Tanaka
Miller
DH
SS Gregorius
RF Beltran
Pineda
Warren
A-Rod!
3B Headley
Capuano
Kelley
Phelps
Wilson
Bench
Disabled List
Rogers
C Murphy or Romine
OF Young
Nova
?
IF Ryan
?
The bench question mark would likely be Pirela if the season started today, but maybe he gets beaten out by a non-roster invitee or something in Spring Training. Either way, that spot figures to cost right around the league minimum. The Yankees could go in a lot of different directions for the bullpen question mark, including putting Phelps in the 'pen and letting Mitchell or Banuelos or DePaula start. Whitley, Claiborne, Burawa … lots of cheap internal options for the final pitching question mark.
Of course, I don't know many people who want that spot filled with a cheap internal option. Lots of people want Scherzer or Shields or a big trade for Jordan Zimmermann, someone like that. A legitimate top notch starter to improve the rotation. The Yankees already have approximately $220M in luxury tax hits committed to their 40-man roster as it is right now though. Oh, you know what? I totally forgot to add the $12M or so each team has to pay in benefits each season, which counts towards the luxury tax. The Yankees are really at $232M or so for those 39 roster spots. The team finished the 2013 season — meaning after midseason trades — with $236.2M in payroll for the luxury tax, their all-time record. They're approaching that number now before doing anything in season.
Yes, this is just an estimate and there's still a lot of wiggle room with the bonuses and arbitration-eligible and pre-arbitration players, but not a ton. I'd guess we're within $10M of the real payroll number, which is a lot and a little at the same time. Point is, the Yankees are at the very least in the ballpark of setting a new franchise record payroll. Adding someone like Scherzer or Shields would make it all but guaranteed. The Yankees have a ton of money and can afford this — at least I think they can, I haven't seen their books — but Hal Steinbrenner seems disinclined to go any higher, at least right now. They do always seem to take on money in midseason trades, of course.
Given the numbers and where the payroll sits right now, I think the only player the Yankees would sign for substantial money this offseason would be Hiroki Kuroda, and that's only because he'll take a one-year contract and they're very comfortable with him. If he doesn't return, bottom feeding for more Capuano types is likely in the cards. That doesn't mean the Yankees can't make a significant move, they could always make a big trade where the dollars are even or they shed payroll, but those are hard to do. Aside from Kuroda, I would be very surprised if the Yankees took on any more big money contracts this winter.