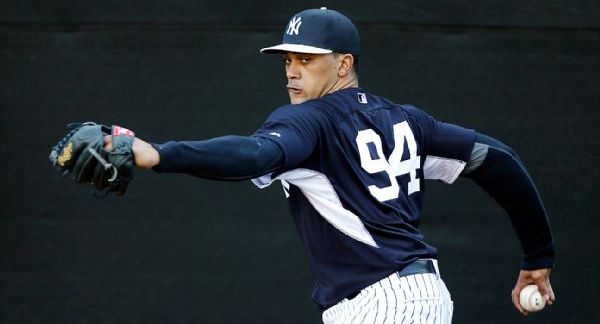 According to Matt Eddy, the Yankees have re-signed right-hander Jose Campos to a minor league contract. Campos was non-tendered a few weeks ago along with David Huff and Slade Heathcott. Last week Brian Cashman confirmed they were hoping to re-sign both Campos and Heathcott to minor league deals. There's no word on whether they've re-signed Heathcott yet.
Campos, 22, was the other player the Yankees received in the Jesus Montero-Michael Pineda trade a few years ago. He was a very good pitching prospect at the time but has battled elbow injuries these last three seasons, including Tommy John surgery that cost him the entire 2014 season. Campos has a 3.55 ERA (3.23 FIP) in only 111.2 innings since the trade, all with Low-A Charleston.
Last we heard, Campos was throwing from 90 feet as part of his rehab, though that was way back in early-October. The typical Tommy John surgery rehab schedule would have him throwing off a mound by now and introducing breaking balls very soon if he hasn't already. The Yankees could be taking it slow after a series of elbow injuries, of course. Either way, he should be game ready at some point early in 2015.
Once healthy and all rehabbed from the elbow reconstruction, I expect Campos to head to High-A Tampa next summer and spend the remainder of the season there. It'll be interesting to see if the Yankees move him into the bullpen after two major elbow injuries in the last three years. There's always been some thought Campos would be best suited for relief due to his delivery and his secondary pitches. We'll see.