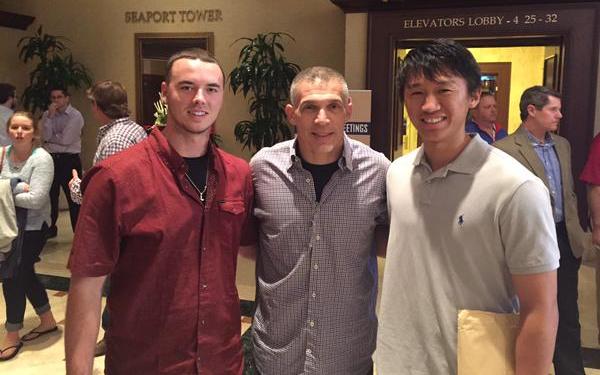 Yesterday afternoon Joe Girardi held his annual "state of the Yankees" press conference at the Winter Meetings. It was a fairly standard Yankees press conference, meaning lots of words were said but there wasn't a whole lot of substance behind them. The organization has mastered the art of saying a lot and nothing at all at the same time, if you know what I mean. Here's a recap of the important stuff from Girardi's press conference with some thoughts as well.
David Robertson and the Bullpen
On losing Robertson: "Obviously we're going to miss David … I'm happy for him because I feel like relievers usually get one shot at the long-term contract, and he got that shot and he took full advantage of it. And we're going to miss him. He was a great young man to manage and had a lot of confidence in him. I wish him the best of luck, except against us."
On the bullpen with Robertson: "Well, we feel that our bullpen is going to be very strong again. With the additions of (Andrew) Miller and (Justin) Wilson and the development of (Adam) Warren and (Shawn) Kelley, we feel like we have a number of great arms … I feel like we'll have a very good bullpen."
On naming a new closer: "We'll talk about it as Spring Training goes on to see what is the best situation. I think you have to figure out who is in your bullpen. And the one thing is that we feel that — you look at four of the guys down there, (Dellin) Betances, Miller, Warren, Shawn Kelley, they all have significant amount of time in the back end and have been set up — so you could do probably a lot of different things. It could be dependent on how many days in a row a guy has worked. But like I said, we don't need to figure that out (now). But I like the arms that we have down there."
On bullpen roles in general: "I think it's important they have an idea how they're going to be used, but sometimes it takes time to develop that. When we started out this season Betances was pitching the fifth and sixth inning. In the end he was pitching sometimes the sixth, seventh inning. So that takes time to get ironed out."
The Yankees have a great opportunity to use a co-closer system, with Betances and Miller sharing eighth and ninth inning duty based on matchups. The Braves did this with Rafael Soriano and Mike Gonzalez a few years ago — Soriano (27 saves) faced the tough righties whenever they were due up and Gonzalez (ten saves) faced the tough lefties whenever they were due up. The Yankees could do similar but I think there's no chance they will. Girardi likes having set roles — seventh inning guy, eighth inning guy, closer, etc. — and so do the players. Someone will replace Robertson as the closer and everyone will fall into place behind him. I just have no idea who the new closer will be.
All A-Rod, All The Time
On communication with Alex Rodriguez: "We text, we email, we talk on the phone. We do different things, see videos. It's been good. I know he's working extremely hard and that's going to be a hot button in Spring Training. And we've just got to go through Spring Training and see where he's at. He hasn't played a lot in two years … We have to see where he's at."
On first base: "Well, I talked to him about first base and I said 'We'll talk about it in Spring Training' because let's see the makeup of our club. If we have another first baseman, if I want to give (Mark Teixeira) a day off, then we can put the other one in there. If we don't, we could possibly move you over there. I'll see if he's comfortable and go from there."
On distractions: "You know, I think our guys will handle it well. I'm not so sure over the last three years, when he hasn't garnered a lot of attention when he's been in the clubhouse — think about when he came back to Chicago, in San Diego, when he came back — so it's something we have to pay attention to, but I think our guys are up for it and have the experience and know how to handle it and we'll handle it."
Girardi also mentioned he saw some video of A-Rod hitting and working out and other stuff and said he looked good. I fully expect Spring Training to be a total circus because of Alex and I think he will spend some time at first base, at least in camp. It's really hard to expect him to be productive though. How you do you think Chipper Jones would perform in 2015 if he returned to the game after a two-year retirement? That's basically what A-Rod will be doing, but with two surgically repaired hips.
The Rotation
On depth: "There's some concerns, I think just because of guys coming off injuries. We feel good about them. We feel good about them coming back … But as we've seen, you need more than five starters, usually. You have to have some players that have the ability to do both. So we're going to have to see what our rotation is, where everyone is at."
On Masahiro Tanaka: "We're counting on him to make his 32 starts. That's something we'll have to look at as the season progresses. We have a little bit more experience with him being on a five-man rotation now than we had before. He seemed to do pretty well. He did get hurt. But a lot of times when you talk about guys that have that situation it's not necessarily one incident — it's over time. But he came back well. His velocity was there, his split was there. So it's just something I think you have to pay attention to."
On other injury concerns: "In the back of your mind there's some question marks. (Ivan) Nova will not be ready for Opening Day. We'll have to wait a little bit, for sure. He's had a great rehab … (CC Sabathia's) rehab has went well …. Michael Pineda has not thrown 200 innings in a while."
I'm sure the Yankees are hoping Tanaka will make 32 starts next year but are planning for a scenario in which he makes, well, none. Nova not being ready in time for Opening Day is no surprise — he had surgery in late-April 2014 and at the very earliest would be ready in late-April 2015, but the more likely scenario is May or June. Who in the world knows what Sabathia can do. Not really much more to add here. The Yankees need some rotation depth.
The New Shortstop
On Didi Gregorius in general: "I think he's a good young player that has a chance to blossom in New York. A very good defender. Had success with the bat last year with right-handers and is still young and has the ability to grow into a very good player."
On Gregorius having to replace Derek Jeter: "I think the most important thing for Didi — and I'll stress it — and I'll have all the coaches stress it and the people around him, you just need to be yourself. You don't need to try to be Derek. I think Robertson did a really good job of filling in for a superstar, a legend, a Yankee legend and was just himself. And we need to pay attention to that and make sure that Didi, hey, go out and play, just do what you do."
On Jeter being gone: "I think the reality for me started to hit a little bit the last games in Boston. That that was going to be kind of it … We're starting anew now. It's kind of a new era for the Yankees without Derek at shortstop. He's been there a very, very long time and played at a very high level. But I'll say it again, Didi, just be yourself."
Gregorius replacing Jeter is going to be a thing all season, isn't it? May the baseball gods help the poor kid if he gets off to a slow start in April. Every slump at the plate and error in the field will be scrutinized. That's just how it will be. I've already seen articles saying Gregorius has what it takes to succeed in New York (link) and articles saying he won't be able to handle the bright lights (link), so no one has any idea what the hell they're talking about. We just have to wait and see.
Girardi's right when he says Gregorius just has to be himself, and at the same time the Yankees can't baby him either. Treat him like any other 24-year-old you're trying to develop into your shortstop of the future. Play him everyday — sitting him against a tough lefty like Chris Sale or David Price is fine, but a straight platoon with Brendan Ryan would be so, so dumb — and give the kid an opportunity to make mistakes and learn from them. It's curious to see how the team balances Gregorius' development with winning because, frankly, they've sucked at developing players lately.
The Offseason
On the team's biggest needs: "You know, when I look at our club, I think you have to think about the depth of the rotation … You need depth in your rotation. You have to. I don't know how many starters we used last year, but I know we lost four. So we used a lot and that's something that's a concern."
On Hiroki Kuroda: "We're not sure what he's going to do. That's a decision he has to make and it's about the time a player either has in his heart, I want to come back, or It's time for me to retire. So it's a decision that he has to make."
On Francisco Cervelli: "We're going to miss him. He was a good player for us …. He's a player that was loved in the clubhouse. We loved his energy and the way he played the game. The way he went about his business. I'm happy that he gets an opportunity to play every day. I've said all along, I believe he's an everyday catcher, and he'll help someone."
Getting Kuroda back would add some stability to the rotation but the Yankees can't wait around forever for him to make his decision either. The pitching dominoes are starting to fall and the club has to act soon to get the help they need. If Kuroda decides to play later, great. They can figure it out then. The Yankees don't want to be left standing at the game of pitching musical chairs because they spent weeks on end waiting for Kuroda.
Miscellany
On losing two homegrown stars in two offseasons: "It's the nature of the revenue sharing and what TV contracts have allowed other clubs to do. I think the game has changed (from what) it was 20 years ago."
On incorporating young players: "We need our system to be productive and for our young players to come up and help us out because, as I've said, the game has changed. And more clubs are able to bid on players than probably ever before. So the price goes up and sometimes you lose those players. I feel pretty good about our young kids that are coming. And it's not just (Rob) Refsnyder or (Jose) Pirela, there's more that you could talk about and that excites me."
On the coaching staff: "We've had some interviews and things have kind of got interrupted with the GM Meetings and organizational meetings and changes in our organization and then coming down here … We'll probably pick up again when this is all said and done, and we'll iron out our coaching staff."
On Martin Prado: "I don't think you have an ideal (position). Would you like to leave him at one spot?  Yeah. But his versatility allows us to rest people at times. We might ask him to do that depending on the makeup of our club."
Imagine if the Yankees don't re-sign Chase Headley and go into next season with a double play combination of Gregorius and either Pirela or Refsnyder. How much patience will they have for those growing pains on the middle infield? I'm guessing not much but more than most fans. And, as I've said before, I think I'm more curious to see how long the team can go without a hitting coach and first base coach than I am to see who they actually hire. Today's the two month anniversary of them firing Kevin Long and Mick Kelleher, you know.