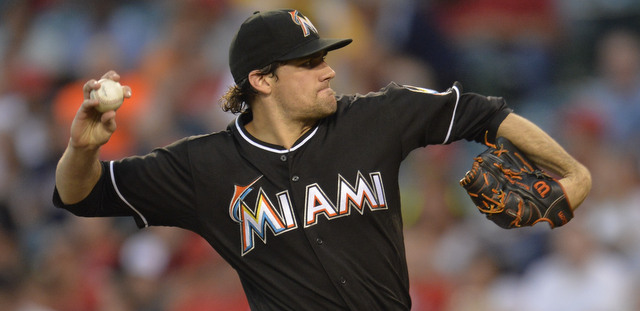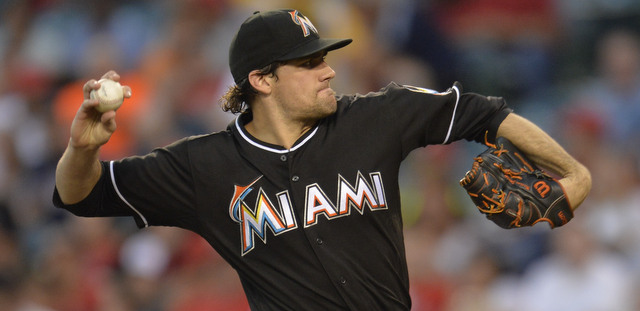 Late last week, the Yankees pulled off a surprising trade that bolstered their rotation but weakened their offense. It was surprising not because of what they received — we all knew the Yankees needed rotation help, and the free agent market lacks quality non-elites at this point — but because of what they gave up. Trading Martin Prado seemed unlikely because of his bat and versatility.
The Yankees received the hard-throwing Nathan Eovaldi in the trade and by now you've heard that he's a guy with great stuff and not the results to match. He throws very hard and has a sharp slider, but his strikeout rate is below the league average. The Yankees didn't acquire a finished product. The 24-year-old Eovaldi is still a project. If he was a finished product, it would have cost a lot more to acquire him.
Before we get into the nuts and bolts of this post, here's some background info: Eovaldi's from Houston — he and Nolan Ryan are the only big leaguers to come out of Alvin High School — and was drafted by the Dodgers in the 11th round of the 2008 draft. He had Tommy John surgery as a high school junior, so scouts never really saw him at 100% as a senior. Los Angeles grabbed him, developed him, got him to MLB, then traded him to Miami for Hanley Ramirez. Two and a half years later, he's a Yankee. That's the Nate Eovaldi story.
Since the trade last week we've learned Eovaldi is basically a 2.5-pitch pitcher, relying heavily on his high-octane four-seamer and slider while mixing in a handful of curveballs. He's toyed with a cutter, a sinker, and a changeup through the years. Here's his pitch selection throughout his MLB career, courtesy of Brooks Baseball: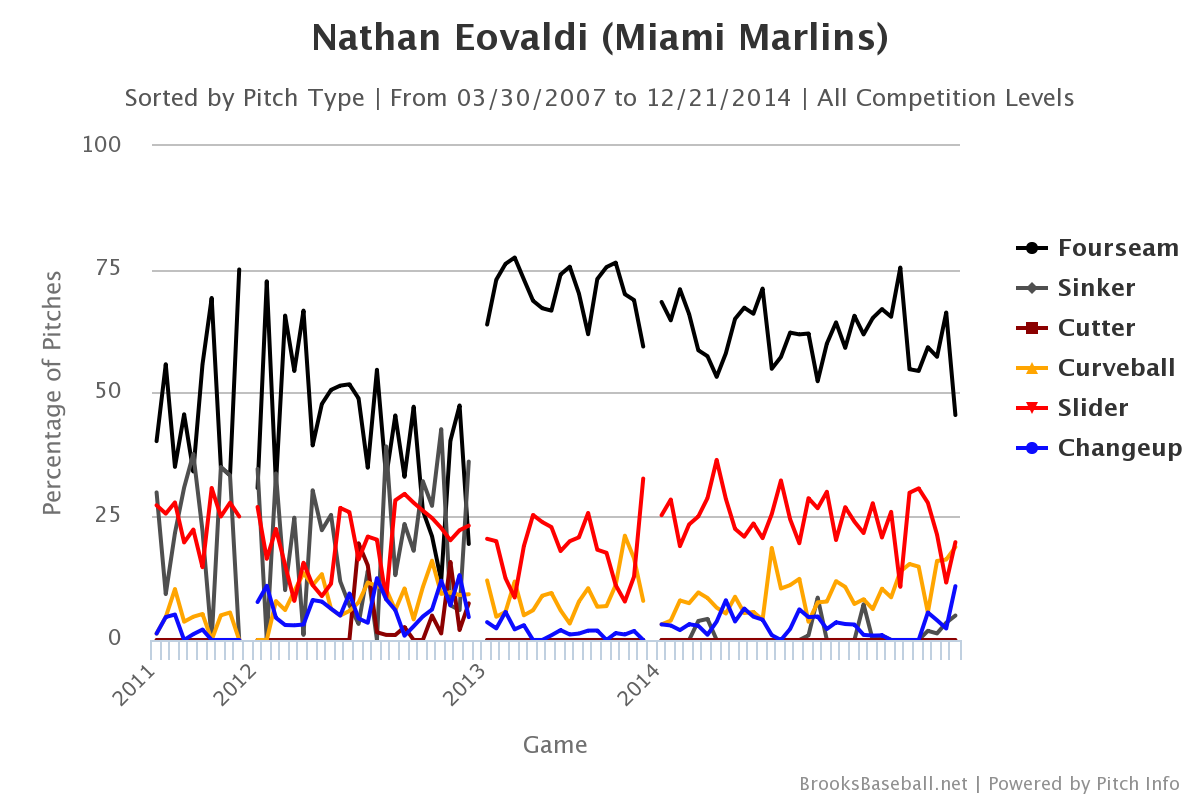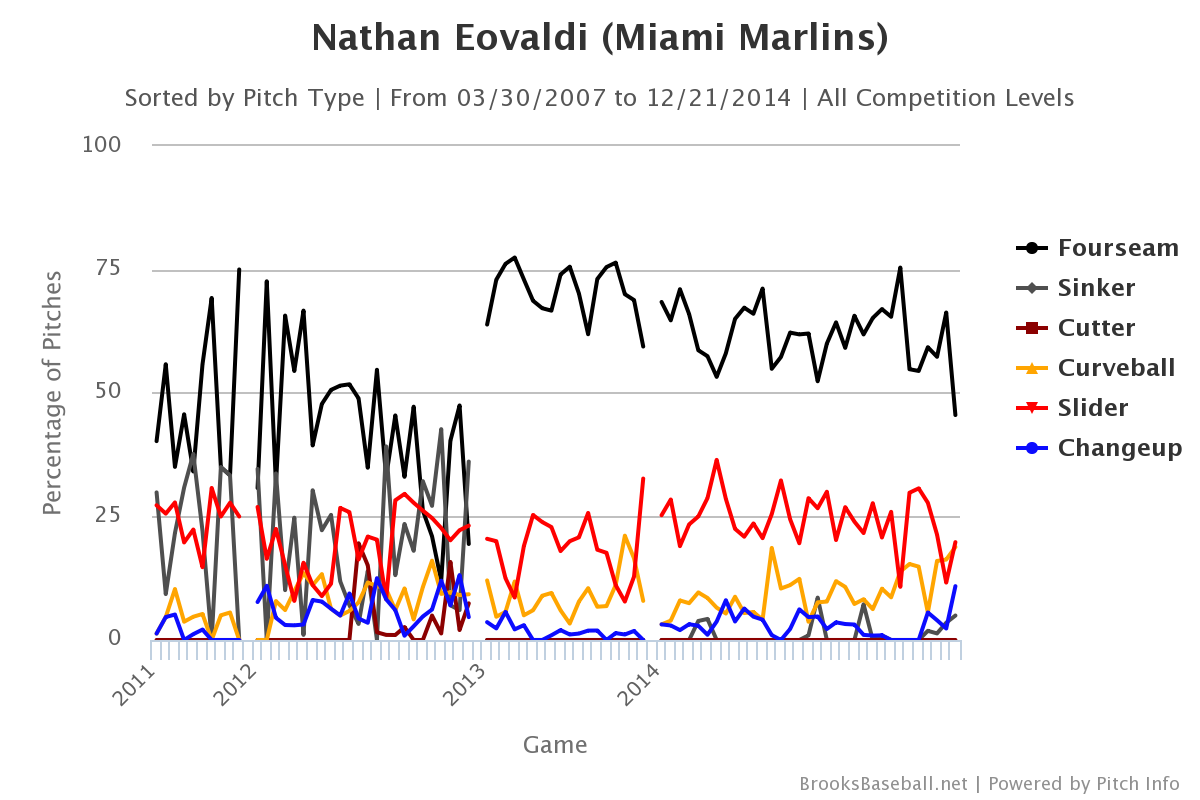 Eovaldi went back and forth between MLB and Triple-A a few times in 2011 and early in 2012 before being traded to Miami at the deadline. He had been in the Marlins rotation since the trade. As you can see in the graph, Eovaldi's settled in as that fastball-slider with a few curveballs pitcher the last two seasons after some early-career tinkering. The cutter is completely gone and both the sinker and changeup rarely make an appearance these days.
Because of that, I thought this recent quote from Marlins catcher Jarrod Saltalamacchia was particularly interesting. Here's what Saltalamacchia told Nick Cafardo after Eovaldi was dealt to New York:
"At the end of the year he figured out how to throw a new pitch that is really going to help him. He throws hard and all of his pitches are hard, so this new pitch will help that out because he's got a fastball rotation with split action."
A new pitch, huh? This is the time of year — it's a little early, actually, but close enough — when we hear all about pitchers adding a new pitch and guys being in the best shape of their life and all that. The usual fodder that makes for fun optimistic stories heading into Spring Training. Very rarely do these changes mean anything — Jason Collette kept track of "new pitches" in Spring Training earlier this year, there were a lot of 'em — but the stories are always out there.
It's not often we hear about a pitcher adding a new pitch during the season though, and that's what Saltalamacchia said happened. "At the end of the year (Eovaldi) figured out how to throw a new pitch," according to his catcher. But, when you look at the pitch selection graph above, there's no new pitch. That's discouraging. But wait! Eovaldi spoke to Anthony McCarron after Friday's trade and said this (emphasis mine):
Now, he says, "I want to throw first-pitch strikes with off-speed stuff, even use it on a 2-1 count or 1-and-2. I'm working on my changeup a lot more this offseason, just mixing it in to my repertoire. Last year, toward the end, it helped me out a lot. I want to keep locating the fastball, then use my slider and curve more and have a better mix."
Saltalamacchia says it was a new pitch while Eovaldi says it was actually his changeup. Looking at the pitch selection graph above, Eovaldi did throw more changeups at the end of the 2014 season after more or less shelving the pitch during the summer months. In fact, he threw 19 changeups in his final four starts of the season after throwing 19 changeups in his previous 12 starts combined, including zero changeups total in the four starts prior to his final four starts. It seems like the new pitch Saltalamacchia was talking about was actually just an old pitch, the changeup. A new old pitch.
Okay, so great, Eovaldi threw a bunch more changeups late in the season. That doesn't really mean anything in and of itself. The Marlins were basically out of contention in September and that's when pitchers tend to tinker, when the games don't matter. Let's not focus on the number of changeups Eovaldi threw but instead look at the pitch itself. Here are the pitch details through the years, again courtesy of Brooks Baseball:
| | % | Vel | Whiff % | GB% | Hor. Mvmt | Vert. Mvmt | Hor. Loc | Vert. Loc |
| --- | --- | --- | --- | --- | --- | --- | --- | --- |
| 2012 | 6.2% | 85.6 | 9.9% | 42.4% | -6.86 | 6.60 | 0.88 | -0.42 |
| 2013 | 1.7% | 88.0 | 3.6% | 0.0% | -8.01 | 5.06 | 0.69 | -1.17 |
| 2014 (starts 1-29) | 2.8% | 88.0 | 5.0% | 52.9% | -7.64 | 4.32 | 0.45 | -0.57 |
| 2014 (starts 30-33) | 6.0% | 90.0 | 21.1% | 100.0% | -7.75 | 4.01 | -0.90 | -1.43 |
| MLB AVG | 10.1% | 83.2 | 14.9% | 47.8% | -1.40 | 4.50 | ? | ? |
Before we get into the data, I will again point out we are dealing with a very small number of pitches. Like I said, Eovaldi threw 19 total changeups in those last four starts. Anytime you deal with a sample this small, there can be some major weirdness. For example, if Eovaldi's changeup is suddenly a true talent 21.1% whiff/100.0% ground ball pitch, it would be the best pitch in baseball history. At least one of the best. I'm guessing that's not really the case.
Alright, so anyway Eovaldi has added a little velocity to his changeup over the years and the horizontal movement has more or less remained steady. (The negative number means it moves away from lefties and in to righties.) The vertical movement can be confusing — the smaller the number, the more the pitch moves downward. (Curveballs are well into the negatives, for example.) So Eovaldi's changeup actually had about 2.5 more inches of downward movement at the end of 2014 than it did in 2012. He also did a better job of locating the pitch on the outer half to lefties (horizontal location) and down in the zone (vertical location).
I went through the MLB.tv archives hoping we'd be able to see the difference in Eovaldi's changeups over the years, so here are two GIFs. The one on the left is from July 2012 (Eovaldi's very first start with the Marlins) and the one on the right is from his second-to-last start of 2014 (his last was on the road and I wanted to use the same camera angle):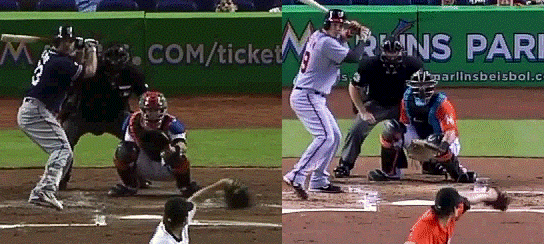 First off, long live the dead center field camera. Isn't it great? Secondly, those changeups look different! I mean, kinda. The 2012 changeup (86.5 mph/-6.58 horizontal movement/+7.86 vertical movement) doesn't do much of anything. It just kind of floats in there. The 2014 changeup (89.7/-10.31/+1.61) has a little action on it. It actually moves down and away from the lefty hitter. The 2012 pitch almost looks like a cutter. These visuals are fun and somewhat useful, just keep in mind this is a totally random sample of two pitches.
Okay, so now what? Eovaldi and his former catcher both acknowledged something was different at the end of this past season, and it seems to be his changeup. PitchFX data confirms Eovaldi didn't just throw his changeup more often this September, he also threw it harder*, with more downward movement, and with better location down-and-away from lefties. The swing-and-miss and ground ball rates were way, way better in the limited sample as well. That's what we know.
* A 90 mph changeup is rare but remember Eovaldi throws very hard. His fastball averaged 95.5 mph this past season and routinely touched 97-98 mph. As hard as his changeup is, the pitch still has a lot of velocity separation from his fastball.
What we also know is that Eovaldi has gotten hammered by lefties throughout his career. They hit .293/.330/.438 (.336 wOBA) against him this past season and .288/.350/.421 (.338 wOBA) against him in his career. That can't continue going forward, at least not if Eovaldi wants to be something more than a mid-rotation pitcher known more for his innings-eating than his effectiveness. Finding a way to combat hitters of the opposite hand is imperative.
Obviously the Yankees envision Eovaldi eventually becoming much more than what he is right now. It's similar to the Michael Pineda trade — the Yankees are hoping he can stabilize the rotation in the short-term and front it in the long-term. An improved changeup can help Eovaldi neutralize left-handed batters and possibly allow him to take that next step towards the front of the rotation. What he showed in September is promising. We know there's a good changeup in there somewhere. Turning it into a consistent and reliable weapon will be a point of emphasis going forward.