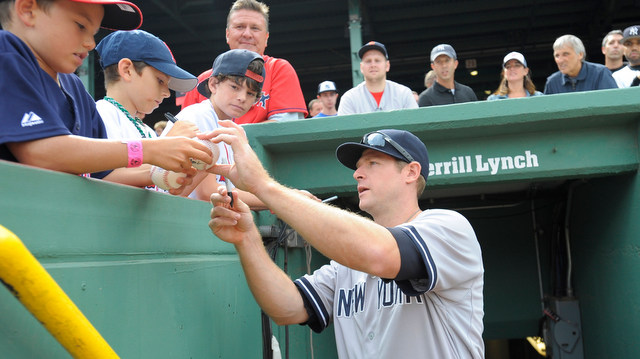 4:57pm: Sherman says the contract does not include any no-trade protection. Headley will receive a $1M assignment bonus if he is traded during the life of the contract, however.
1:54pm: The Yankees have officially announced the signing, so it's a done deal. Here are the (very favorable) ZiPS projections for the contract, if you're into that sort of thing. Steve Adams says it's a four-year deal worth $52M guaranteed, plus Headley can earn an additional $1M each season when he reaches 550 plate appearances, so the contract can max out at $56M. As with the Gregorius trade and Andrew Miller signing, the Yankees went from rumor to agreement to press release in less than four hours. They run a pretty tight ship in the Bronx. Not many leaks at all.
10:53am: After doing not much of anything at the Winter Meetings last week, the Yankees handled one of their most important remaining pieces of offseason business on Monday by filling out the infield. The club has agreed to re-sign Chase Headley to a four-year contract worth approximately $51M to $52M. There are no option years and the deal is still pending a physical. Ken Rosenthal, Jon Heyman, and Joel Sherman all had a hand in breaking the news.
A few weeks ago we heard Headley had a four-year offer worth $65M in hand from an unknown team (rumored to be the Astros), and Jack Curry says Yankees officials do believe that offer was legitimate. If true, Headley took a whole lot less money to return to New York. The Yankees, for what it's worth, initially said they wouldn't give Headley four years until caving last week and saying they would do it as long as the contract came with a lower annual salary.
Headley, 30, hit .262/.371/.398 (121 wRC+) with six homers in 58 games with the Yankees after being acquired at the trade deadline this past season. He hit .243/.328/.372 (103 wRC+) with 13 homers in 135 games overall between New York and San Diego in 2014. That came with his usual standout defense at the hot corner as well. That's where he'll have his biggest impact, in the field. All you need to know about Headley — including his often overstated history of back problems — is in our Scouting The Market post.
After the season, Headley reportedly told friends he enjoyed playing in New York more than he thought he would, and that he would consider returning as long as he was an everyday player. "I know they have a player under contract," he said after the season, referring to Alex Rodriguez. "We'll see how that shakes out. We'll see what my role would look like … I want to be a guy that plays. At what position? Obviously, third base I think is my strongest position. I don't want to be a part-time guy."
With Headley on board, the Yankees figure to play Martin Prado at second base and use A-Rod as the primary DH. It also means Carlos Beltran will see most of his action in right field. At least as long as he and Alex are both healthy at the same time, anyway. Rob Refsnyder will presumably return to Triple-A and wait until injury strikes. When that happens (inevitable), Prado can move around to fill in and Refsnyder can take over at second. Jose Pirela still has a clear path to a bench job.
Although Headley will probably never get back to being the hitter he was in 2012 (31 homers and a 145 wRC+), he's still no worse than a league average hitter and a well above average defender, making him a huge upgrade at third based compared to whom the Yankees have been running out there the last two or three years. With Didi Gregorius recently acquired to play short, the Yankees now have an average or better defender at all four infield positions. The ground ball heavy pitching staff will appreciate that.
Now that the lineup and position player group has been settled, the Yankees can focus on improving the pitching staff, which still needs at last two starters and maybe another reliever as well. Max Scherzer and James Shields remain unsigned but the team continues to insist they will not hand out the massive contracts it would take to sign them. They'll scour the second and third tier pitching options, maybe hope Hiroki Kuroda returns, and go from there.