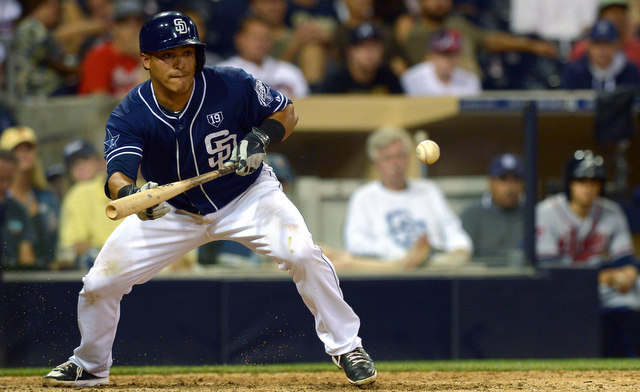 The non-tender deadline came and went on Tuesday, and all told a total of 32 new free agents hit the market, including Slade Heathcott, Jose Campos, and David Huff. Most of those 32 players are fringy Quad-A types or bench players who were slated to make too much money through arbitration. That's the case every year. The non-tender deadline is more exciting in our heads than in reality.
Anyway, one of the most interesting players non-tendered earlier this week is shortstop Everth Cabrera, who was cut loose by the Padres. He's interesting only because he's still relatively young (turned 28 last month), he once led the NL in stolen bases (44 in 48 attempts in 2012), and because he's a shortstop (the Yankees need a shortstop). When someone like Cabrera hits a market in which the best available shortstops are Stephen Drew, Asdrubal Cabrera, and Jed Lowrie, yeah he's worth investigating. Let's see if he makes sense for the Yankees.
Offense, If That's What You Want To Call It
Cabrera's backstory is pretty interesting. He's one of only 23 players in history from Nicaragua — only Marvin Bernard has more career plate appearances among Nicaraguan-born players — and the Padres originally acquired him from the Rockies in the 2008 Rule 5 Draft. He stuck too. San Diego gave Cabrera 438 plate appearances as a 22-year-old in 2009 even though he had only four career games above Low Class-A — all four at High-A, so he essentially jumped from Low-A to MLB — and the results were actually pretty good all things considered: .255/.342/.361 (95 wRC+) with 25 steals.
Since he stuck as a Rule 5 pick and the Padres controlled his rights, they took advantage and had Cabrera spend most of the 2010-11 seasons in the minors for more seasoning. He didn't return to the big leagues for good until 2012. They were pretty patient with him. Here's what Cabrera has done in his three full seasons since returning to MLB:
| | PA | AVG | OBP | SLG | wRC+ | BABIP | K% | BB% | SB (SB%) | wRC+ vs. RHP | wRC+ vs.LHP |
| --- | --- | --- | --- | --- | --- | --- | --- | --- | --- | --- | --- |
| 2012 | 449 | .246 | .324 | .324 | 87 | .336 | 24.5% | 9.6% | 44 (92%) | 102 | 47 |
| 2013 | 435 | .283 | .355 | .381 | 114 | .337 | 15.9% | 9.4% | 37 (76%) | 90 | 169 |
| 2014 | 391 | .232 | .272 | .300 | 65 | .294 | 22.0% | 5.1% | 18 (69%) | 59 | 84 |
| TOTAL | 1,275 | .254 | .319 | .335 | 89 | .323 | 20.8% | 8.2% | 99 (80%) | 84 | 103 |
The 2013 season went pretty well — Cabrera was San Diego's token All-Star* that year — but 2012 and 2014 were pretty bad. Cabrera is a switch-hitter who hasn't done a whole lot against right-handed pitchers, meaning he wouldn't even be on the heavy side of the platoon. He has zero power — he's hit 21 homers in 3,522 career plate appearances between MLB and the minors — but that's not his game, he's a speedy leadoff type who steals bases, and he's been quite good at stealing bases.
In fact, Cabrera has been one of the game's most valuable base-runners over the last three years. That's not just stealing bases either, I'm talking about going first-to-third on a single, scoring from first on a double, advancing on wild pitches, the whole nine. FanGraphs' base-running stats say he's been worth 16.0 runs on the bases since 2012, tenth most among the 223 players with at least 1,000 plate appearances during that time. He's right behind noted base-runner Elvis Andrus (16.4 base-running runs) in 800 fewer plate appearances. Running the bases isn't the most valuable thing in the world — 16.0 runs is about a win and half spread across three years — but it is Cabrera's elite skill.
Everth's best year at the plate came when he cut his strikeout rate by about one-third, though his swing rates on pitches both in and out of the zone were right in line with his career averages. His contact rates — 92.9% in the zone and 71.0% out of the zone — were much higher than his career averages (89.8% and 92.9%, respectively), however. That success could be attributed to some swing adjustments he made in Spring Training. Here are some details from Corey Brock back in March 2013:
"It's more of a shorter, direct path to the ball," manager Bud Black said of Cabrera. "It's trying to keep the ball out of the air. He needs to work on line drive, down. That's his challenge."

…

"He and [hitting coach Phil Plantier] have been working real hard on his swing this winter," Black said. "Everth spent a lot of time in Los Angeles working at a performance center. Then he would drive down to Phil's house and work in his backyard."
According to Brock, the focus of the work was on Cabrera's right-handed swing, and it showed in his performance against left-handed pitchers that year (169 wRC+). That success didn't carry over into 2014 and his production from the left side of the plate has been trending downward as well. There is some tangible evidence suggesting the improved contact rates in 2013 weren't a fluke, though it's unclear why Cabrera was unable to repeat that success this past season.
For what it's worth, Cabrera has done a very good job of slapping the ball on the ground and using his speed the last three years — his 65.6% ground ball rate since 2012 is the second highest in baseball behind Ben Revere (64.3%). (Derek Jeter is third at 65.5%, by the way.) That's his game. It hasn't turned into results outside of 2013, however. You have to really squint your eyes and hope Cabrera suddenly improves his contract rates again to see him as even a league-average hitter going forward. The base-running is nice, but that alone isn't enough to keep a player in the lineup.
In The Field
Cabrera has spent very limited time at second base (80 innings) and third base (two innings) in his MLB career. He did start his career in the minors at second base before sliding over to shortstop full-time once he got to the Padres, where he's been ever since. Here's what the four main defensive systems say about Everth's work in the field these last three years:
| | Innings at SS | DRS | UZR | Total Zone | FRAA |
| --- | --- | --- | --- | --- | --- |
| 2012 | 915.1 | -4 | -5.0 | -11 | 7.0 |
| 2013 | 847.2 | -3 | -1.1 | 4 | 0.7 |
| 2014 | 804.0 | -3 | -4.8 | 1 | 1.4 |
| TOTAL | 2,567.0 | -10 | -10.9 | -6 | 9.1 |
Mostly negative. I wouldn't get too caught up in the exact numbers. The consensus seems to be that Cabrera was a bit below-average in the field these last three years. That's enough detail for me. The only scouting report I can find about Cabrera's defense comes from way back in 2009, when Baseball America ranked him as the 24th best prospect in San Diego's system. "Cabrera … seamlessly shifted across the bag during the second half of 2008, showing solid range and arm strength at short," said the write-up. That's all we've got.
As sketchy as they are, the defensive stats are much more recent than Baseball America's scouting report, so I trust them more. I think we have to say Cabrera is a below-average defender right now. The evidence points in that direction.
Injury History
Staying on the field has been a challenge for Cabrera over the years. Here's a recap of everything that sent him to the disabled list since his MLB debut in 2009:
2009: Broken hamate in left wrist, suffered on a hit-by-pitch. Out 60 days.
2010: Two right hamstring strains. Out 49 total days.
2011: Broken hamate in right wrist, out 47 days. Left shoulder subluxation, out 33 days.
2012: Healthy!
2013: Left hamstring strain, out 17 days.
2014: Two left hamstring strains. Out 78 total days.
That's an awful lot of injuries, and, as serious as the two wrist fractures and shoulder problem are, the continued hamstring issues scary me the most. Cabrera is a speed first player who needs his legs to be valuable. If they are starting to be compromised by injury, he'll become unrosterable in a hurry. He needs his legs to be healthy to contribute. That's not up for debate.
Off-the-Field Issues
This is where it really starts to get ugly. Cabrera's had numerous off-the-field problems and run-ins with the law these last few years. Here's a recap:
June 2012: Arrested for domestic violence. The case was eventually dismissed.
August 2013: Suspended 50 games for his ties to Biogenesis. He admitted to taking an undisclosed banned substance to help get healthy after the 2011 shoulder injury after the suspension was announced.
September 2014: Arrested for driving under the influence of marijuana and was later charged with resisting arrest. The case is still pending.
Performance-enhancing drugs are bad but the Biogenesis stuff is the least bad thing in Cabrera's history. Even though the case was dismissed, domestic violence is not something to brush under the rug, especially since MLB hopes to have a domestic violence policy in place by next season. The resisting arrest charge is still pending too. That carries a maximum sentence of one year in jail if he's found guilty.
Teams are willing to overlook this sort of stuff if you're a star player, they've shown that time and time again, but a fringe player like Cabrera? He's probably not worth the headache. The Yankees were all about second chances under George Steinbrenner, most notably signing Doc Gooden and Darryl Strawberry, but those guys were former stars. Not borderline big leaguers.
Contract Situation
Cabrera earned $2.45M this past season, his second of four trips through arbitration as a Super Two. MLBTR projected him to make $2.9M through arbitration in 2015. Cabrera will remain under team control as an arbitration-eligible player in 2016 before becoming eligible for free agency during the 2016-17 offseason.
Wrapping Up
After non-tendering Cabrera earlier this week, new Padres GM A.J. Preller told Jeff Sanders the team won't try to re-sign him and it was "pretty much a move that (means) we're going in a different direction." They opted to cut Cabrera loose rather than pay him a modest $2.9M next year even though he's a shortstop and shortstops are really hard to find.
The speed and the fact that he's on the right side of 30 make Cabrera interesting, but aside from his base-running, there's not a whole lot to like here. He'd have to improve his contact rates to provide more offense and, well, that's really hard to do. Cabrera can run and that's wonderful, but he doesn't hit much, isn't great in the field, doesn't stay healthy, and has a police record. That's … not really a guy I want on my team.
The Yankees have emphasized strong makeup and character the last few years now and that leads me to believe they'll steer clear of Cabrera even though they really need a shortstop. My guess is he'll have to settle for a minor league contract somewhere and impress in Spring Training just to stick around as a team's Triple-A shortstop come April. I would be very surprised if a team guaranteed him a roster spot this winter.
* Fun Fact: A Padre has not actually played in the All-Star Game since Heath Bell faced one batter in the 2011 Midsummer Classic.