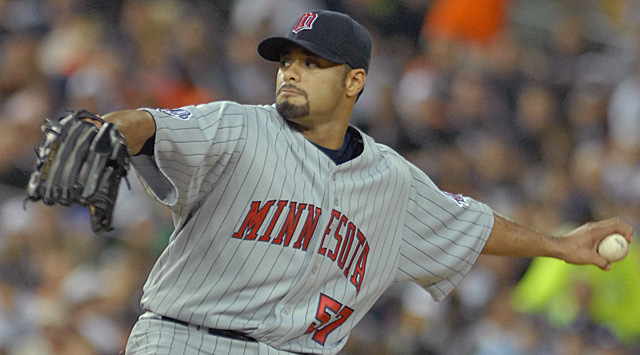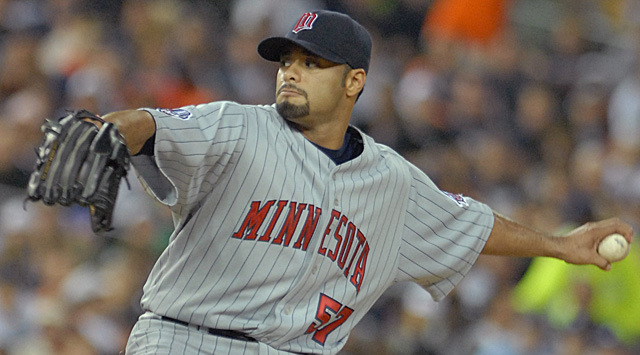 RAB has now been up and running for eight MLB seasons, and during that time we've seen countless rumors involving the Yankees and free agents or trades, and a very small percentage of them have actually come to fruition. I'd guess less than 5% of rumors turned into an actual transaction during those eight years.
So, with the Winter Meetings in full swing, I figured I would take a look back to RAB's very first offseason to relive all the silly hot stove rumors we obsessed over day after day. Don't get me wrong, I'm not saying it's silly to obsess over rumors, this stuff is fun and that's what it's all about. I just want to look back at these rumors and mostly remember how I reacted at the time. Every time we hear the Yankees are connected to a player, we react and instantly decide one way or another whether it would be a good idea. That's human nature.
Thanks to the magic of the MLB Trade Rumors archive, I went back and scrolled through every rumor involving the Yankees in December 2007, seven years ago. That was the winter of Johan Santana, so there were a lot of them. The highlights are below. Enjoy.
Important: Just to be perfectly clear, in no way am I making fun of Tim and everyone at MLBTR. I wrote there for three and a half years and they're all awesome. I just want to look back at how silly some of these rumors sound now and MLBTR is an indispensable resource.
UPDATE, 12-01-07 at 1pm: Olney now says the Yanks don't have any serious interest in Loretta, and haven't spoken to him in over a month.
Yeah I don't even remember the Yankees being connected to Mark Loretta, who, by the way, was 35 at the time and had just put up an 88 OPS+ with the Astros. He re-signed with Houston and had a 96 OPS+ in 2008. The Yankees had a young Robinson Cano at second but Loretta was a utility player by then, playing all over the infield. That 88 OPS+ came with a .352 OBP and more walks (44) than strikeouts (41). Of course, 2008 was when men were men and a .352 OBP wasn't the stuff of legend like it is today. I'm pretty sure I would have been okay with bringing Loretta aboard in a part-time role.
UPDATE, 12-1-07 at 5pm: Ken Rosenthal says the Twins are asking for shortstop Alberto Gonzalez or starter Alan Horne as the third player from the Yankees.  Doesn't sound like Hughes + Kennedy is any kind of possibility.  The Yankees cracked and put Hughes in…unless the Red Sox crack and put Ellsbury in it seems like Santana will end up in the Bronx.

UPDATE, 12-1-07 at 3:30pm: La Velle E. Neal III has a Santana update for us.  He says the Yanks are offering Hughes, Cabrera, and Ian Kennedy right now.  If that's for real, I think the Twins should accept.  However, Neal's assertion runs contrary to Jon Heyman's take – he says the third player will not be Kennedy, Alan Horne, or Jose Tabata.
I'm not going to look back at all the Johan rumors because that would be insane. But Alan Horne! Alberto Gonzalez! They were kinda big deals back then. Horne had a 3.11 ERA with 165 strikeouts in 153.1 innings for High-A Tampa during the 2007 season and was one of the team's four of five best prospects. His injury troubles began the next year and he threw only 107 more innings in his career. Gonzalez was a slick fielding shortstop who to this day continues to get paid American dollars to field slickly, mostly in Triple-A.
Billy Beane is happy to field offers on Dan Haren and Joe Blanton, but he'll require a king's ransom for either pitcher.  Jayson Stark says Beane asked the Yankees for two of Phil Hughes, Joba Chamberlain, and Ian Kennedy for Haren.
Haren was 26 at the time and had a career 113 ERA+. He was traded to the Diamondbacks later that offseason and got better. Blanton was also 26 and had a career 106 ERA+. He wasn't very good after that. Trading two of Hughes, Joba, and Kennedy for either guy would have been considered blasphemous at the time. It would have been worth it for Haren. Blanton … not so much.
The Yankees are receiving a lot of interest in The Farnz, according to Brian Cashman.
Apparently other teams actually wanted Kyle Farnsworth. December 2007 was weird.
Chien-Ming Wang's agent, Alan Nero, wanted to talk to the Yankees about a long-term deal for him.  The discussion ended when the Yankees requested that Nero make the first move.
Wang was a monster from 2006-07, pitching to a 123 ERA+ and 11.0 bWAR in 417.2 innings. He was about to enter his arbitration years — the two sides actually went to an arbitration hearing that winter and the Yankees won, so Wang earned $4M in 2008 instead of $4.6M — and it seemed like the perfect time to sign him to a long-term extension. Four, five, six years. Something that like. Wang then hurt his foot in June 2008 and was never the same. Sucks. The Yankees dodged a bullet there.
UPDATE, 12-4-07 at 4:10pm: Joel Sherman confirms the Cubs' interest, so that's officially 11 teams in on Bedard.  Sherman says the Yankees and Mets are unlikely to snag the southpaw ace, and names the Dodgers as the frontrunner.  Peter Angelos is letting Andy MacPhail run the show but doesn't want Bedard traded within the division.  Sorry Yankees and Blue Jays.
Erik Bedard was 28 years old and coming off a year in which he had a 146 ERA+ with 221 strikeouts in 182 innings. I'm guessing that if he hit the trade market these days, I'd be pretty gung-ho about the Yankees doing whatever they could to acquire him. Angelos would have never ever ever traded him to New York though.
UPDATE, 12-5-07 at 9:45am: Joel Sherman says the Yankees don't like the price for Mahay and are considering alternatives such as Damaso Marte or John Grabow.
The search for a reliable left-handed reliever in the post-Mike Stanton era was entering year six at this point. The Yankees did acquire Marte at the 2008 trade deadline, so it seems the seeds for that deal were planted in the previous offseason. Mahay got a two-year, $8M deal from the Royals. He was 37 at the time but somehow had a 115 ERA+ and 1.7 bWAR as a lefty specialist during the life of the contract. How about that?
UPDATE, 12-5-07 at 8:30am: The Yankees could've had Santana for Phil Hughes, Melky Cabrera, Jeff Marquez, and Mitch Hilligoss.  Brian Cashman, however, never wanted to sacrifice Hughes for Santana and convinced his bosses that the Yankees couldn't afford him now that Andy Pettitte is in the fold.
My goodness, talk about a poo poo platter of prospects. Marquez did eventually reach MLB — the Yankees traded him as part of the package for Nick Swisher a few years later — but was a complete non-factor. He's been out of baseball since 2012. Hilligoss set a Low-A South Atlantic League record with a 38-game hitting streak during the 2007 season. He hit .310/.352/.415 that year, .241/.287/.298 the next, and has been out of baseball since 2011. Prospects will break your heart.
Joel Sherman noted today that the Twins and Yankees briefly discussed expanding the Johan Santana talks to include Joe Nathan.
This was back when we all thought the only possible way the Yankees would find a reliable eighth inning guy to set up Mariano Rivera would be by acquiring some other team's All-Star closer. I wanted them to sign Andrew Miller B.J. Ryan so badly back in the day.
Just a small blurb from Elliott – the Giants and Yanks have discussed Hideki Matsui.  Elliott notes that Matsui has a full no-trade clause.  He makes $13MM in each of the 2008 and '09 seasons.  On November 8th, Ken Davidoff noted that the Yanks would prefer to move Matsui over Johnny Damon.

…

UPDATE, 12-6-07 at 1:38pm: Abraham has more than a no comment now – he confirms that the Yankees and Giants have discussed Matsui.  Abraham speculates that Noah Lowry could make sense.
Wait, what? What!? I don't remember this Matsui to the Giants business at all. Godzilla's knees were just starting to turn to mush around that time too. Seems weird an NL team had interest in him. Then again, San Francisco was running Barry Bonds out there year after year and he was barely mobile after 2003 or so.
Lowry had a 114 ERA+ in 156 innings in 2007 (87 walks and 87 strikeouts!) and literally never pitched again. He developed compartment syndrome in his forearm in Spring Training 2008 and it ended his career. That really sucks. Imagine if the Yankees had traded Matsui for Lowry in December 2007. Good gravy.
31 year-old Japanese reliever Kazuo Fukumori is drawing plenty of interest – 10 teams have inquired, if you believe his agent.  A new interested party has been revealed – the Yankees.  They met with Alan Nero on Wednesday.  Fukumori wants a two-year deal.
Fukumori signed with the Rangers for two years and $3M. He threw four total innings for them and allowed nine runs on eleven hits and four walks in four innings. Pretty good reminder that most non-elite players who come over from Japan ain't worth the trouble.
Bob Matthews of the Times-Union Democrat and Chronicle (yes we're really digging for rumors) notes today that the Phillies have "mild interest" in Mussina.  The 39 year-old Pennsylvania native may not want to leave New York, but it might not be a bad career move.
There was never any serious talk of moving Mussina even though he had a career worst 88 ERA+ in 2007. I'm guessing his stellar rebound in 2008 would have been lazily attributed to moving to the NL had he been dealt to the Phillies. I miss Moose.
Carl Pavano, the American Idle, is deciding whether to take a minor league contract with the Yanks.   Peter Abraham says the Yankees are offering this to make sure they can collect on insurance.
Pavano was about to enter the fourth and final season of his four-year contract after throwing 11.1 total innings from 2006-07, though he was going to be out until midseason 2008 following Tommy John surgery. The Yankees wanted to get him off the 40-man roster but have him accept the outright assignment to Triple-A so they could continue to collect insurance. He said no, because being on the 40-man has perks. Benefits, pension contributions, licensing money, etc. I don't blame him.
Missed this tidbit – the Yankees have interest in Corey Patterson.  They'd almost have to trade an outfielder for that to make sense.  George King says they also have minimal interest in Kris Benson.
Patterson was still only 27. Think of the upside! He was once the best prospect in baseball! It's amazing how we'll hold onto any little sliver of hope when it comes to former top prospects. Benson didn't pitch at all from 2007-08 due to injury. He was a reclamation project.
The Yankees made A-Rod's ten-year deal official.
Welp. The trade for A-Rod was phenomenal. He had a 153 OPS+ and 29.8 bWAR from 2004-07 before opting out. That ten-year contract is going to go down as the worst contract in sports history.
UPDATE, 12-15-07 at 8:48am: Ed Price adds that the Yankees and Mets have both shown preliminary interest in Prior.  Apparently he is throwing on flat ground and could be ready by May.
I repeat: it's amazing how we'll hold onto any little sliver of hope when it comes to former top prospects. Prior had last pitched in MLB in August 2006 and his shoulder was complete cooked. He tore his capsule three (3) times — once in Spring Training 2007, once in Spring Training 2008, and again in April 2009. The Padres beat out the Yankees and Mets and signed Prior, a San Diego native, later that month. He still hasn't pitched in MLB since August 2006.
A source of Stark picks the Yankees as the favorite for Johan, but it should be noted that they're having internal debates about pulling Phil Hughes off the table.
Things were pretty quiet for about a week after the Winter Meetings aside from more non-stop Santana updates. Man, remember how relentless the Johan stuff was? It was an all day, every day thing. I'm so happy the Yankees have become so tight-lipped during the offseason. Most of their moves are surprises that come out of nowhere. It's exhausting following this stuff everyday and hey, surprises are fun.
Murray Chass reports this morning that the Twins have scaled back their demands for Johan Santana, at least with the Yankees.  He says they are now willing to substitute Jeff Marquez for Ian Kennedy.  So the Yankees would have to give up Phil Hughes, Melky Cabrera, and Marquez (and one more player, I'm guessing).
On December 5th we heard the Hughes/Melky/Marquez/Hilligoss package would get it done. On December 26th we heard the Twins were willing to swap out Kennedy for Marquez. Okie dokie.
If I'm remembering correctly, the team's final offer for Santana was that Hughes/Melky/Marquez/Hilligoss package. Remember there was only one year left on Santana's deal at the time. He wasn't traded to the Mets until February 2nd, so there was still more than a month of non-stop Johan watch to come at this point.
Interesting note – Neal says Kei Igawa's name has surfaced in regards to the Yankees talks.  It wouldn't materially change the deal though.
This is another Santana update. The Yankees could have let Igawa go on waivers in August 2007 — the Padres claimed him off trade waivers, so New York could have dumped Igawa and his entire contract on San Diego — but ownership didn't want to cut bait less than a year into his five-year contract. Apparently the Twins had some interest in him during Santana talks. The Yankees also worked out two deals to send him back to Japan, but Igawa declined both moves. Four chances to get rid of him and none worked.
El Vocero, one of the bigger newspapers in Puerto Rico, is reporting that the Yankees signed Juan Gonzalez to a two-year, $2MM deal.
Juan Gone was 37 at the time. He had last played in MLB in 2005, and that was only one at-bat with the Indians. He played in 33 games in 2004 and had a 109 OPS+ in 185 total games from 2002-04. What the hell were the Yankees thinking? They took this "prefer old players" thing way too far.
UPDATE, 12-29-07 at 12:43pm: I'm told the article is the equivalent of an April Fool's joke.
Oh. Silly Puerto Ricans.