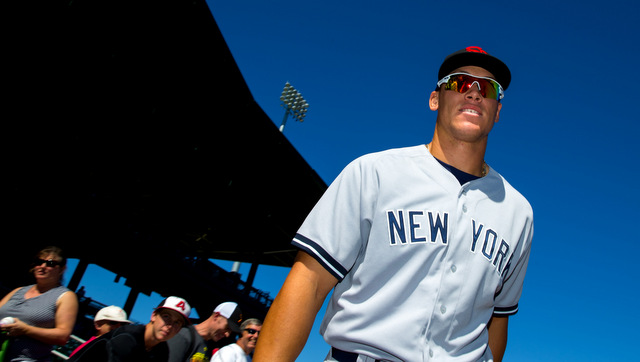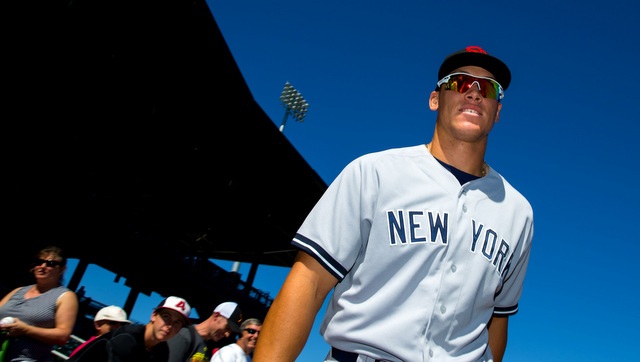 One day after releasing his top 100 prospects list, Keith Law published his top ten prospects for each team on Friday. Here is the index and here is the Yankees list. The individual team lists are Insider only. Here is New York's top ten:
OF Aaron Judge (No. 23 on the top 100)
1B Greg Bird (No. 80 on the top 100)
C Gary Sanchez
RHP Luis Severino
OF Tyler Austin
SS Jorge Mateo
RHP Domingo German
LHP Ian Clarkin
C Luis Torrens
3B Eric Jagielo
Also, based on the write-up, we know 2B Rob Refsnyder, 3B Miguel Andujar, LHP Jacob Lindgren, SS Tyler Wade, RHP Brady Lail, and RHP Ty Hensley are prospects 11-16. Law is lower on Severino and higher on Austin than most, but otherwise the top ten (top 16, really) seems pretty straight forward. No major surprises. You could argue someone should be a spot higher or whatever, but it's not worth it.
With Stephen Drew in Refsnyder's way at second base, Law lists Lindgren as the mostly likely prospect to have an impact in 2015. OF Mason Williams is the "fallen" prospect, the guy who was once one of the best in the game but is now an afterthought. Law's sleeper for the Yankees is Mateo, who he says is "so well-regarded in the industry that other teams have already targeted him in trade talks." He adds that Mateo has "tremendous tools, is an 80 runner and plus fielder who shows above-average raw power in BP."
The Yankees have a very position player heavy farm system right now — seven of Law's top ten and nine of his top 12 are position players — and that's a good thing because quality position players are hard to find these days. Even better, several of those position players will be at Double-A or higher this coming season, including Judge, Bird, Sanchez, Austin, Jagielo, and Refsnyder. There's a clear path for some of those guys to get MLB at-bats in the next year or two, and the team's apparent commitment to getting younger means they're going to get a chance. That's exciting.