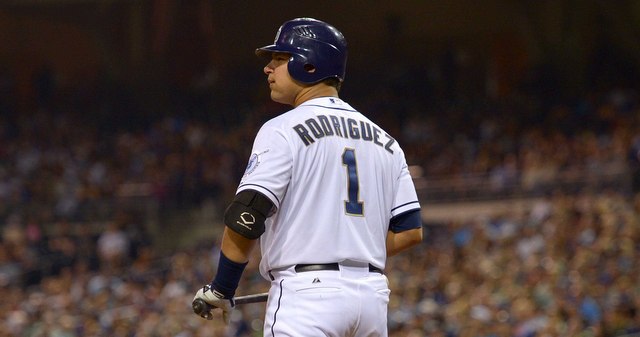 According to Matt Eddy, the Yankees have signed veteran catcher Eddy Rodriguez to a minor league contract. I assume he received an invitation to Spring Training. Teams always bring extra catchers to camp anyway simply because they need guys to catch all those early-spring bullpen sessions.
Rodriguez, 29, is a long-time minor league journeyman who has only played two games in the big leagues, both with the Padres in 2012. He hit a homer in his first career at-bat (video) and that is his only career MLB hit to date. Neat. Rodriguez appeared in 13 games for the Rays' Triple-A affiliate last summer before being released in May.
As you might suspect, Rodriguez is not much of a hitter. He has a .235/.286/.386 (71 wRC+) batting line in 598 minor league games since being drafted in the 20th round by the Reds in 2006. The Nichols Law of Catcher Defense says he must be a good defender then, and he has in fact thrown out 33% of attempted base-stealers in his minor league career. If the Yankees targeted him, I'm guessing E-Rod can frame the hell outta some pitches too. The Yankees love their pitch-framers.
It's a minor move, but signing Rodriguez is notable because he is basically Austin Romine's replacement. Romine is out of minor league options, meaning he can't go to Triple-A without clearing waivers, so I'm guessing he'll either be traded or lost on waivers at the end of Spring Training, assuming Brian McCann or John Ryan Murphy don't get hurt. Rodriguez is now the odds on favorite to back up Gary Sanchez in Triple-A and be the emergency third catcher.