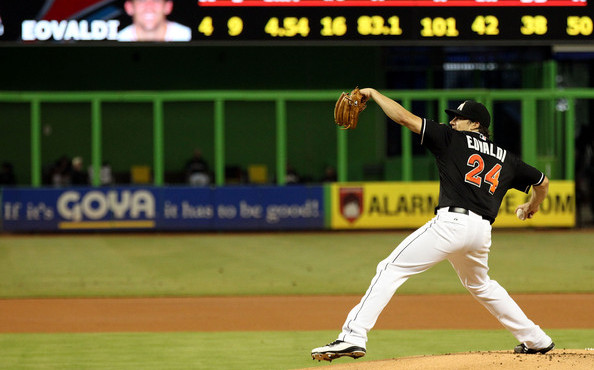 For the second time in four offseasons, the Yankees traded a player who was expected to be a prominent part of their lineup for a young starting pitcher yet to reach his 25th birthday. Three years ago it Jesus Montero for Michael Pineda. This offseason it was Martin Prado for Nathan Eovaldi. There were other players involved, but those were the principals.
Unlike Pineda, Eovaldi was coming off a disappointing season at the time of the trade, a season in which he led the NL with 223 hits allowed and posted an 87 ERA+ in 199.2 innings. There's obviously more to the puzzle than that — Eovaldi did have a shiny 3.37 FIP, 27th best out of MLB's 88 qualified starters — but in its most basic form, pitching is about limiting hits and runs. Eovaldi indisputably stunk at both last year.
The good news is that in the other 260.1 innings of his career, Eovaldi has allowed as many hits as innings pitched — as opposed to many more hits than innings pitched — with a 101 ERA+. He's shown he can be effective at preventing hits and keeping runs off the board at a very young age, which bodes well for future. If Eovaldi had pitched like that in 2014, it would have taken much more to get him than Prado. The Yankees got him at a discount thanks to his poor year.
Clearly though, the Yankees are banking on Eovaldi improving going forward. They don't want the 2014 version of him — though given the state of the rotation, I'm sure they want those 199.2 innings — and they don't want the 2011-13 version either. They want someone better. And stuff like this …

Source: FanGraphs — Nathan Eovaldi
… suggests a better pitcher is on the way. It's not a guarantee, but improving your FIP every year of your career is promising.
Since Eovaldi's strikeout and home run rates have held fairly steady throughout his career, the FIP improvement comes in his walk rate, which has gradually dropped from 13.7% in 2011 to 5.0% in 2014. Young pitchers walk people. That's what they do. They walk people and they get hurt. As they gain experience, they tend to walk less people (but still get hurt!) and that's what's happened with Eovaldi.
Pitching coach Larry Rothschild, pitching coordinator Gil Patterson, and whoever else will be charged with boosting Eovaldi's strikeout rate, which sat at 16.6% last year and is 16.2% for his career. That's comfortably below the league average, which topped 20% for the first time in 2014. Eovaldi has the stuff to get strikeouts, including a big fastball and a nice slider and an improving changeup, but so far the whiffs aren't there. They have to be unlocked somehow.
One way the Yankees hope to unlock those strikeouts is Brian McCann. The Yankees were way ahead of the pitch-framing curve — they traded for framing god Jose Molina in 2007 and since then the only below-average framer they've had is Jorge Posada — and they clearly value the skill, so much so that they deluded themselves into thinking Chris Stewart could play regularly. McCann happens to be an excellent pitch-framer. Eovaldi's old catcher Jarrod Saltalamacchia? Not so much.
Here is the pitch-framing leaderboard for the 2014 season according to StatCorner:
1. Miguel Montero
2. Mike Zunino
3. Jonathan Lucroy
…
11. Brian McCann
…
105. Jarrod Saltalamacchia (out of 105!)
For a second opinion, here are the pitch-framing leaders according to Baseball Prospectus (again out of 105):
1. McCann!
2. Lucroy
3. Montero (Miguel, not Jesus)
…
92. Saltalamacchia
I intentionally omitted the runs saved values because I don't trust them. Not enough to say this player is precisely X.X runs better than that guy anyway. I use framing metrics like I use all defensive stats: directionally. They tell me who's good at it and who isn't. Otherwise there's no need to act as if a certain level of accuracy exists when it just isn't there.
Anyway, McCann once again rated as one of the very best pitch-framers in baseball last summer. And after watching him all year, I totally buy it. Saltalamacchia, on the other hand, was very bad at framing borderline pitches. I didn't watch him nearly as much as McCann a year ago, so I have to trust the StatCorner and Baseball Prospectus rankings when they say he's a bad framer of pitchers.
Eovaldi faced 854 batters last season and Saltalamacchia was behind the plate for 536 of them, or 63%. He had a 16.2% strikeout rate and a 5.4% walk rate with Salty. With backup catcher Jeff Mathis, who the numbers say is an average to slightly above-average pitch-framer, it was a 17.3% strikeout rate and a 4.4% walk rate. (If we remove intentional walks, the walk rates are 3.5% to 5.1% in favor of Mathis.)
Every pitcher in the world would benefit from having a good pitch-framer behind the plate, though Eovaldi might stand to benefit more than most because he lives on the outside corner to righties/inside corner to lefties. Here is the strike zone breakdown of his pitch locations and called strike rates last year. The views are from the catcher's perspective.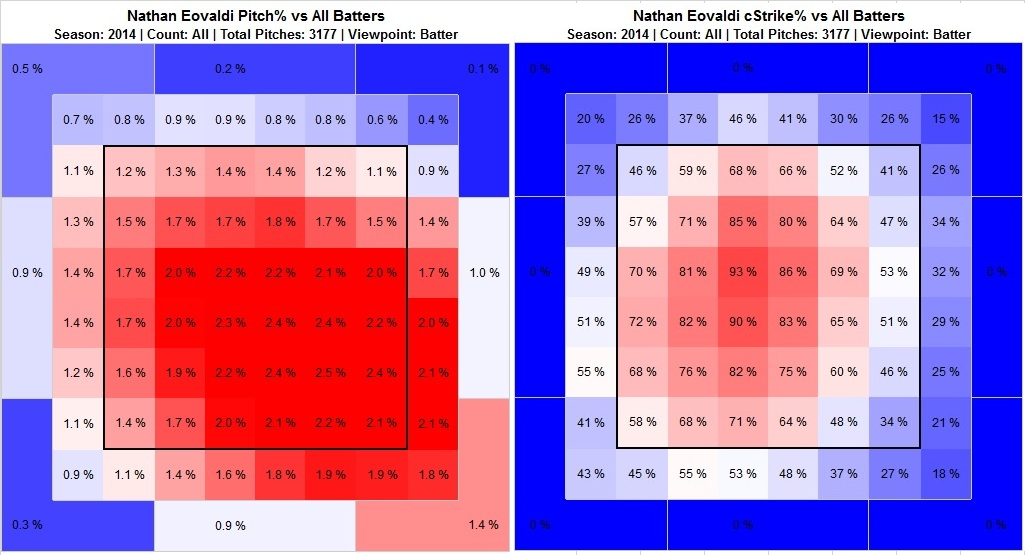 Eovaldi got only an average number of called strikes just inside the corner on the left-handed batter's side of the plate — it was basically a 50/50 chance — and a below-average number of called strikes (hence the blue squares) just off the plate on that side. That's a problem for him because look at his pitch locations, his comfort zone is away from righties and inside to lefties. (That is skewed somewhat because he's a slider pitcher and sliders break towards that side of the plate.)
Based on the pitch-framing data, McCann will help Eovaldi get many more called strikes in general, and especially on that corner of the plate because that's where Eovaldi throws the majority of his pitches. It should be a significant number of extra strikes considering Saltalamacchia is one of the game's worst pitch-framers and McCann is one of the best. This means not only more called strike threes, but more 1-1 counts turned into 0-2 counts, more 2-1 counts turned into 1-2 counts, more first pitch strikes, more stuff that makes hitters defensive.
I have zero doubt the framing upgrade from Saltalamacchia to McCann is a major reason why the Yankees believe they can unlock Eovaldi's potential. McCann's pitch-framing alone — projected backup catcher John Ryan Murphy has rated well as a pitch-framer during his brief MLB time, for what's it worth — won't get Eovaldi's strikeout rate to match his stuff, but it will definitely help. As long as he keeps living on that left corner of the plate, the Yankees' catching tandem will help Eovaldi much more than Miami's.