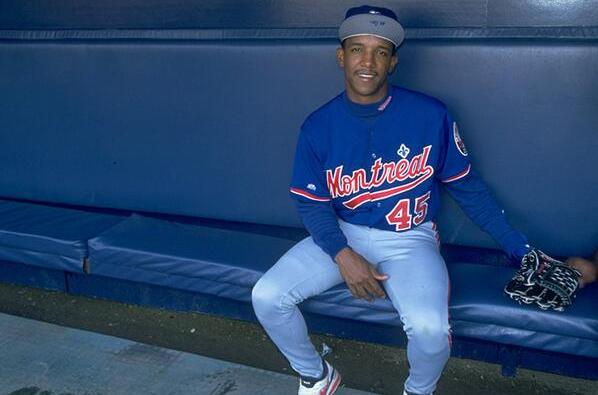 Yesterday afternoon four players were elected to the Hall of Fame, including ex-Yankee Randy Johnson and longtime Yankees rival Pedro Martinez. Johnson eventually arrived in New York in 2005 after the Yankees — and George Steinbrenner in particular — had wanted him in pinstripes for years, dating back to his time with the Mariners.
Aside from the whole "he's one of the best pitchers in the game and would be great on our team" thing, I don't remember the Yankees longing for Pedro the way they did Johnson all those years. As it turns out though, Martinez wanted to be a Yankee, and the club was close to acquiring him a few times over the years. Here's what Pedro told Christian Red earlier this week:
"I was almost traded to New York more than once. A lot of people don't know that. I wanted the trade to happen. I wanted out of Montreal. I wanted to go to the best team out there," Martinez told the Daily News during a December interview in Punta Cana, Dominican Republic, when he attended David Ortiz's charity golf event. "I saw John Wetteland, Marquis Grissom, Larry Walker go to different teams. But the one that ended up winning most of the time was the Yankees."

"I saw Wetteland become a champion right away. I wanted a team like that. I was in trade talks every year. Every year it seemed like the Yankees were in it," said Martinez. "So I wanted to go to one of those teams that would give me a legit chance to win."
Back during the mid-to-late-1990s, the Yankees always seemed to be seeking an ace-caliber starter even though the team was very successful and had solid veterans around a young Andy Pettitte. That search led them to Roger Clemens in 1999 — Clemens had just won back-to-back Cy Youngs with the Blue Jays — but they always seemed to be after guys like Johnson and Chuck Finley. Apparently they were after Pedro too.
The Expos traded Martinez during the 1997-98 offseason because he was a year away from free agency and they wouldn't be able to afford him, so off to Boston he went for Carl Pavano and Tony Armas (who the Yankees traded to the Sox for Mike Stanley). You laugh now, but Baseball America ranked Pavano as the ninth best prospect in baseball before the 1998 season and Armas was a year away from jumping on top 100 prospects lists as well. They were a big deal back then.
Pedro wanted to come to New York and was disappointed to go to the Red Sox, who were swept in three games by the Indians in the 1995 ALDS, their only postseason appearance from 1991-97. Here's more from Martinez, via Red:
"When I was traded to Boston, I was shocked. Boston had finished in (fourth) place (in '97), just like (Montreal). I had asked (Expos manager) Felipe (Alou) and Jim Beattie, the (Expos') GM at that time, to at least give me the honor to trade me to a team where I would have a legit chance to win, to contend," said Martinez. "It was the total opposite."
You folks all know what happened after that. Martinez put together one of the most dominant stretches in baseball history, the Red Sox contended and eventually won their first World Series in nearly a century, thanks in large part to Pedro. He was the centerpiece of those late-1990/early-2000 Red Sox teams and always seemed to be in the middle of something whenever he faced the Yankees.
But imagine if Pedro was on the other side and doing all of that in pinstripes. The Yankees didn't have the prospect power to match the Pavano/Armas package — according to Baseball America, their top prospects heading into 1998 were Rickey Ledee (ranked 46th in baseball), Mike Lowell (71st), and Jackson Melian (91st), and the Expos didn't need Lowell because they had a young Shane Andrews — especially since Montreal seemed to focus on pitching, so it wasn't necessarily a case of not wanting to surrender the prospects. They simply didn't have them.
Had the Yankees been able to land Martinez though, man everything would be different. He was a true difference-maker, the kind of player who shifts the balance of power within a division, but the Yankees were already atop the AL East anyway. Would the 1998 Yankees have actually been better with had Pedro instead of, say, Hideki Irabu, who they picked up that offseason? Or does it mean they still would have acquired Irabu but passed up Orlando Hernandez in Spring Training?
Trading for Pedro almost certainly means no Clemens during the 1998-99 offseason, which opens another can of worms. As Buster Olney wrote at the time, Clemens had a full no-trade clause and was using it to control his market, with the Yankees or one of the two Texas teams his preferred destinations. Martinez in pinstripes could have meant Clemens with the Rangers, and, in case you forgot, the Yankees and Rangers met in the 1999 ALDS.
And, of course, what in the world happens in 2003 and 2004? There's no Pedro to blow Game Seven for the Red Sox in 2003 and no Pedro to help the Red Sox come back from down three games to none in 2004. Are the Sox even relevant those years without Martinez? He helped turn that whole franchise around. No Pedro could mean no Manny Ramirez in 2001 because Boston would have been a less desirable destination for trade targets, and geez, no Manny in Boston means a lot more wins for the Yankees from 2001-08. He crushed the Yanks.
In the end, this is all a guessing game. A trade to the Yankees would have changed Pedro's entire career path — he would have worked with different coaches, with different trainers, with different teammates, in a different ballpark and city, it would have changed everything. And, considering what he turned into, it's likely he would have been a worse pitcher with the Yankees than he was with the Red Sox. Me? I think Pedro would have been a boss in pinstripes and the team would have been even better in the late-90s/early-00s, winning another World Series or two. But that's just me.
Pedro getting his wish and coming to New York would have changed everything for everyone, and that's why it's so fun to think about. Endless hypotheticals.