Over these next two weeks we're going to subjectively rank and analyze every player on the Yankees' 40-man roster — based on their short and long-term importance to the team — and you're inevitably going to disagree with our rankings. We've already covered Nos. 15-16, 17-19, 20-25, 26-31, and 32-40.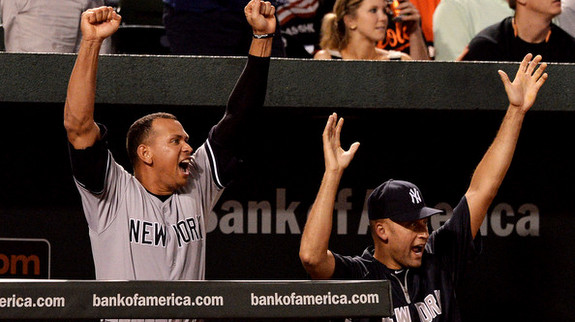 Every team seems to have one of them, but the Yankees have more than most. The aging, past-prime former star who is making still making star money. The Yankees have done a lot of high-end shopping over the years, paying big bucks across a lot of years to players who were, at one time, cornerstones of the roster.
That isn't the case anymore. Nos. 11-14 in our 40-man roster rankings series includes four ex-stars on the downside of their careers, who the team is still counting on to some extent in 2015. All those big seven and eight (and ten!) year contracts have come to a head at the same time. To the next batch of players …
No. 14: Alex Rodriguez
2015 Role: DH, at least at first. Maybe even part-time DH. The Yankees have made it clear A-Rod will have to earn his playing time and show he is able to contribute if he wants a regular role. They've spent the winter adding backup plans at third base and at DH, so the team doesn't expect a whole lot. The Yankees are stuck with Alex though, and since they're paying him all that money, they're going to see if he has anything left.
Long-Term Role: More of the same, unfortunately. Like it or not, Rodriguez is owed $64M these next three seasons — not to mention his five $6M home run bonuses, the first of which is only six dingers away — and the Yankees aren't going to eat that money just to make him go away. Not as long as there's a chance of recouping a big chunk of his salary via insurance (if he gets hurt) or another performance-enhancing drug suspension.
So what's the best case scenario here? I suppose it's A-Rod hitting well enough — not like peak A-Rod, but maybe something like .270/.330/.420? — to deserve a regular lineup spot while showing enough mobility to play third base on occasion. That's about it. The worst case scenario is that he's cooked and not worth a roster spot, in which case the Yankees will probably stick him on the DL every time he feels the slightest twinge. What a mess.
No. 13: Carlos Beltran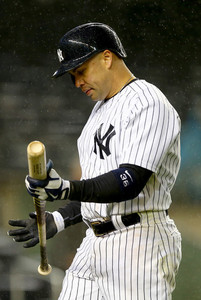 2015 Role: Middle of the order bat, hopefully. The Yankees want Beltran to produce at the plate first and foremost. His defense in right is suspect at best and disastrous at worst, and I expect the team to mitigate the damage by using Chris Young in right field in the late innings of close games. Most importantly, they need Beltran to hit. For average, for power, the works.
Beltran had a bone spur removed from his elbow this offseason after playing through it for most of 2014. He absolutely mashed at the start of the year, but once the bone spur flared up, Beltran had no impact the plate. Hopefully having a healthy elbow means he will produce like he did before getting hurt going forward. That guy was really good.
Long-Term Role: Beltran is signed for another two seasons at $15M annually — unlike the other players in this post, the Yankees didn't give him a 7+ year contract, just a three-year contract at age 36 — so he isn't going anywhere. Joe Girardi is going to have to juggle DH at-bats between A-Rod and Beltran, which might not be all that difficult since both are known to visit the DL from time to time. Again, his role is middle of the order hitter. Both now and next year. If Beltran is unable to produce in that role, he doesn't have a whole lot to offer to the Yankees.
No. 12: Mark Teixeira
2015 Role: Everyday first baseman and middle of the order power bat. Unlike Beltran, Teixeira is a two-way player who is still an asset in the field. In fact, he might be more valuable in the field than at the plate these days. Teixeira put up a .216/.313/.398 (100 wRC+) batting line with 22 homers last season, though that was split into 17 homers and a 125 wRC+ in the first half and five homers with a 62 wRC+ in the second half. He fell off big time after the All-Star break.
Teixeira missed just about the entire 2013 season following wrist surgery and there's at least some hope he'll improve at the plate as he gets further away from the procedure. Wrist injuries are known to sap power for quite some team even after the player is cleared to play. Teixeira said he wasn't strong enough last year, hence the second half fade, so he started his offseason workouts earlier this winter. That sounds nice but it may not mean anything at his age. His offense has been trending down for years, after all. We know Teixeira can still play a mean first base. But his offense is a major question.
Long-Term Role: More of the same. Teixeira is entering year seven of his eight-year contract and will continue to play first base and bat somewhere close to the middle of the order. Aside from Brian McCann, he is the team's best power source, so at a minimum the Yankees would like to see some dingers out of Teixeira while they ride out the remainder of his contract. They acquired a nice backup plan in Garrett Jones — better than the "we'll play anyone at first base" approach they had last year, anyway — and that was necessary given Teixeira's continually mounting injury problems. He's no longer an impact player, but the Yankees still need something out of him.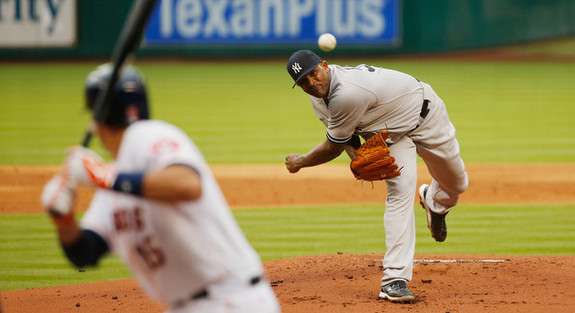 No. 11: CC Sabathia
2015 Role: Innings eater, if the Yankees are lucky. Sabathia's days as an ace are almost certainly over, and at this point it's unclear if he can even be counted on to chew up innings. A degenerative knee condition limited him to only eight starts last season, and eventually Sabathia needed a clean-up procedure, which was a positive only because he didn't need a much more serious microfracture surgery.
The thing is, even when he was healthy in 2013, Sabathia wasn't any good, pitching to a 4.78 ERA (4.10 FIP) in 211 innings. The innings are nice, the Yankees want a lot of innings from their erstwhile ace this coming season, but not when he's allowing runs at that rate. Best case scenario, Sabathia replaces the 2014 version of Hiroki Kuroda, pitching to a league average-ish ERA and taking the ball every fifth date. Anything more would be gravy.
Long-Term Role: There are two years plus a vesting option left on Sabathia's contract, so he'll potentially be around through 2017. (The vesting option is based on the health of his shoulder, not his knee.) Three more years of the 2013-14 version of Sabathia would be very bad. The Yankees need him to salvage these next few years by at least staying healthy and eating innings every fifth day, even if he is nothing more than the de facto fifth starter.
If you want a reason why Sabathia might be effective this year, it's that his strikeout (9.39 K/9 and 23.0 K%), walk (1.96 BB/9 and 4.8 BB%), and ground ball (48.3%) rates were all excellent before he went down with the knee injury last year. If he repeats those rates — they aren't out of line with his 2011-13 performance — then he'll have a better chance of keeping runs off the board. Sabathia is no longer an ace, but he is under contract for at least two more years, and the Yankees would like him to be a reliable part of their rotation during that time. Not want, really. Need.
Coming Tuesday: Nos. 6-10. Five veteran players, including three position players expected to contribute both at the plate and in the field.