Over these next two weeks, we're going to rank and analyze every player on the Yankees' 40-man roster — based on their short and long-term importance to the team — and you're going to disagree with our rankings. We've already covered Nos. 32-40.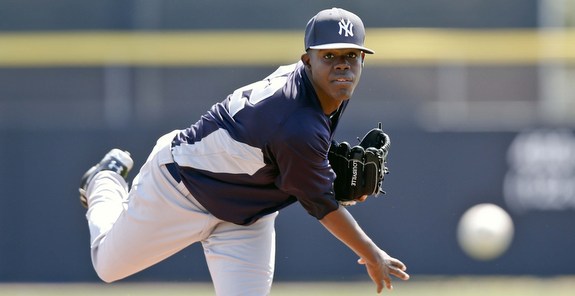 Like every other team, the Yankees have several spots on their 40-man roster dedicated to prospects who may or may not provide immediate help. Those are the players who have been protected from the Rule 5 Draft despite not yet being MLB ready. Not all of them are top prospects, mind you, but they are young players with some projected future utility the club didn't want to risk losing.
Our 40-man roster ranking series continues today with Nos. 26-31, spots that feature a collection of those young prospects who might be able to help the Yankees in some capacity this coming season. But, more than anything, they're looked at as potential future pieces down the road. Guys who can help more in 2016 or 2017 than 2015. To the next set of rankings …
No. 31: Danny Burawa
2015 Role: An up-and-down bullpen arm who is behind several others on the call-up depth chart. Burawa was passed over in last year's Rule 5 Draft and actually had to be briefly demoted to Double-A Trenton last year after a rough start to the season with Triple-A Scranton (5.95 ERA and 3.52 FIP). He's ticketed for a return to the RailRiders to start 2015.
Long-Term Role: Burawa, 26, has some of the nastiest stuff in the organization. His fastball regularly sits in the upper-90s with run in on righties, and his hard mid-to-upper-80s slider is a swing-and-miss pitch at its best. He'll also throw a changeup but it isn't a key pitch for him out of the bullpen. Burawa is held back by his below-average control — 5.17 BB/9 and 13.2 BB% in Double-A and Triple-A from 2013-14 — and may never be a late-inning reliever because of that, though he has vicious stuff and can be a factor in middle relief for multiple years down the road.
No. 30: Branden Pinder
2015 Role: Another up-and-down bullpen arm who I think is ahead of Burawa on the depth chart. The soon-to-be 26-year-old Pinder was added to the 40-man this offseason, his first year of Rule 5 Draft eligibility, and took a nice step forward with his control last summer, going from a 9.0 BB% from 2012-13 to a 5.9 BB% in 2014. He's another guy who will return to Triple-A Scranton to start the year, though I expect to see him in MLB at some point in 2015. Before September call-ups, I mean.
Long-Term Role: Pinder doesn't have the same overwhelming stuff as Burawa but he isn't going out there with a fastball you can catch with your teeth either. He sits 93-95 mph with his four-seamer and is able to vary the break on his low-80s slider, sometimes throwing a short slider (almost like a cutter) and other times throwing a sweepy slider that frisbees out of the zone. It's a classic boring middle relief profile but Pinder is a very high-probability future big leaguer.
No. 29: Jose Ramirez
2015 Role: Yet another up-and-down bullpen arm, though this one has MLB experience. Ramirez made his big league debut last season (5.40 ERA and 6.43 FIP in ten whole innings) before going back to Triple-A and, unfortunately, getting hurt. The getting hurt part has become an annual thing for him. Ramirez will compete for the last bullpen spot in camp, and if he doesn't win it, he'll return to Triple-A and be among the first called up when a fresh arm is inevitably needed.
Long-Term Role: Ramirez is two years younger than Burawa, one year younger than Pinder, and out-stuffs both of them. He has a mid-to-upper-90s fastball with movement, a sharp slider, and a knockout changeup he uses against both lefties and righties. On his absolute best days, Ramirez goes to the mound with three swing-and-miss pitches. The stuff is there for future late-inning work.
The only question is whether Ramirez will stay healthy enough to reach that ceiling. The Yankees moved him to the bullpen full-time last year because he kept getting hurt as a starter — arm injuries too, shoulder and elbow — and he still got hurt as a reliever. Ramirez seems very much like a "let's get something out of him before his arm gives out completely" type of pitcher, and whatever they get out of him could be very good based on the quality of his stuff.
No. 28: Jose Pirela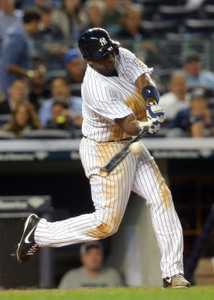 2015 Role: Versatile utility player who will be first in line for a bench spot if someone gets hurt in Spring Training. (As I said yesterday, I don't think the Yankees are going to cut Brendan Ryan just because.) Pirela is the very poor man's Martin Prado — he has a contact-oriented swing and can play second base and left field. (Prado was already a fourth year big leaguer by time he was Pirela's age (25), hence the very poor man's part.)
Pirela has torn up Double-A and Triple-A the last three seasons — .290/.353/.432 (118 wRC+) with a 7.9% walk rate and a 12.5% strikeout rate — and his versatility gives the Yankees some options. He can step in to help out in case of injury, back up multiple positions, or be the light half of a platoon. It's the kind of player just about every manager loves to have … and fans tend to overrate. I don't know why, but versatility has that effect.
Long-Term Role: Despite the minor league numbers, I'm not sold on Pirela as an everyday player at the big league level — I think he's more likely to be another Eduardo Nunez than Prado lite — but he's useful and flexible. There is plenty of room for a guy like that on the bench and in the organization in both 2015 and for years to come. In the best case scenario, Pirela becomes the player many people believed Chone Figgins was, the guy who plays a different position everyday (to rest everyone else) and produces. More than likely though, he'll be a bench guy while in his cheap pre-arbitration years.
No. 27: Ramon Flores
2015 Role: With Eury Perez now gone, Flores is the de facto fifth outfielder who will be called up in case of injury. Well, I guess sixth outfielder when you include Pirela. The 22-year-old Flores had a .247/.339/.443 (116 wRC+) line with seven homers in 63 games with the RailRiders last season — he hit eight homers in 141 games in 2013 — before a freak ankle injury effectively ended his season on the first day of June. Chances are he would have been a September call-up had he stayed healthy.
Long-Term Role: Carlos Beltran is perpetually on the verge of injury and/or a permanent shift to DH, and, as a left-handed hitter, Flores has a clear path to getting regular at-bats as at least a platoon right fielder in the near future. The Yankees never did give Zoilo Almonte — a switch-hitter who was better against righties with more raw power and more stolen base ability than Flores — a shot in a similar role whenever the opportunity arose these last few seasons, so there's no guarantee Flores will get a look. That is more or less his long-term outlook: lefty platoon bat in a corner outfield spot.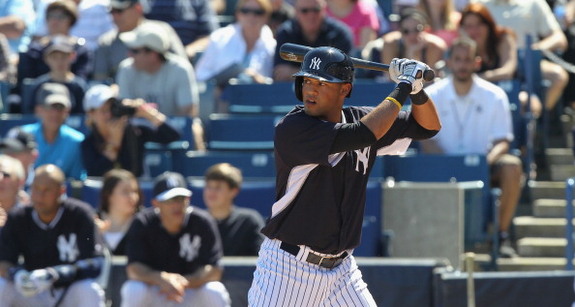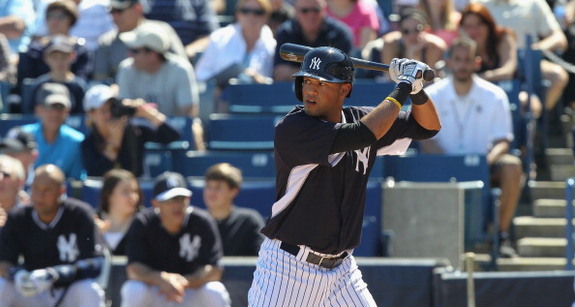 No. 26: Mason Williams
2015 Role: For the big league team, none. Williams has close to zero chance of helping the MLB team this coming season as anything more than a defensive replacement when rosters expand in September. He was added to the 40-man roster this offseason only because he is a former top prospect who was Rule 5 Draft eligible. Williams has hit .236/.298/.319 (74 wRC+) in over 1,200 plate appearances at High-A and Double-A the last two years. He has no business being considered for a 2015 role at the big league level.
Long-Term Role: Once upon a time, Williams had the potential to be a Jacoby Ellsbury type of player. A leadoff hitter with on-base ability, speed, and elite center field defense. That long-term outlook has changed considerably the last two years and a lot of has to do with makeup. Multiple reports say Williams has been insubordinate and plays with an utter lack of energy. He's failing as a prospect, and it is definitely not due to a lack of physical talent.
Williams right now has no long-term role with the team. The Yankees are hoping he will get his career on track and improve going forward — perhaps the 40-man spot will serve as motivation — and if that happens, their intention may be to flip him in a trade as soon as possible. The club has been emphasizing strong makeup and work ethic for years and Williams has shown zero of that so far, leading me to believe he's more likely to be dealt as soon as he rebuilds a modicum of trade value rather than be given a real big league opportunity.
Coming Wednesday: Nos. 20-25. Three veteran(-ish) big leaguers and three youngsters more important for the future than the present.