Over these next two weeks we're going to subjectively rank and analyze every player on the Yankees' 40-man roster — based on their short and long-term importance to the team — and you'll inevitably disagree with our rankings. We've already covered Nos. 6-10, 11-14, 15-16, 17-19, 20-25, 26-31, and 32-40.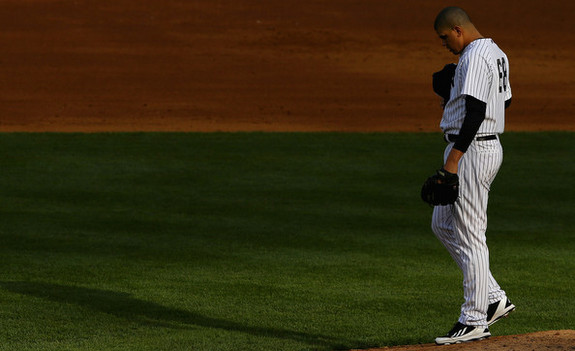 We are now in the home stretch of our 40-man roster rankings and about to enter the top five. These guys are the cream of the crop. The impact players for both today and tomorrow. The guys who will hopefully be at the center of the next great Yankees team. Simply put, these are the players the Yankees need to excel to get back to being contenders.
Today we're going to cover players three, four, and five. Two pitchers and an everyday up-the-middle player. The weird thing is we don't quite know what to expect from two of the three just yet because one has injury concerns and the other hasn't even played a game in pinstripes yet. So let's get on with it. Here is the next batch of players in our 40-man rankings.
No. 5: Dellin Betances
2015 Role: High-leverage reliever. Betances emerged as one of the top relievers in the world last season and the Yankees are asking him to do it again. Well, I'm sure they understand he might not be that good again, but they are counting on Betances to dominate late in the game, and for multiple innings on occasion. I don't think he'll throw another 90 innings in 2015 — the two-inning appearances might not come as often only to keep him fresh and healthy.
Long-Term Role: Closer, and it could happen as soon as next year. It seems obvious to me Betances is being groomed for the ninth inning, and all the bullpen depth they added this winter means it'll be easier for Joe Girardi & Co. to navigate the seventh and eighth innings without Dellin. There is a question of whether Betances is best used as a setup man or being pigeon-holed into the ninth inning, but teams tend to use their best relievers in the ninth inning, and Betances is the team's best reliever even after the addition of Andrew Miller.
Although it feels like he's been around forever, Betances is still under team control for five more years, the next two as a dirt cheap pre-arbitration player. He's not all that young anymore — he'll turn 27 in March — so by the end of his five years, he'll already be 31 and heading into his age 32 season. That's too far away to think about though. Betances earned a lot of responsibility last season and it's only a matter of time until he gets the glory of the ninth inning.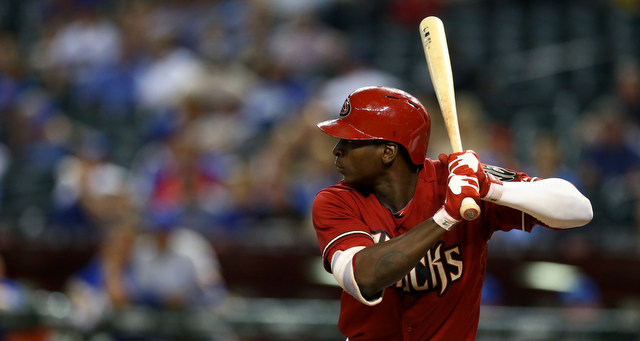 No. 4: Didi Gregorius
2015 Role: Starting shortstop. The Yankees have discussed platooning Gregorius with Brendan Ryan but that seems sort of silly. Ryan has hit lefties worse than Didi these last two years (31 vs. 25 wRC+). I do think the team will sit Gregorius against tough lefties, the David Prices and Chris Sales of the world, but I think he'll get a chance to sink or swim against guys like Mark Buehrle and Wei-Yin Chen, the non-overpowering lefties.
As the starting shortstop, Gregorius' first responsibility comes in the field on defense. He is a massive upgrade over Derek Jeter defensively and the team is trying to compensate for their lack of offense with great defense, so catching the ball at short is imperative. Didi is a standout gloveman with a knack for highlight plays and that's what the Yankees want to see. Anything he contributes at the plate is a bonus, though it is worth noting he's a left-handed hitter with a career .262/.332/.411 (102 wRC+) line against righties. He could help more than expected offensively, especially in Yankee Stadium.
Long-Term Role: Gregorius will turn 25 next month and the long-term shortstop position is his for the taking. The Yankees clearly like Didi, they've been trying to get him since at least the 2013 Winter Meetings and they traded away a valuable young player in Shane Greene to get him, so I fully expect him to get an extended opportunity at the position this summer. Five-hundred something at-bats. They want him to be their shortstop of the future.
Gregorius has five years of team control remaining. He'll make something near the minimum this season and will be arbitration-eligible four times as a Super Two. The Yankees want him to spend all five of those years reeling in balls at short and contributing at the plate from the bottom of the lineup. Gregorius is not Jeter, neither he nor anyone else ever will be, though he has a chance to be a shortstop in this league for a very long time, and the team wants him to have that career in pinstripes. I have no doubt about it.
No. 3: Michael Pineda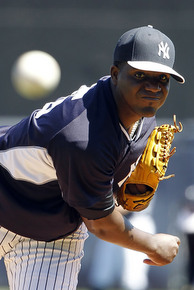 2015 Role: Ace. Ace-ish, really. Pineda finally made it to the mound for the Yankees last year and the little bit of time he did spend in the rotation was dominant: 1.89 ERA (2.71 FIP) in 13 starts and 76.1 innings. He was the team's best starter last season on a rate basis and the Yankees want to see more of the same this coming season. Lots more. When he's healthy, Big Mike showed he can be a difference-maker.
Pineda's battled shoulder trouble since coming over to New York in the January 2012 trade with the Mariners, and last year he missed more than three months with a muscle strain in his shoulder. Durability is a major concern for Pineda. You can't realistically expect him to maintain his 2014 performance over a full season, but the Yankees would happily take something like a 3.50-ish ERA in 2015 if it meant getting 180+ innings out Pineda.
Long-Term Role: Ace! Pineda is No. 3 on this list for a reason: because he is capable of domination and ace-caliber performance. The health concerns are never really going to go away — guys who have shoulder surgery tend to continue having on-and-off problems in their careers — but they can be alleviated somewhat with a healthy year in 2015.
Maybe Pineda's long-term outlook is Al Leiter? Leiter had major shoulder surgery at age 23 — the same age as Pineda — and threw only nine big league innings from 1990-92 before finally settling in as a workhorse starter with occasional ace-level domination in his late 20s. Pineda turned 26 less than two weeks ago and will soon be three full years out from shoulder surgery.
Either way, the Yankees have Pineda for another three seasons as an arbitration-eligible player. At the time of the trade, they were hoping he would have risen to the top of rotation by now, but that didn't happen. That's baseball. We saw last year that Pineda is still capable of being excellent and it was encouraging. Now that he's beyond the shoulder surgery, the goal is keeping him healthy and seeing more of that top of the rotation ability.
Coming Thursday: No. 2. The two-way threat with the most remaining guaranteed contract years on the roster.