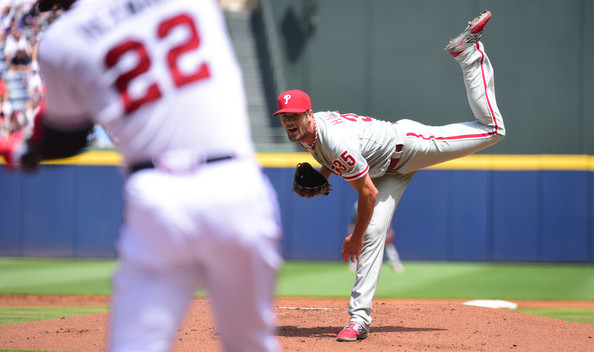 According to Ken Rosenthal, the Yankees have inquired about Cole Hamels but are not seriously pursuing the Phillies' ace left-hander. The Red Sox, Rangers, Padres, and Cardinals are in the mix for Hamels and Rosenthal hears Philadelphia is looking for the "perfect" trade. They want to hit a home run and I don't blame then. The Yankees are not on the southpaw's limited no-trade list, by the way.
Hamels, who turned 31 three weeks ago, is owed $94M over the next four seasons with a $24M vesting option for 2019 based on his workload and health. He's not exactly cheap, but the contract terms are more favorable than the seven years and $180-something million it took to get Max Scherzer, and Hamels has been every bit as good as Scherzer the last three years. Here, look:
| | IP | ERA | FIP | K% | BB% | GB% | HR/FB% | RHB wOBA | LHB wOBA |
| --- | --- | --- | --- | --- | --- | --- | --- | --- | --- |
| Scherzer | 622.1 | 3.24 | 2.94 | 28.6% | 7.1% | 36.5% | 8.7% | 0.254 | 0.314 |
| Hamels | 640.0 | 3.05 | 3.21 | 23.7% | 6.2% | 44.1% | 9.8% | 0.293 | 0.294 |
Scherzer strikes out more batters but Hamels makes up for it with a better ground ball rate and no platoon split whatsoever. If you want to nitpick who is better, be my guest. They're both elite performers and bonafide workhorses. The Yankees need rotation help and Hamels would be a massive upgrade just as Scherzer would have been a massive upgrade.
The cost to get Scherzer was a draft pick and a huge contract. Hamels will cost multiple prospects but require half the financial commitment. The package to acquire high-end starters in a trade always seems to be less than expected — Jeff Samardzija this offseason, David Price at the deadline, Zack Greinke two years ago, etc. — but it always takes three or four young players. And, of course, those three guys were all much closer to free agency than Hamels at the time of their trades.
Nick Cafardo indicated the Phillies are prioritizing a catcher in any Hamels trade and the Yankees have two to realistically offer in John Ryan Murphy and Gary Sanchez. Would Murphy or Sanchez, Luis Severino, Rob Refsnyder, and an MLB ready reliever like Chasen Shreve or Branden Pinder work? I have no idea, I'm just spitballin' here. That seems light to me though. I'd want more for Hamels.
A four-player package like that would take a big bite out of the depth the Yankees have built this offseason while adding a legitimate ace on a contract of favorable length. It would also dramatically improve their chances in a very wide open AL East this coming season, so it's both a short and long-term move. Hamels, like Scherzer, is someone capable of changing the balance of power within a division. He's that good.
The Yankees have said — repeatedly — they are unwilling to take on another massive contract this offseason and Rosenthal says their interest in Hamels was the result of due diligence, nothing more. I would never rule out the Yankees making a surprising/big move though. The Phillies could drop their demands and change things at a moment's notice.