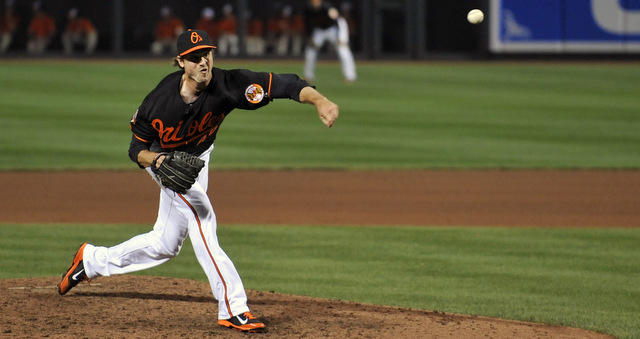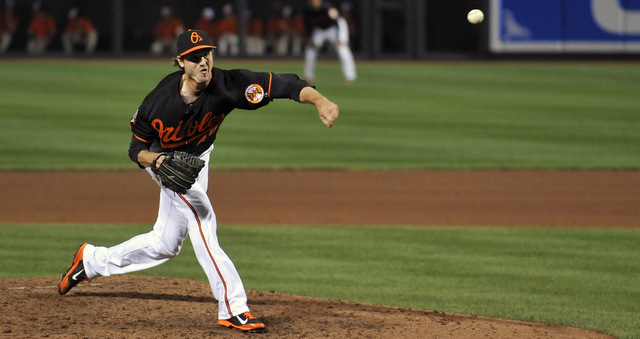 With David Robertson now a White Sox (Sock?), the Yankees bullpen will be anchored by Dellin Betances and the newly signed Andrew Miller not just this coming season, but hopefully the next four years as well. Miller was signed to replace Robertson — the Yankees actually signed Miller first then let Robertson walk — and gives the team an elite lefty to pair with their elite righty.
Betances, as you know, transformed himself from a starter with major command issues into a dominant reliever two years ago. Miller went through the same exact thing, except he did it all in MLB, not hidden away in the minors where no one could see. Miller's shortcomings as a starter were on full display as a high draft pick (sixth overall in 2006) who was traded for Miguel Cabrera and later pitched with the Red Sox.
During his time with the Marlins, the 29-year-old Miller had a 5.89 ERA (4.49 FIP) with an ugly walk rate (5.1 BB/9 and 12.1 BB%) and an unimpressive strikeout rate (7.2 K/9 and 17.1 K%) in 220 innings. "I struggled. I didn't play very well (with the Marlins) — kind of went backwards, developed some bad habits," said Miller in a recent YES feature (video link). "Still, at the same time, in the long run I feel I'm better for it. I think maybe those struggles make me a better pitcher now."
The Red Sox acquired Miller in a minor trade during the 2010-11 offseason and tried to make it work as a starter, but it wasn't happening. Miller had a 5.54 ERA (5.12 FIP) in 65 innings during the 2011 season, most working out of the rotation. He was out of minor league options heading into the 2012 season, so the Red Sox were going to have to make a decision about his future with the team, but a Spring Training injury bought them some time.
"I got hurt in Spring Training. I pulled my hamstring — just a minor, fluky 'what are you gonna do?' thing," said Miller to YES. "It put me behind (the other pitchers in camp) and they moved me to the bullpen. I think that was a real blessing in disguise. Ever since that happened, I've continually gotten better and better pitching out of the bullpen."
Miller returned from the hamstring injury in May and, for the first time in his career, he was working out of the bullpen full-time. Then-manager Bobby Valentine urged him to pitch exclusively out of the stretch — "It was like watching two different guys out there. One look was when he came out of the windup. The other was out of the stretch, where he looked terrific, crisp and nearly unhittable," said Valentine to Ron Chimelis in March 2012 — and pitching coach Bob McClure got Miller to realign his feet and stay more in-line towards the plate.
Moving to the bullpen and ditching the windup is hardly unique. Hundreds if not thousands of other pitchers have made the same transition at some point in their careers, including Betances two years ago. The transition doesn't always work but for Miller it absolutely did. I guess it helps being a lanky 6-foot-7 with a fastball/slider combination that ranks as top 1% in baseball type of stuff, especially by lefty standards.
"In a lot of sense, my attitude changed from trying to hit the corners and inducing this kind of contact to do this or that to kind of 'I'm going to come at you as hard as I can as quick as I can,'" said Miller while explaining the difference between starting and relieving to YES. "And whatever you had working that day, make it happen for you. You didn't have to time to fiddle around and figure it out."
Miller had an incredible 2014 season and that's why the Yankees signed him, but it's incorrect to say he's only had one good year. From 2012-13, his first two years as a full-time reliever, Miller had a 3.04 ERA (3.12 FIP) with an excellent strikeout rate (12.5 K/9 and 32.6 K%) but a still too high walk rate (4.7 BB/9 and 12.2 BB%) in 71 innings. He made the jump from very good to elite in 2014 when he cut his walk rate to 2.5 BB/9 (7.0 BB%), much the same way Robertson cut his walk rate in half in the middle of 2012.
The best thing Bobby Valentine did for the Red Sox was save Miller's career by sticking him in the bullpen full-time and getting him to ditch his windup. McClure, his pitching coach, helped as well. They helped Miller go from this guy with complicated mechanics in 2011 …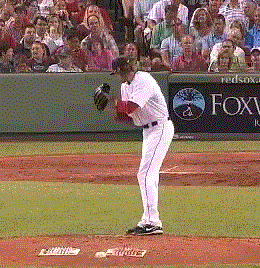 … to this guy with a much simpler, less arm-and-leggy delivery in 2014 …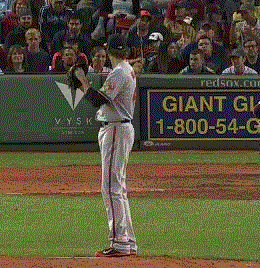 … and the results have been pretty staggering. Like Betances, Miller went from a guy who appeared to have no big league future as a starter to a dominant, lights out reliever in a relatively short period of time. Like most others, Miller moved to the bullpen as a last resort to try to hang on. And, because he always had Grade-A stuff, he's thrived in his new role and is set to play a big role for the Yankees going forward.
"I know I'm not going to be perfect. I know I'm going to walk somebody this year," said Miller to Gordon Edes in February 2012, a statement that holds true in 2015. "It's a matter of getting ahead in counts and putting myself in position to limit base-runners, but I'll take my chances with my stuff if I throw the ball in the zone."