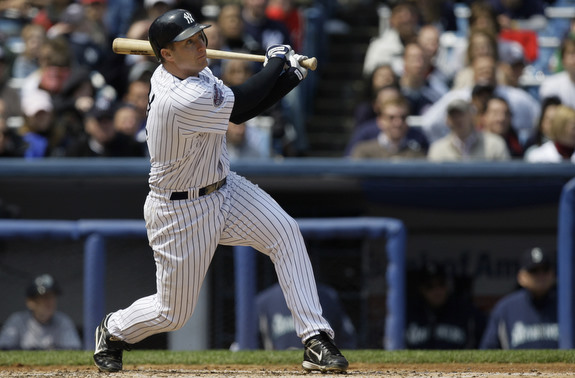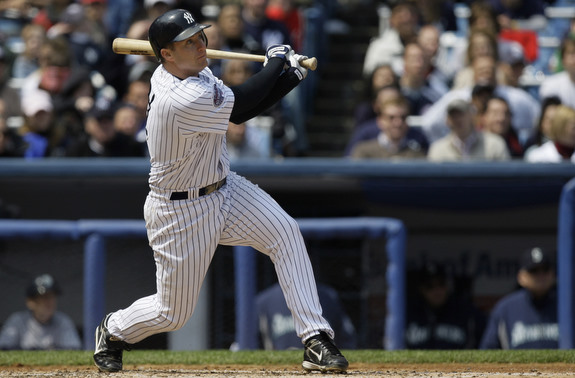 Last month, before the chaos of the Winter Meetings, I decided to go back and look through the December 2007 archives at MLB Trade Rumors. The Yankees rumors, specifically. This is a Yankees site, after all. The idea was simple: to look through the old rumors to see how just they silly looked in hindsight.
Just to be clear, I had not intention of mocking or otherwise disparaging the hard-working crew at MLBTR, of which I was a member for more than three years. I just want to look back at some old rumors and remember how we reacted to them, mostly to see how ridiculous we were. Baseball rumors is a wacky business. You see a lot of weird stuff thrown around.
My trip through the December 2007 archives seemed to go over pretty well, so I think I'm going to try to make this a monthly feature. Hopefully with a more regular schedule. It's not like there's a shortage of rumors or anything. What good are they if we only look at them once and forget about 'em? Since we covered December 2007 last month, we'll now flip the calendar to January 2008, which was peak Johan Santana trade craziness. Good times. Let's get to it.
Peter Abraham had a note this morning about Johan Santana. He says "there are no indications the Yankees will suddenly get back into the mix for Santana." Abraham notes that the main issue for the Yanks remains the massive extension they'd have to give Santana.
Might as well start with Johan. In December we heard the Yankees' best offer was Phil Hughes, Melky Cabrera, Jeff Marquez, and Mitch Hilligoss. This is the first time we heard that the extension — which ended up being a six-year, $137.5M deal — was the problem. The Yankees didn't want to pay twice. They didn't want to hand over a group of young players only to pay Santana like a free agent anyway.
The Yankees have sorta softened on that stance in recent years, but not when it comes to players of Santana's caliber. They did trade young players for rentals like Brandon McCarthy and Chase Headley last year before trying (and half-succeeding) to re-sign them this offseason. It's the big name players they seem unwilling to pay twice for, once in prospects and again with a contract. I can't say I blame them, really. Especially considering the team's current situation. If they were legit contenders, I'd hope they would be more open-minded about renting a big name player.
Anthony McCarron got another tidbit out of Hank Steinbrenner in his interview yesterday. He learned that the Yankees will not consider re-signing Roger Clemens, if he does play in 2008.
Clemens never did play after the 2007 season, so the Yankees didn't want to re-sign him and no other team wanted him either. The fun part of this rumor is the source: Hank Steinbrenner was doing the talking. He was the head honcho back then. This was a month after the team re-signed Alex Rodriguez, remember, a deal Hank reportedly brokered. Hal Steinbrenner and the rest of the family seems to have pushed Hank out of the limelight since then. Can't say that's surprising.
According to Tyler Kepner, Alex Rodriguez has been "privately endorsing" Mike Cameron. Well, it's not private anymore! The Yankees could entertain such a signing if they trade Melky Cabrera but don't want to move Johnny Damon back to center. Kepner's article also discusses the internal struggle between Hank and Hal Steinbrenner. Hank wants Johan Santana, Hal wants to show a little financial restraint.
More Hank vs. Hal, more Johan, and the first time we really saw Hal wanting to show financial restraint. Cameron was still really good back then — he hit .255/.341/.456 (112 OPS+) with 43 homers for the Padres from 2006-07 while playing his his usually excellent defense — and the Yankees actually worked out a trade to acquire him at the July 2009 trade deadline, but Hal squashed it because he didn't want to take on the extra salary.
Cameron, by the way, signed a two-year deal with the Brewers a few days after this rumor and hit .247/.337/.464 (111 OPS+) with 49 homers in 269 games for Milwaukee. Cameron was a damn fine player. Traded for both Paul Konerko and Ken Griffey Jr., you know.
Brian Cashman admitted that he lost some power when the Hank and Hal regime took over. He no longer has full authority to run everything, a sticking point when he signed on several years ago. It would not be shocking to see Cashman move on when his term ends after the 2008 season. He's finishing up a three-year, $5.4MM deal.
Yeah, I think it was pretty obvious Cashman lost some power when Hank put that A-Rod contract together. Since then ownership has gone over his head to sign Rafael Soriano, trade for Alfonso Soriano, and re-sign Derek Jeter, among who knows what else.
That said, Cashman hasn't moved on. He signed a three-year contract after the 2008 season, signed another three-year contract after the 2011 season, and another three-year contract after the 2014 season. Say what you want about Cashman's moves, but the man is fiercely loyal to the pinstripes.
Kat O'Brien spoke to Hank Steinbrenner yesterday, and learned that the Yankees' take on Johan Santana has not changed. They're still in on him. One new tidbit: Hank said he wouldn't go past a five-year extension for Santana. Since he's already signed through 2008, an extension would go through 2013.
Hank's still talkin'.
UPDATE, 1-10-08 at 10:34pm: According to Peter Abraham, the Yanks signed Lane to a minor league deal.
"Oh my gosh how could the Yankees sign Jason Lane!? What a dumb move. He's taking playing time away from real prospects who might have a future with the team."
I assume that's what everyone said at the time. That's what everyone says whenever the Yankees sign someone to a minor league contract. (Lane played 97 games with Triple-A Scranton and was released in August. The franchise somehow survived.)
The Yankees, Mets, and Pirates are interested in free agent lefty reliever Ron Villone.
Ron Villone! The search for a reliable lefty reliever in the post-Mike Stanton era really took some weird turns. Villone was with the Yankees from 2006-07 and had a 4.77 ERA (95 ERA+) in 122.2 innings as Joe Torre ran him into the ground. He signed with the Cardinals during this offseason and wasn't very good for them in 2008 (91 ERA+).
UPDATE, 1-14-08 at 10:28pm: Hank says "there's still a little back and forth" between the Yanks and Twins regarding Santana. Ugh.
Ugh is right. It never ended.
The same source told me on Friday that the Yankees, A's, and Mariners have expressed interest in Wilkerson as well.
The Wilkerson in this case is Brad Wilkerson. The Yankees were looking for a first baseman to split time with Jason Giambi and, well, Wilkerson had hit 20 homers with a 104 OPS+ with the Rangers in 2007. He was as good a candidate as anyone. I don't remember the Wilkerson chatter at all and I'm guessing my reaction would have been: meh.
Anthony McCarron says a long-term deal with Chien-Ming Wang looks unlikely, and the Yankees may have to go to a hearing with him regarding his '08 salary.
The Yankees did eventually go to an arbitration hearing with Wang, and they beat him. He wanted $4.6M but they only had to pay him $4M. I'm pretty sure I was all for signing Wang to a multi-year extension back then, but it's good thing they didn't. Wang's days as an effective big leaguer were over six months after this rumor made the rounds. For shame.
The Yankees considered bringing Octavio Dotel back, but wouldn't go two years on him.
Dotel was only 34 at this time. It seemed like no matter how much everyone else aged, Dotel always stayed 38-39.
Anyway, the Yankees had Dotel in 2006 on one of those "he had Tommy John surgery but he'll be totally awesome when he gets healthy in the second half!" contracts, when he allowed 13 runs in ten innings. Dotel got his two year contract from the White Sox and had a 3.55 ERA (131 ERA+) with 167 strikeouts in 129.1 innings from 2008-09. He was still pitching as recently as 2013.
Ken Rosenthal is reporting that the Yankees are close to a four-year deal with second baseman Robinson Cano. Since he's a Super Two, this will cover all of his arbitration years. Rosenthal also says that the deal will include a club option or two, allowing the Yankees to buy out some of Cano's free agency. The deal looks to be worth $30 million.
No deal for Wang, but the Yankees did lock up Cano and the contract actually looked bad in the first year, when Robbie hit .271/.305/.410 (86 OPS+) with 14 homers. There was much second guessing.
Thankfully, Cano turned into a star in the second year of this four-year contract — Robbie hit the quietest .320/.352/.520 (121 OPS+) with 25 homers as a second baseman in history in 2009 — and the Yankees eventually did pick up those two option years. All told, Cano had a 129 OPS+ with 34.4 WAR during the life of the contract. The Yankees paid him $57M total. Heck of an investment.
Bob Nightengale of USA Today says an agreement to trade Santana to the Mets has been reached. They'll send Carlos Gomez, Philip Humber, Deolis Guerra, and Kevin Mulvey to the Twins. The Mets still have to work out a six or seven year extension for Santana, according to Nightengale. If this baby reaches its true conclusion we'll sit down and analyze.
Thank the baseball gods! The Johan saga was finally over. Well, no, not really. The Mets and Twins agreed to the trade but the Mets still had to sign him to an extension within the 72-hour window, which eventually happened.
But what would have happened if they didn't agree to an extension? Would the whole thing have been called off? And if it was, would the Yankees have jumped back in and low-balled the Twins? I'm guessing no since they seemed to be pretty firm on that "not paying twice" thing, but it's fun to think about. Maybe they could have gotten Santana at a discount — Melky, Marquez, and Hilligoss with no Hughes? — then let him walk after 2008?
The Twins tried to re-engage the Yankees Monday night, calling and asking, again, for Hughes to be in a package. The Yankees said no, and the Twins then asked, instead, for Chien-Ming Wang and Ian Kennedy, and the Yankees said no.
The Twins wanted Hughes, and when the Yankees said no, the Twins instead asked for the team's best MLB pitcher and their other prized pitching prospect? That seems backwards. Those were the days when prospects had more value than actual big leaguers, though thankfully that seems to have corrected itself the last few years. Hughes was an elite prospect, but Wanger was an above-average starter at the MLB level. Wang had more value.
According to a source, the Yankees have signed Morgan Ensberg. They'll use him at first base (and maybe off the bench). It's a minor league deal. Jerry Crasnick confirms it, noting that the Rays and Giants expressed interest.
Contrary to the Jason Lane signing, the reaction to the Ensberg signing was something along the lines of "he hit 36 homers three years ago, what a great pickup!" Then Ensberg had a 34 OPS+ in 28 games and everyone hated him. The Yankees released him on June 10th and he never played another MLB game.
Yeesh, dark ending to this month's trip through the MLBTR archives, eh?