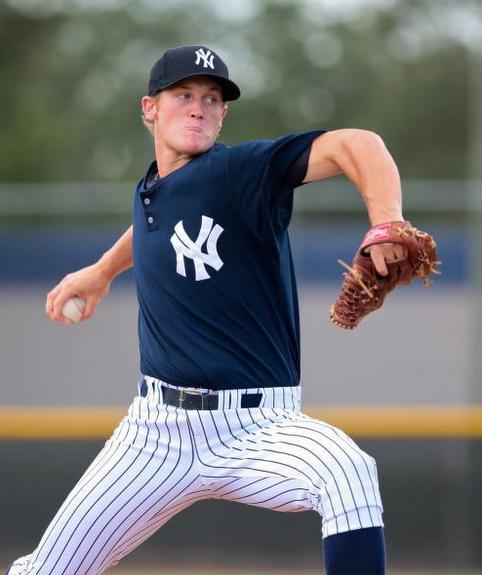 Some serious and sad news to pass along. Yankees farmhand and 2012 first round pick Ty Hensley was attacked during the holidays, his attorney Jacob Diesselhorst has confirmed. Hensley had to be hospitalized and has since returned home.
Diesselhorst told me Hensley was jumped from behind and assaulted while at a home in The Village, a suburb of Oklahoma City. Hensley was knocked unconscious and beaten. He suffered head and "pretty significant facial injuries," including multiple fractures to his jaw.
"Ty is a strong young man and we're confident once his injuries heal up that he'll be back to himself," Diesselhorst told me. "He does have severe injuries though."
Agent Rob Martin released the following statement (via Chris Cotillo:):
"On behalf of Ty Hensley and his family, we are able to confirm that Ty was hospitalized after being brutally attacked and assaulted over the holidays in Oklahoma City.

Ty was treated and released from the hospital and is presently recovering at home from the injuries he sustained after being knocked unconscious in this vicious attack.  Ty and his family are grateful for all of the support, thoughts, and prayers he's received from friends, fans, and well-wishers. We respectfully request privacy during this difficult time.

For those of us that know Ty best, this attack was shocking and disturbing both in it's severity as well as the fact that it could not have happened to a nicer, more good-natured young man.  While Ty always handles adversity remarkably well, he's taken it to a new level in meeting this challenge head on.  His pain tolerance, attitude, and determination to get back on the mound as soon as possible are literally off-the-charts.  This is a young man with rare character and unbelievable toughness. Please direct all media inquiries to his attorneys Rob Martin (ICON Sports) & Jacob Diesselhorst (Maples, Nix & Diesselhorst).  Thank you."
Hensley is planning to press charges but none have been filed yet, according to Diesselhorst. Police in The Village investigated the incident and have recommended an aggravated assault and battery charge.
The Yankees selected Hensley out of an Oklahoma high school with the 30th overall pick in the 2012 draft. He had a 2.93 ERA with 40 strikeouts in 30.2 innings split between the Rookie GCL Yanks and Short Season Staten Island last summer. Hensley missed all of 2013 following hip and hernia surgery.
The attack and injuries likely mean Hensley will miss the start of the season, if not longer, but baseball is a secondary concern now. He's a 21-year-old kid with his entire life ahead of him. Returning to full health after an attack like this is the priority. Get well soon, Ty.
Update (3:54pm ET): Jacob Unruh has more details on the attack. Hensley was attacked by Anthony Morales, an ex-football player from the area who played at Weber State and was in training camp with the Carolina Panthers last year. This is him. Morales was "found by an unidentified female standing over Hensley kicking and hitting him while he was lying on the ground following an argument over sports and signing bonuses," according to Unruh. In addition to jaw fractures, Hensley lost a tooth, had lacerations on his lip and chin, and swollen eyes. Geez.
Update (4:46pm): The district attorney in Oklahoma County has filed felony aggravated assault and battery charges against Morales. The Yankees say they are aware of the incident but declined comment. The attack happened on December 28th and Hensley's lawyer said Ty refused to tell Morales the size of his signing bonus, which prompted the attack. What a nut job.