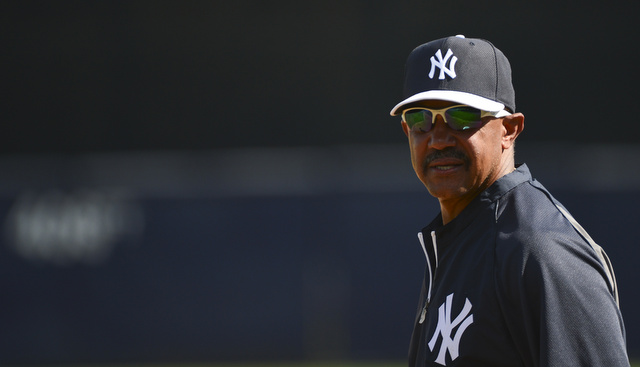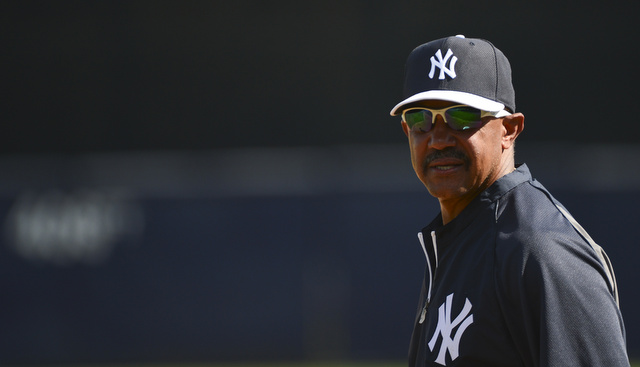 The Yankees have finalized and announced their 2015 coaching staff. As expected, Jeff Pentland and Alan Cockrell have been hired as the hitting coach and assistant hitting coach, respectively, and Joe Espada joins the team as infield coach. We heard those moves were coming yesterday.
There are other changes, however. Espada is taking over as third base coach with Rob Thomson shifting to bench coach. Tony Pena is now the first base coach. Bullpen coach Gary Tuck and pitching coach Larry Rothschild remain in their roles. Back when former hitting coach Kevin Long and first base coach Mick Kelleher were let go, we heard the Yankees could rearrange their staff a bit, and that's exactly what happened.
Espada, 39, was the Marlins third base coach from 2010-13, so he has experience in that role. Thomson had been the team's third base coach since 2009. He served as Joe Girardi's bench coach in 2008 and before that was the first base coach. Pena had been the bench coach since 2009 and prior to that he spent the 2005-08 seasons as the club's first base coach, so he's returning to a familiar role.
Thomson caught a lot of grief last year because the Yankees had 21 runners thrown out at the plate, the fourth most in baseball, and some were due to aggressive sends that were obviously bad. The Yankees had among the fewest runners thrown out at the plate in baseball from 2010-13, however. The Marlins also had a relatively small number of runners thrown out at home during Espada's tenure, but that doesn't tell us too much about him as a third base coach.
Either way, the most significant moves are the additions of Pentland and Cockrell. The rest is just rearranging furniture, really. The Yankees, like several other teams, have decided hitting coach is a two-man job and will count on the new voices of Pentland and Cockrell to turn around an offense that has been below-average the last two years. It seems like an impossible task to me, but that's the job.