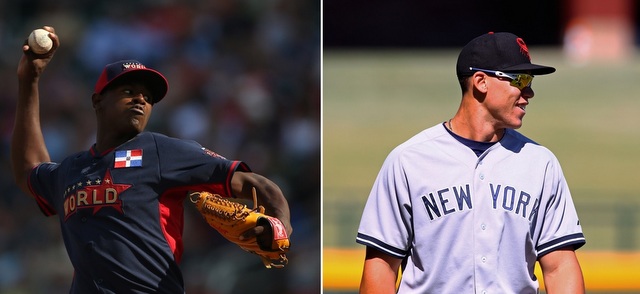 Earlier today, Baseball Prospectus released their list of the top 101 prospects in baseball heading into the 2015 season. The list is free but the scouting reports are behind the pay wall. Twins OF Byron Buxton sits in the top spot and is followed by Cubs SS Addison Russell and Astros SS Carlos Correa in the top three. Cubs 3B Kris Bryant ranks fifth, the lowest you'll see him on a top 100 list this spring.
The Yankees have two players in the top 101 and they're just about side-by-side in the rankings: OF Aaron Judge ranks 49th and RHP Luis Severino ranks 51st. Judge is the 11th outfielder on the list and Severino is the 25th pitcher (19th right-hander) on the list. C Gary Sanchez ranked third on Baseball Prospectus' top ten Yankees prospects list a few weeks ago but did not make the top 101.
Judge ranked 23rd on Keith Law's top 100 and 68th on MLB.com's top 100, so add in Baseball Prospectus and his average ranking this spring has been 47th overall. Severino ranked 23rd on MLB.com's list but he did not appear on Law's list. Baseball America is scheduled to release their top 100 prospects list next Thursday and based on everything they've written these last few weeks and months, it's safe to say Severino and Judge will make the list, in that order.