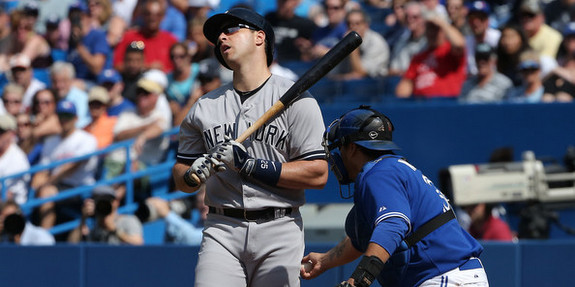 Position players reported to Spring Training yesterday and one of the first to talk was Mark Teixeira, who is now entering his seventh year as the team's first baseman. Teixeira went into the winter saying he needed to get stronger following his first full year after wrist surgery, and he claims to have done that with a diet change and more weight lifting. Hopefully it works. We'll see.
One thing Teixeira said he will not do is focus on trying to beat the shift this coming season. The shift is a hot topic around the game right now and Teixeira has been hurt by it as much as any hitter, particularly when he's hitting from the left side of the plate. That said, he's not going to change his approach. He'll focus on hitting the ball over the shift, not around it.
"We've talked about it ad nauseam. Every time I try to slap the ball the other way, it doesn't go well for anybody," said Teixeira to Chad Jennings. "That's what the other team wants. They want to take a middle-of-the-order power hitter and turn him into a slap hitter. So if I can hit more home runs, more doubles, walk more, that takes care of the shift. I don't want to ground out to second base. That's not what I'm trying to do up there."
Teixeira has tried changing his approach to counteract the shift before, most notably early in the 2012 season, and the result was a bunch of weak fly balls to left field. He eventually abandoned the plan during a late-May trip out to the West Coast. Before the trip, Teixeira hit .229/.305/.371 in 118 plate appearances as a left-handed batter. After the trip, he hit .246/.346/.480 in 208 plate appearances as a lefty.
After coming to camp that year telling anyone who would listen he was going to beat the shift, Teixeira gave up trying to the other way before the end of May because it wasn't working for him. He used to be an all-fields hitter, but he's not anymore for whatever reason. That's the reality of the situation. At that point in 2012, Teixeira was at his best when he tried to pull the ball, so that's what he did. Three years and one wrist surgery later, it's hard to think he'll be better able to go to the other way.
It's easy to forget Teixeira was actually pretty good in the first half of last season. He hit .241/.341/.464 (125 wRC+) before the All-Star break, including .254/.330/.513 as a left-handed batter. After the break though, Teixeira only hit .179/.271/.302 (62 wRC+) overall and a very weak .151/.265/.262 as a lefty batter. First half Teixeira was really good and he sure as heck wasn't trying to beat the shift. He says he wore down in the second half — hence the focus on getting stronger this winter — and the numbers back it up.
At this point of his career, two months away from his 35th birthday and two years after wrist surgery, Teixeira is what he is. He can still be a productive player even with the shift, he showed that in the first half of last season and also in the second half of 2012, so he should stick to what works. Brian McCann spent all last year trying to beat the shift and, like Teixeira early in 2012, the result was a lot of weak contact. This is Teixeira's reality now. Trying (again) to change his approach will likely result in decreased performance and that only makes things worse.