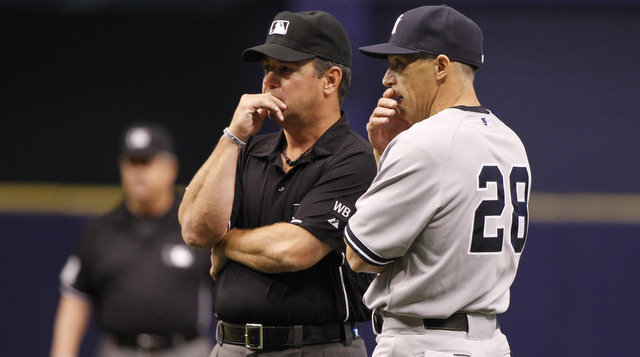 We've heard they were coming and now they're official: MLB and the MLBPA announced on Friday a series of rule modifications for the 2015 season designed to improve the pace of play. They also announced some modifications to the instant replay system. The full press release is right here.
A pitch clock is not coming to MLB in 2015, as expected. A 20-second clock was tested in the Arizona Fall League last fall and will be implemented in Double-A and Triple-A this year, meaning it's only a matter of time before it comes to MLB. Just not yet. Here's a recap of the new pace of play changes:
Batters must keep one foot in the batter's box during an at-bat except after an "exception" occurs. An exception being something like a foul ball, an umpire granting time out, a broken bat, ducking out of the way of an inside pitch, etc. So basically if the batter takes the pitch, he has to stay in the box afterwards. Makes sense to me.
Two timers are being installed at each ballpark — one near the outfield scoreboard, one near the press box — to time commercial breaks. Nationally televised games get two minutes and 45 seconds for commercials, all other games two minutes and 25 seconds. Long story short, play will begin as soon as time runs out, meaning right when the broadcast returns from commercial.
Now here's the important part: the penalty for breaking any of the pace of play rules is a warning or a fine "with discipline resulting for flagrant violators." It won't be a called strike if the batter steps out of the box or a called ball if the pitcher isn't ready to pitch as soon as the commercial break ends or anything like that.
"These changes represent a step forward in our efforts to streamline the pace of play," said new commissioner Rob Manfred in a statement. "The most fundamental starting point for improving the pace of the average game involves getting into and out of breaks seamlessly. In addition, the batter's box rule will help speed up a basic action of the game."
As detailed by Dayn Perry earlier this week, games averaged 3.13 hours last season. That's up from 2.90 hours as recently as 2010. With offense going down and strikeouts going up, all that extra time is downtime, not exciting balls in play. It's players stepping out of the box, pitchers and catchers meeting on the mound, that sort of stuff. The new rules won't eliminate all of that but it will cut down on some of it. In a perfect world every at-bat would look like this …
… but that will never happen.
"The Players believe that enforcing the rules that currently exist regarding between inning breaks and plate appearances is the best way to address the issue of pace of play," said new MLBPA chief Tony Clark in a statement. "We're confident that today's announcements will have a positive impact on the pace of the game without jeopardizing the integrity of the competition."
Now let's recap the modifications to the instant replay system:
Managers "may now" ask for a replay from the dugout and are no longer required to approach the umpire. It doesn't sound like that is mandatory but I could be wrong. Either way, this is another pace of play measure.
Tagging up and touching a base is now reviewable. I remember watching a game last year (forget who, pretty sure it wasn't the Yankees) where a runner left third base early on a sac fly, and they couldn't review it. I couldn't believe it. It seemed like the perfect use of replay. Anyway, now they can review it.
Managers now retain their challenge after every overturned call. Last year they could only retain their challenge after the first successful overturned call. Managers will also have two challenges in the postseason, not one.
The tag up/touch the base change is captain obvious stuff. It's hard to believe that wasn't reviewable last year. Hopefully signaling from the dugout cuts down on the number of times we see the manager standing around and waiting to get the signal from the dugout before asking for a review going forward. I also like letting managers keep their challenges indefinitely as long as they're successful. Reward them for being right.
For whatever reason there will be no instant replay in Spring Training. I guess everyone got the feel for it last year. The pace of play changes — batters keeping their foot in the box, the timers, etc. — will be in place during Grapefruit and Cactus League play because the players (and umpires!) need time to get used to them. I don't think pace of play is a major issue — I certainly don't think shaving 10-15 minutes off the average game will suddenly draw more non-baseball fans to the game either, but I digress — but I do think it's something that can be improved. These new measures are a nice first step.