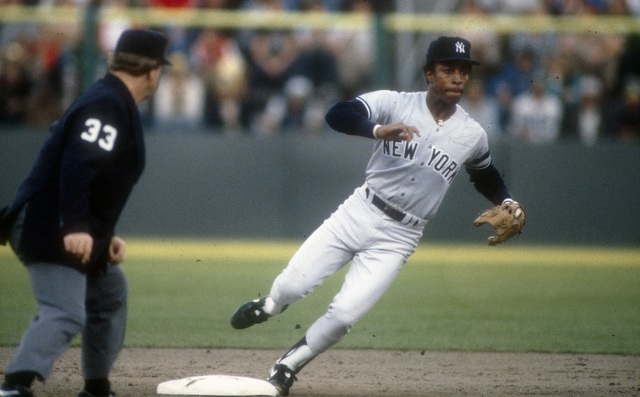 Last offseason the Yankees let go of the best hitting second baseman in franchise history. Among second basemen who batted at least 1,000 times in pinstripes, Robinson Cano is the franchise leader in doubles (375), home runs (204), batting average (.309), slugging percentage (.504), OPS (.860), and OPS+ (126). It's not particularly close in most of those categories either.
A strong case can be made that Cano is not the best second baseman in Yankees history, however. According to both the Baseball Reference and FanGraphs versions of WAR, Cano is no better than the third best second baseman in franchise history. Robbie lags behind some others in on-base percentage and games played — he and the team mutually agreed to part ways, for sure, but tenure counts, no? — and, well, in rings too.
You needn't take WAR at face value to argue Willie Randolph, not Cano or Hall of Famers Joe Gordon and Tony Lazzeri, is the best second baseman in franchise history. Randolph is just behind Lazzeri on the all-time hits (1,784 to 1,731) and on-base percentage (.379 to .374) leaderboards at the position while ranking first in walks (1,005) and steals (251). The gap between Willie and second place is 175 walks and 100 steals, so it's not close either.
The Yankees originally acquired Randolph in one of the least talked about best trades in franchise history. On December 11th, 1975, New York sent workhorse righty Doc Medich to the Pirates for righty Dock Ellis, lefty Ken Brett, and the Brooklyn-born Randolph. Medich was okay after the trade (95 ERA+ in 1,209.1 IP) but never did repeat the success he had in pinstripes (107 ERA+ in 787 IP). Ellis had a 114 ERA+ in 231.1 IP for the Yankees and Brett was flipped for outfielder Carlos May a few weeks later.
Randolph was obviously the real prize though. As a 21-year-old in 1976, he put up a .356 OBP with 37 steals and was an All-Star. He went to four All-Star Games in his first six years with the Yankees and was a catalyst atop the order for the Thurman Munson, Reggie Jackson, Chris Chambliss led teams that were winning pennants and World Series titles in the late-1970s. In 1986, Randolph was named the team's co-captain with Ron Guidry. He and the Yankees eventually parted ways after the 1988 season, when Willie put up a career worst 77 OPS+ at age 33.
Although he was never the biggest name or the biggest star on the team, Randolph was consistently one of the best players on the Yankees during his 13 seasons in pinstripes. He just went about it in a way that was underappreciated at the time. Randolph was a classic number one or two hitter who controlled the bat well but he never really bunted — averaged six sac bunts per year with the Yankees — and had zero power. He had a career .075 ISO and averaged only 20 doubles and four homers per season in New York.
What Randolph did do, however, were two things that didn't really become highly sought after skills until this century: he drew a ton of walks and played some crazy good defense. Willie averaged 77 walks per year with New York and led the league with 119 free passes in 1980. Not only did he never once strike out more than he walked, he averaged 38 more walks than strikeouts per season while in pinstripes. The closest his strikeout total ever came to his walk total was in 1977, when he walked 64 times and struck out 53 times.
Because he excelled at drawing walks and putting the bat on the ball while having zero power, Randolph managed to post a higher OBP (.374) than SLG (.357) during his 13 seasons in New York. His career numbers are a .373 OBP and a .351 SLG. Only 108 players in history have batted at least 3,000 times and finished their careers with a higher OBP than SLG, and, of those 108, Willie ranks 21st in OBP and fifth in plate appearances (9,461). Of the 20 players with a higher OBP, only two (Dave Magadan and Brett Butler) started their careers after 1975.
Measuring defensive skill is a bit tougher than measuring offense, especially since we're talking about the late-1970s and 1980s. Among second basemen, Randolph is seventh all-time in games at the position (2,152), ninth in putouts (4,859), tenth in assists (6,336), third in double plays turned (1,547), and sixth in defensive WAR (19.4). Following the 1977 season, Rangers scout Joe Branzell filed this scouting report on Randolph and praised his defense (via Diamond Minds):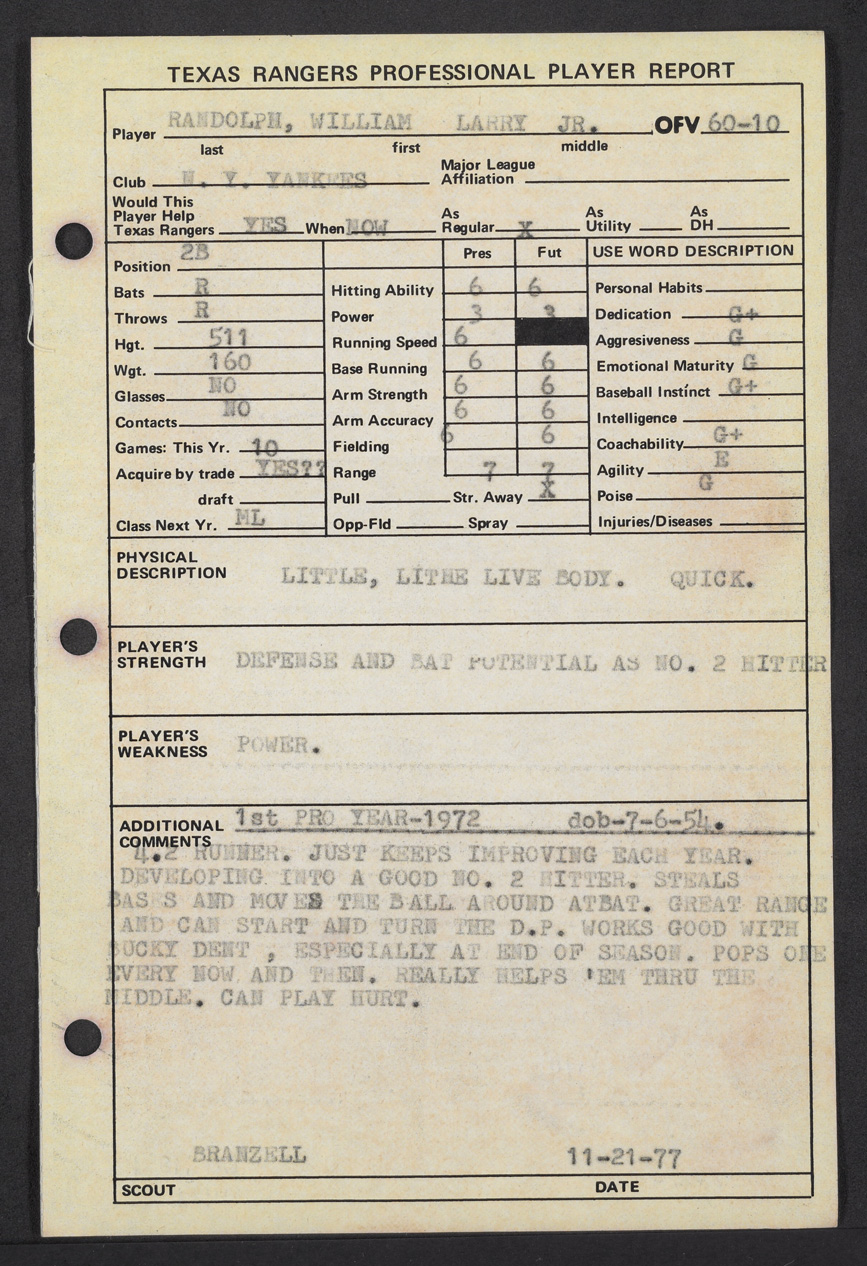 On the 2-8 scouting scale (some use 20-80, some use 2-8, same thing), a 6 is above-average and 7 is well-above-average. Branzell gave Randolph a 7 for his range and 6s for his arm strength, arm accuracy, and fielding ability. Clearly, at least one scout considered Willie an above-average defender, which matches his reputation. Randolph never did win a Gold Glove, however, mostly because Gold Gloves are stupid and historically have been a popularity contest more than a "who's actually the best fielder?" award.
Players like Randolph — powerless bat control specialists on the middle infield — were not uncommon back in the day, but very few were as great in that role as Willie. He drew a ton of walks, never struck out, never hit for power, and played a mean second base for 13 years in pinstripes and 18 years overall. Randolph was a great Yankee, arguably the best second baseman in franchise history, and he did it with a unique skill set that is more highly valued in today's game than it was three decades ago.