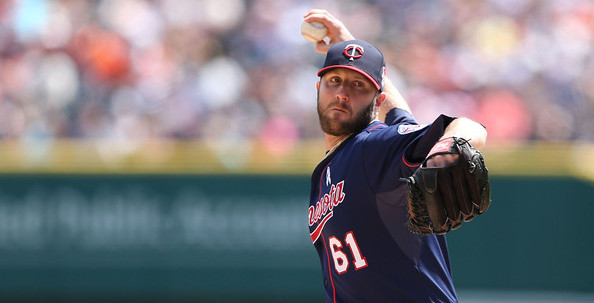 Sunday: According to Mike Bernardino, Burton has four opt-out dates in his contract: March 30th, June 1st, August 1st, and August 31st. He can elect free agency if he's not in the big leagues on those dates. Burton gets a $30,000 bonus for his 20th appearance, $40,000 for his 25th appearance, $50,000 for his 30th appearance, $60,000 for his 35th appearance, and so on until maxing out at $120,000 for his 65th appearance.
Tuesday: Burton will earn a $2M base salary with $750,000 in incentives at the Major League level, reports Jon Heyman.
Monday: The Yankees have signed right-handed reliever Jared Burton to a minor league contract with an invitation to Spring Training, the team announced. He will be the 28th non-roster invitee in camp, joining the original 26 and the recently signed Kyle Davies.
Burton, 33, had a 4.36 ERA (4.23 FIP) with 16.9 K% and 9.2 BB% in 64 innings for the Twins last year. He had a 3.02 ERA (3.50 FIP) with 22.1 K% and 7.2 BB% in 128 innings as Minnesota's primary setup man from 2012-13. Burton has always been a bit of a fly ball pitcher and his signature pitcher is a splitter-changeup hybrid he calls a splangeup:
Major shoulder surgery caused Burton to miss most of the 2011 season and his fastball has nevertheless managed to hover in the 91-92 mph range the last three years. His numbers are all — and I mean all: strikeouts, walks, grounders, homers — trending in the wrong direction, which is sorta scary, but it is a minor league deal, so it's not like there's any serious risk.
The Yankees have a ton of bullpen depth. Righties, lefties, 40-man guys, non-40-man guys, you name it and they have it. Burton is just another arm for depth and unless he comes to camp throwing the ball like he did from 2012-13, I think he'll start the season with Triple-A Scranton. Chances are his contract includes some kind of opt-out clause if he isn't on a MLB roster on a specific date. That's pretty standard for big league vets.