Opening Day is five weeks from today. Between now and then, we're going to preview the 2015 Yankees by looking at what the team needs from individual players and what they can realistically expect.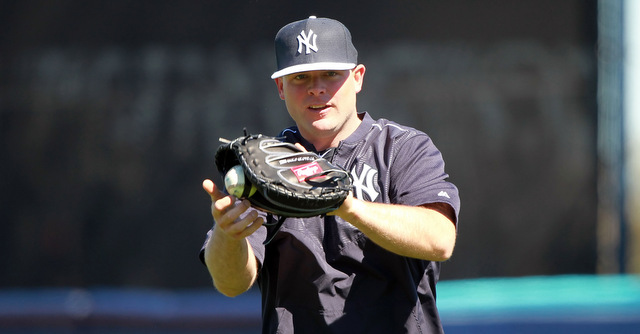 The first year of Brian McCann's five-year contract did not go according to plan last season. The just turned 31-year-old backstop did lead the Yankees with 23 home runs and play solid to excellent defense, but he hit just .232/.286/.406 (92 wRC+) overall and had too many no impact games. Everyone kept waiting for McCann's bat to come around but it never happened.
Year two will be different, we hope. McCann was coming over from a different league last season and had to learn basically everything. New pitchers on his staff, new opposing pitchers, new ballparks, new coaches, the whole nine. He also had to deal with the pressure of receiving the largest free agent catcher contract in baseball history. I can't imagine that was not in the back of his mind.
"(Coming to the Yankees) was the best decision I've made. Just to be able to lace 'em up for this organization is amazing," said McCann to Ken Davidoff last month. "I didn't play as well as I should have (in 2014). I didn't get off to a good start. I had some mechanical flaws in my swing, and it took me four months to get it ironed out. It really did."
McCann did indeed finish strong, hitting eight of his 23 homers in September, but he still only had a .222 AVG and a .281 OBP that month. That doesn't necessarily mean he didn't iron out his swing, of course. Either way, McCann is being paid to be an impact player — on both sides of the ball at that — and the Yankees will need him to be one in 2015 to return to the postseason. Time to break down what the team needs from McCann and what he can actually provide.
Yankees Need: Offensive Impact
This goes without saying. McCann is going to hit in the middle order this coming season because he is the team's top power threat — if not overall than at least left-handed — and has a history of being an above-average producer at the plate. He was a very consistent hitter from 2008-11 before hurting his shoulder in 2012, though he then rebounded to 2008-11 levels in 2013 following surgery. Then last year happened.

Source: FanGraphs — Brian McCann
The Yankees don't need McCann to put up huge numbers like Buster Posey. (Would be cool if he did though.) They just want the Braves version of McCann, the guy who hit .256/.336/.461 (121 wRC+) as recently as 2013, and with some consistency. Day-to-day consistency in baseball is a myth — no .300 hitter gets exactly three hits every ten at-bats for example, or even hits .300 every month — but they want to see McCann not be invisible for weeks at a time again. McCann is healthy and not yet all the way over the hill in catcher years. An offensive rebound is not totally out of the question.
McCann Can Provide: Power
We do know McCann can still hit the ball out of the park. He's hit at least 20 homers every year since 2008 — only five others can say that — and his pull happy swing is tailored for Yankee Stadium. In fact, 19 of his 23 homers came at home last year. Yeah, road production was a major problem. McCann's late season homer binge was, if nothing else, encouraging because it did indicate something had clicked. He was hitting the ball with more authority.
The problem is McCann might not be able to provide much offensively aside from power. He's a left-handed pull hitter and one of the most shifted players in the game. But, as I wrote in our Season Review last year, McCann went the other way more often in 2014 than he had in any season since 2008. He was trying to beat the shift last year and the result was a lot of average-killing weak contact — his 45.1% fly ball rate was the second highest of his career and 11.1% of those fly balls were infield pop-ups, a career high. Lots of lazy fly balls last year.
At this point of his career hitting for a decent average probably is never happening again. Teams aren't going to stop shifting against McCann just because he bunts or sneaks a few singles through the left side. They're going to take away his strength and they effectively did that last year because McCann seemed to make such an effort to go the other way. I'd like to see him pull the ball more in 2015. Stick to his strengths and try to rip it through or (preferably) over the shift. A full season of trying to go the other way had disastrous results.
McCann's walk rate plummeted to a career low 5.9% last season but I'm not too concerned about that, to be honest. His in (28.3%) and out (59.4%) of the zone swing rates were actually below his career averages (29.4% and 62.2%), and his strikeout rate (14.3%) and pitches per plate appearance rate (3.83) were both his lowest since 2008. McCann put a lot of balls in play early in the count last year, hence the low walk rate. It could also be a sign he was pressing last year and not being as patient as usual. I think McCann's walk rate has a much better chance of returning to his career rate (9.1%) than his batting average (.272) in 2015.
Yankees Need: Quality Defense Behind The Plate
The Yankees very clearly place a high priority on catcher defense. The only below-average defender they've had behind the plate over the last seven or eight years was Jorge Posada. Everyone else was regarded as a strong defender and the available stats backed that up. McCann is no different.
Last season, McCann threw out a career best (by friggin' far) 37.1% of attempted base-stealers and that ranked third among regular catchers behind only Yadier Molina (47.8%) and Russell Martin (38.5%). He also rated well at blocking pitches in the dirt and pitch framing according to the various metrics. McCann has been one of the best defensive catchers in the game in recent years and he took it to another level last season thanks to the improved throw-out rate. The Yankees expect more of the same this summer.
McCann Can Provide: Quality Defense Behind The Plate!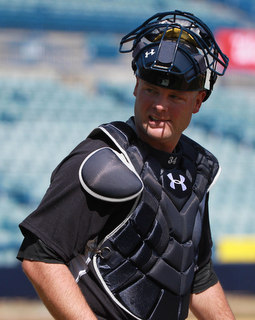 Given his reputation and skill set, the only reason to think McCann will not again be a top notch defensive catcher in 2015 is sudden age-related decline. He might not throw out 37.1% of attempted base-stealers again, that's a really big number, but other catchers have improved their throwing under Joe Girardi and Tony Pena (Frankie Cervelli, most notably) and McCann is now two full years removed from shoulder surgery. There's reason to believe the throwing improvement is real. Otherwise available data has consistently rated him as excellent at framing pitches and blocking balls in the dirt. Defense is the one aspect of McCann's game we don't need to worry about.
Yankees Need: Leadership
Let's face it, with Derek Jeter gone, the Yankees are going to have a leadership void this year. Maybe not all year, maybe someone will emerge as the new leader early in April, but right now there's no Jeter in the clubhouse and that's not negligible. Derek always seemed to be a lead by example type, not an in your face type, but leadership is leadership, and Jeter was undoubtedly a leader.
No one player is going to be able to replace Jeter's intangible qualities. It's just not going to happen and basically everyone in camp who has been asked about it has acknowledged that this year. Girardi, Brian Cashman, everyone. That includes McCann, who will be asked to fill some of the leadership void. He's a catcher and catchers are expected to be leaders by default, but he's also a veteran guy signed to a huge deal. Being asked to be a leader comes with the territory.
McCann Can Provide: Leadership, Probably
As outsiders, we usually know next to nothing about a player's leadership ability. We all saw McCann stand up to Carlos Gomez and Jose Fernandez after they pimped some homers two years ago and that's a leadership-y thing, but did anyone talk about him as a leader before that? We have no idea how popular McCann is with teammates or anything like that. I have no reason to doubt his ability as a leader, I'm sure he'll step in to help fill some of the void with Jeter gone, though ultimately I have no idea how effective McCann is as a leader. That make sense? Intangibles are difficult to gauge and very easy to overstate. Without being around the team day in, day out, we can't understand this stuff with any certainty.