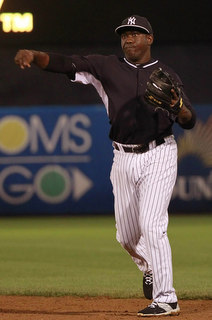 Last spring Brendan Ryan went down with a combo neck/back injury early in Spring Training, and the injury lingered into the regular season. The injury allowed Dean Anna to make the Opening Day roster — Yangervis Solarte straight up beat out Eduardo Nunez for his roster spot, remember, Anna was the one who benefited from Ryan's injury — and he remained with the Yankees until Ryan returned in mid-May.
Ryan is once again dealing with a back problem this spring, this time a mid-back sprain he suffered lifting weights about ten days ago. He was initially expected to miss five days and get into games late last week. That hasn't happened. Ryan felt some renewed soreness last week and had to be shut down. He's not expected to resume light baseball workouts until later this week, possibly tomorrow if he progresses well.
"Now it feels kind of like Groundhog spring," said Ryan to Chad Jennings over the weekend. Ryan also mentioned fielding drills are not a problem right now, it's swinging a bat that is giving him issues. "The timing of this whole thing is horrible … I don't want to get into the middle of March having not progressed very much … If I get three weeks in, I'll feel good about that."
There is still plenty of Spring Training left — Opening Day is four weeks from yesterday — and Ryan could always go over to minor league camp to get nine or ten at-bats a day to speed up his preparation for the season, but at some point soon he's going to have to make real progress and get over this back injury. It keeps lingering and lingering. It has to stop lingering before he can do anything.
Much like last year, Ryan's injury is slowly opening the door for a younger player to crack the Opening Day roster. Last year it was Anna, this year it's utility man Jose Pirela, who is ahead of Rob Refsnyder on the depth chart because he's more versatile and ahead of Cole Figueroa, Nick Noonan, and Jonathan Galvez because he's already on the 40-man roster. It hasn't hurt that Pirela has gone 5-for-11 (.455) with a double and a triple early in Grapefruit League play either. Fringe roster candidates have to hit in camp to make the team.
The 25-year-old Pirela was up late last season and went 8-for-24 (.333) with a double and two triples in his MLB cameo after hitting .305/.351/.441 (117 wRC+) with ten homers, 21 doubles, eleven triples, and 15 steals (in 22 attempts) in 130 games for Triple-A Scranton. He's versatile too, having played every position other than pitcher, catcher, and third base for the RailRiders last summer. Pirela's an adequate at best defender — he's already made one error this spring and also misplayed a ground ball into an infield single — but that'll work for a role player.
"We're going to move (Pirela) around because that flexibility is nice to have," said Joe Girardi to Jennings. "In the limited time that he was up last year, he did a really good job for us. And you could put him in the outfield as well. I don't know how much we'll put him in the outfield in spring, but I'm comfortable putting him out there anywhere. You never know how things are going to shake out in camp."
The Yankees added Pirela to the 40-man roster last September — he joined the team after Martin Prado went down with his appendectomy — an indication they were planning to do so after the season to prevent him from becoming a minor league free agent. (Pirela became a minor league free agent after 2013 but re-signed with New York.) He's never been a top prospect, he's a guy who's had to hit his way onto the map, and he's going to have to keep hitting to stay there. Players like this — think Andy Phillips — get an opportunity, but not necessarily a long one. They have to capitalize in a hurry, like Solarte last year.
"Whether someone is hurt or not, that isn't something that I consider," said Pirela to Jennings. "No one wants a teammate to ever be hurt, especially starting the season. I have to focus on myself, competing with myself … I'm very thankful to the Yankees for this opportunity. They've given me plenty of opportunities. I just want to continue doing my job and I just hope to keep getting a chance to show what I can do."
Ryan's not a great (or even good) player but his ability to play shortstop has real value. Pirela hasn't played shortstop regularly since 2011 because he's just not good enough defensively. He's someone the Yankees could use at short for a few innings in an emergency. That's really it. Ryan is someone they could run out there at short for a week if necessary. The presence of Stephen Drew means the Yankees don't necessarily need the 25th man on the roster to be able to play short though. If Didi Gregorius were to get hurt, Drew could slide over to short and Pirela could play second.
The Yankees owe Ryan a decent amount of money ($2M isn't nothing) and cutting a legitimate shortstop loose in favor of a potential utility guy just because he's younger and homegrown doesn't make a whole lot of sense, so Pirela's chances of making the Opening Day roster are tied directly to Ryan's back injury. If Ryan stays hurt, Pirela's chances of making the team will continue to go up. But if Ryan gets back on the field by, say, this weekend, he should be ready in time for the season. Like it or not, Ryan has the inside track for a bench job, but the back injury means the door has started to crack open for Pirela.