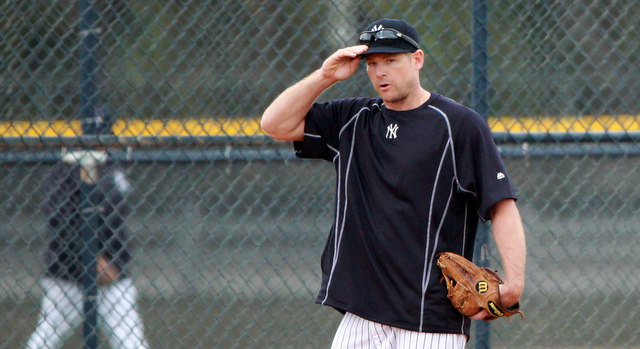 The Yankees went into the offseason with two third basemen and left with a completely different one. Alex Rodriguez's suspension ended and yeah, technically he's still a third baseman, plus they had Martin Prado in tow as well. The team clearly (and rightfully) has little faith in A-Rod's ability to actually play the hot corner because he's pushing 40, has two surgically repaired hips, and hasn't played a whole lot the last two years.
So the Yankees proceeded as if Rodriguez was not a third base candidate this winter, though eventually they traded Prado to the Marlins for Nathan Eovaldi. Before they did that though, the club re-signed Chase Headley to a four-year contract worth $52M. Trading Prado probably wasn't going to happen without Headley back in the fold first. New York wanted Headley back so much they caved into his four-year demand as well.
After coming over from the Padres last year, the 30-year-old Headley hit .262/.371/.398 (121 wRC+) with six homers in 58 games and seemed to be in the middle of everything. He also played standout defense at the hot corner and that's his true calling card, not his bat. Overall, Headley put up a .243/.328/.372 (103 wRC+) batting line between San Diego and New York in 2014. What purpose does he serve in 2015? Let's look.
Yankees Need: Dependable Offense
Thanks to Yangervis Solarte in the first half and Headley in the second half, the Yankees got a .254/.329/.404 (107 wRC+) batting line out their third basemen last year, which is pretty solid. It's nothing that will carry a lineup, but that's workable. My guess is the Yankees would be happy with similar overall production from Headley this year.
But, most importantly, the Yankees need Headley to be dependable near the middle of the lineup because all their big name middle of the order guys come with questions. Carlos Beltran is old and coming off elbow surgery. Mark Teixeira has been trending downward for years. Brian McCann was dreadful during his first year in New York. A-Rod? Good grief. The Yankees need Headley to be a mainstay and someone they can count on to produce from Opening Day through Game 162, no questions asked.
Headley Can: Offer Reasons To Expect More Than 2014
Let's get this out of the way: 2012 Headley, the guy who put up a .286/.376/.498 (145 wRC+) batting line with 31 homers, is not coming back. It would be awesome if he did, but that very likely was Headley's career year, and that's okay. His 2013 season — .250/.347/.400 (114 wRC+) with 13 homers — was pretty good between a great 2012 and an average 2014.
Headley is still relatively young, certainly not at an age when you'd expect his bat to decline precipitously, and he's moving into a much more favorable home ballpark. Going from Petco Park to Yankee Stadium should, if nothing else, boost his power numbers. They moved the Petco walls in recently but there's nothing they can do about the marine layer that knocks the ball down at night. That's the real problem.
When the Yankees acquired Headley last year, Brian Cashman said the team's internal metrics measured an uptick in his "hit velo," and we're just going to have to take Cashman's at his word. There's no publicly available "hit velo" data aside from the stuff at Hit Tracker, which shows Headley's six homers with the Yankees averaged 105.3 mph off the bat after his seven with the Padres averaged 105.6 mph. That's only homers though, not all hits. Either way, the team has something telling them Headley is hitting the ball with more authority now.
Headley has always drawn a fair amount of walks and while he is a switch-hitter, he is very shiftable as a left-handed hitter (2012-14 spray charts). That's taken a bite out of his batting average in recent years and you can be sure teams won't stop shifting against him. But, between the walks and more favorable ballpark (don't discount the mental "thank goodness I'm out of Petco!" factor), there's reason to believe Headley can improve on last year's 103 wRC+ and get him back to something close to his 114 wRC+ from two years ago.
Yankees Need: Sturdy Defense At Third Base
This offseason the Yankees set out to improve their infield defense. It was clearly a priority. Headley came over at midseason last year and was a breath of fresh air compared what the team had been running out there in recent years, the hobbled A-Rods and Solartes and Youkilises of the world. If the Yankees are going to contend this year, strong infield defense is a necessity, not a luxury.
Headley Can: Play Sturdy Defense In His Sleep
Defense is Headley's specialty. He's a gloveman before a hitter, and we saw that firsthand in the second half year season. I do think it's important to note the defensive stats — all of 'em, UZR, DRS, Total Zone, the whole nine — all love Headley, but last year they loved him more than ever. They had him saving something like 20+ runs in the field after having him in the 5-10 runs saved range from 2011-13. Defense is like offense, players can have a career year in the field. Headley's a very good fielder. He's probably not going to be as outrageously good as he was last year again though.
Yankees Need: Headley To Stay Healthy
Moreso than any other position, the Yankees don't have a viable backup plan at third base should Headley miss an extended period of time. It's hard to think A-Rod will be able to play the hot corner regularly, and the other options are Brendan Ryan, Jose Pirela, Cole Figueroa, and Jonathan Galvez. That's … not very promising. Maybe A-Rod will show he can play the field regularly and exceed expectations. But unless that happens, Headley will be extremely difficult to replace if he gets hurt.
Headley Can: Stay Healthy, Hopefully
Headley's injury history isn't all that gruesome. He's been on the DL three times in his career: once because he broke his pinkie sliding into a base (missed 44 days), another time because he broke the tip of his thumb sliding into a base (26 days), and another time with a calf strain (15 days). Unless Headley is a such a chronically bad slider that his fingers are always in jeopardy, there's nothing recurring there to worry about.
Headley's back, on the other hand, is another matter. He's had on and off back trouble over the years but has never missed more than a handful of games at a time. In fact, he has missed 18 days total in his career due to back trouble, including four last summer. Of course, Headley did need an epidural last year — Cashman noted the "hit velo" spike came after the injection — and that's worrisome. But, to date, the back has been nothing more than a minor nuisance. Hopefully it stays that way going forward. Aside from that, Headley has no lingering physical issues to worry about.
Yankees Need: Some Leadership
I don't want to harp on this too much but it is worth noting. The Yankees not only waved goodbye to Derek Jeter this offseason, they replaced him with the very young Didi Gregorius. There's a leadership void in the clubhouse and on the left side of the infield. Headley, as a relatively big free agent signing, will be counted on to fill some of that void.
Headley Can: Provide Some Leadership, Maybe, Possibly
Headley looks like a leader type, right? That's good enough for me. By all accounts he fit in well in the clubhouse after the trade last season and I'm sure he'll be able to help Gregorius with positioning and stuff. That seems leadership-y.