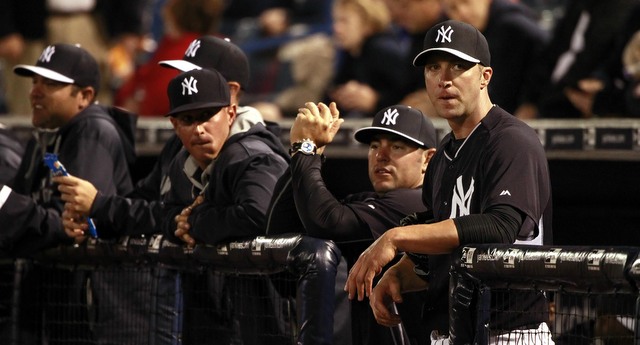 After a generally successful 12-start cameo in pinstripes late last year (4.25 ERA and 3.85 FIP), veteran southpaw Chris Capuano returned to the Bronx this offseason on a one-year contract worth $5M. He was reportedly considering playing in Japan before the Yankees called. New York re-signed Capuano for depth, basically. He's serviceable and relatively cheap, someone who can fill-in as the fifth starter until something better comes along.
Unfortunately, the 2015 season is not off to a good start for Capuano. He suffered a Grade II right quad strain covering first base last week and will be out of action for a few weeks, including the start of the regular season. The Yankees are currently sorting through several options — most notably Adam Warren and Esmil Rogers — to take over as the fifth starter, at least temporarily. Capuano figures to return in mid-to-late April and is a not insignificant piece of the pitching staff.
Yankees Need: Get Healthy!
First and foremost, the Yankees need Capuano to get healthy and come back from the quad strain. It's not an arm injury — Capuano's had plenty of those in his career, including two Tommy John surgeries — but the timing stinks. Once healthy, Capuano will basically have to go through Spring Training to get stretched out. The Yankees can accelerate that to some degree, but it'll be an extended process. It'll take two or three weeks for Capuano to get ready once the quad is healthy at a minimum.
Capuano Can: Get Healthy, Eventually
The quad injury is just one of those fluky baseball injuries. Capuano hurt himself covering first — it looked like the injury happened right as he hit the bag, but who knows — and that can happen to anyone. He doesn't need surgery, it's not his arm, it's nothing complicated like that. Capuano just needs to rest and wait, that's all. It is worth noting he is 36 years old, however. Older players tend to need a little longer to get over injuries than younger players. Perhaps that mid-to-late April timetable is really more like late-April/early-May.
Yankees Need: Be Flexible
I don't think Capuano is guaranteed a rotation spot once the quad is healthy. He might get Wally Pipp'd. If Warren or Rogers or whoever gets the fifth starter's spot pitches well early in the season, the Yankees won't take them out of the rotation. Capuano was signed to be a placeholder until someone better came along, and the quad injury may have simply sped up the process. If someone does take a firm hold on that last rotation spot early in the season, Capuano would step into a relief role. (No, I don't think the Yankees would release him. They aren't in position to cut a starting pitcher.)
Capuano Can: Start Or Relieve
Pitching out of the bullpen would not be a new experience for Capuano. He signed with the Red Sox as a reliever last year and pitched out of their 'pen early in the season before falling apart in early-June and getting released. (Capuano was sitting on 1.95 ERA and 3.10 FIP on June 1st last year.) Capuano also pitched briefly in relief for the Dodgers in 2013 and did it with a Brewers a few years ago.
Pitching out of the bullpen won't be a new experience for Capuano, so I don't expect flexibility to be an issue. He also doesn't seem like someone who would make a big stink about being moved to the bullpen either. Everyone wants to start and I'm sure Capuano is no different, but if the team asked, I think he'd go down to the 'pen and do his job like a professional. In fact, Capuano could be the perfect swingman, pitching in long relief and occasionally making a spot start when the Yankees want to give the other starters an extra day of rest.
Yankees Need: Just Don't Melt Down
No one is expecting Capuano to dominate. Not you, not me, not the Yankees. The Yankees are just hoping for competence, which is what Capuano gave them in his 12 starts last year. Expectations are pretty low. Capuano just needs to be serviceable, soak up some innings in whatever role, and not completely melt down. Be better than Vidal Nuno was in pinstripes last year (5.42 ERA and 5.17 FIP), basically. I'm certain the Yankees would take what Capuano gave them in 2014 across the full season in 2015 and be happy with it.
Capuano Can: Be Serviceable
Even when you include his June meltdown with the Red Sox, Capuano had a 4.35 ERA (3.91 FIP) in 97.1 innings last year. He had a 4.26 ERA (3.55 FIP) in 105.2 innings for the Dodgers the year before and a 3.72 ERA (3.95 FIP) in 198.1 innings for the Dodgers the year before that. That all works out to a 4.01 ERA (94 ERA+) and a 3.83 FIP in his last 401.1 innings. Is that good? No, not really. It's not a disaster either. It's fifth starter/swingman material.
Of course, Capuano is now moving into Yankee Stadium full-time, and he is a year older, so the wheels could come off at any moment. That's why he got a one-year deal, not a two or three-year deal. Capuano pitched decently in his 12 starts last year and his peripherals held steady. What more do you want? There's no reason to think Capuano is on the verge of falling off a cliff other than age, and, as a soft-tossing lefty, he's the kind of guy who can pitch forever as long as his arm holds up. I don't care about strikeout rates, walk rates, or anything like that with Capuano. Get outs and keep runs off the board, I don't care how. I believe he can still do that at a rate in line with the last three years.