The Yankees overhauled the middle of their bullpen with a series of small trades this offseason. Righty David Carpenter and lefty Justin Wilson were brought in at the expense of Manny Banuelos and Francisco Cervelli to help bridge the gap between starting pitcher and the Dellin Betances/Andrew Miller combination at the end of games. As with most Yankees relievers, Carpenter and Wilson are power arms with a history of striking guys out.
Joe Girardi has yet to name a closer but that doesn't really matter for Carpenter and Wilson. I mean, yeah, there's the off chance once of these two will be given the ninth inning, but that's so very unlikely. Carpenter and Wilson were brought to the New York for the middle innings — the sixth and seventh, mostly — and with the Yankees figuring to be a low-scoring team, the duo will be asked to get plenty of important outs in 2015.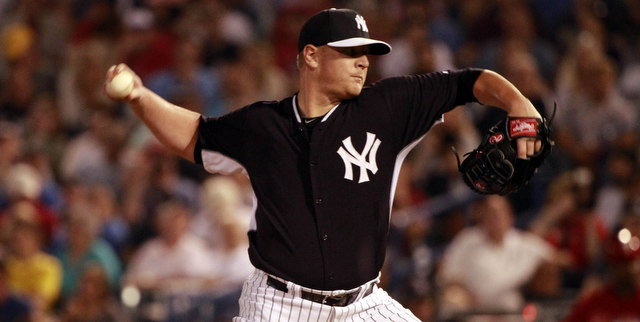 Carpenter: A Better Version Of Shawn Kelley
The Yankees acquired Carpenter (and Chasen Shreve) from the Braves only four days after sending Kelley to the Padres for minor league righty Johnny Barbato. The timing probably isn't a coincidence. The Yankees likely had the Carpenter deal lined up before pulling the trigger on the Kelley trade. The four days between trades probably had more to do with the New Year's holiday than anything. (Kelley was traded on December 29th, Carpenter on January 1st.)
Kelley gave the Yankees two serviceable years after being acquired from the Mariners for the negligible price of Abe Almonte right at the start of Spring Training 2013. Based on the last two years, the 29-year-old Carpenter is an upgrade over Kelley. Check it out:
| | IP | ERA | FIP | K% | BB% | GB% | RHB wOBA | LHB wOBA |
| --- | --- | --- | --- | --- | --- | --- | --- | --- |
| Kelley | 105.0 | 4.46 | 3.33 | 30.9% | 9.6% | 33.3% | .310 | .298 |
| Carpenter | 126.2 | 2.63 | 2.88 | 27.4% | 7.0% | 37.9% | .265 | .284 |
Kelley has the edge in strikeout rate but Carpenter has the edge everywhere else, and it's not like his strikeout rate is bad either. It's well above the league average for relievers (22.2% in 2014). They're both fastball/slider pitchers, though Carpenter throws quite a bit harder. His four-seamer averaged 95.5 mph in 2014. Kelley's averaged 92.1 mph. Carpenter is also learning a splitter this spring that has apparently impressed some scouts.
The on-field upgrade the Yankees made by going from Kelley to Carpenter to obvious. It doesn't stop there though. Carpenter is ten months younger, will earn $1.335M less than Kelley in 2015, and is under team control through 2017 rather than only 2015 like Kelley. Carpenter's been much healthier over the years too. His only career DL trip is 15 days for a biceps strain last June. Kelley is a two-time Tommy John surgery guy who missed a month with back trouble last year.
Carpenter is going to step right into Kelley's old role this season, that versatile middle innings righty who can serve as a setup man or even close on occasion if necessary. Since it looks like Adam Warren is destined for the fifth starter's spot, Carpenter will be Girardi's number two righty reliever behind Betances to start the season, the same way Kelley was his number two righty reliever behind David Robertson at the start of last season.
Simply put, Carpenter is a high strikeout reliever with big velocity and a relatively small platoon split. He's an upgrade over Kelley both on the field and contractually, and it's easy to see how he fits in and helps the bullpen.
Wilson: Don't Call Him A Specialist
Like most relievers before him, the 27-year-old Wilson was a middling starting pitching prospect in the minors who moved to the bullpen full-time in the big leagues. He had instant success with the Pirates two years ago, and while his 2014 season wasn't as good as his 2013 season, Wilson still missed bats and kept the ball on the ground. Here are his two full MLB seasons:
| | IP | ERA | FIP | K% | BB% | GB% | RHB wOBA | LHB wOBA |
| --- | --- | --- | --- | --- | --- | --- | --- | --- |
| 2013 | 73.2 | 2.08 | 3.41 | 20.0% | 9.5% | 53.0% | .258 | .233 |
| 2014 | 60.0 | 4.20 | 3.62 | 23.8% | 11.7% | 51.3% | .279 | .306 |
| 2013-14 | 133.2 | 3.03 | 3.50 | 21.8% | 10.5% | 52.2% | .268 | .268 |
Wilson throws very hard, especially for a left-hander. His four-seamer averaged 96.4 mph last summer, second highest among the 38 southpaw relievers who threw at least 40 innings. Only the inhuman Aroldis Chapman had a higher average fastball velocity among lefties (101.2!). Wilson also throws cutters and sinkers as well as a few curveballs, but he tends to live off the four-seamer and cutter. When you throw that hard and only pitch one inning at a time, you can afford to throw almost nothing but heaters.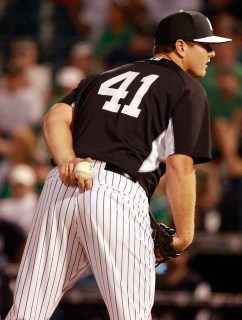 The cutter allows Wilson to keep right-handed batters in check and he throws so hard that lefties have a hard time keeping up with him, hence the non-LOOGY-esque platoon split the last two seasons. Strikes are a bit of a problem though. Wilson has always had a higher walk rate than you'd like, even when he was a starter in the minors, and that's his biggest drawback. He's a middle reliever who walks people, which makes like him like countless others. He's also a middle reliever who throws with his left arm and averages over 96 mph with his fastball, making him like very few others.
A few years ago the Yankees took a similarly live armed lefty with control problems in Boone Logan and turned him into a reliable, over-hated middle innings lefty. The control problems never really went away, but the Yankees maximized his strikeout ability — Logan's strikeout rate from 2010-13: 22.5%, 24.9%, 28.5%, 31.5% — to help compensate. I'm guessing that's what they're hoping to do with Wilson, who throws harder than Logan but doesn't have his wipeout slider.
Wilson is not someone Girardi will have to shelter from right-handed hitters in the middle innings, though his walk issues make him a less than desirable option for consistent high-leverage work. That won't be his role though. Betances and Miller will handle those spots, Carpenter too. Wilson is a pure sixth and seventh inning type who can miss bats and throw full innings. He's the pitcher Matt Thornton was expected to be last year, only eleven years younger. Heck, maybe he's Matt Thornton circa 2006 and about to hit his peak.